Former Wales rugby union captain Ryan Jones has described feeling that his "world was falling apart" after he was diagnosed with early-onset dementia at the age of 41.
Jones, who has 75 international caps, spoke about his diagnosis in an interview with The Sunday Times. He was diagnosed with probable chronic traumatic encephalopathy (CTE) in December.
Campaigner group Progressive Rugby is calling for the game to be made as safe as possible. In June, The Alzheimer's Society established partnerships with organisations such as the Rugby Players' Association to provide a way of referring former and current players who have been diagnosed with dementia.
Not just a disease of the elderly
Dementia is often seen as a disease of the elderly – but it does affect younger people too. And while the focus is now on the world of rugby there are a number of causes for the disease in younger people.
According to the Alzheimer's Society – https://www.alzheimers.org.uk/ – dementia "describes different brain disorders that trigger a loss of brain function." The conditions are usually progressive and eventually severe.
Symptoms include memory loss, confusion and problems with speech and understanding.
There are around 900,000 people with dementia in the UK – and that number is expected to rise to 1.6 million by 2040.
What is early onset dementia?
Dementia is classed as early, or young, onset when symptoms begin before the age of 65 – usually between the ages of 30 and 65.
Currently, more than 42,000 people under the age of 65 have dementia in the UK.
The charity Dementia UK – https://www.dementiauk.org/- says the actual figure may be higher because of the difficulties of diagnosing the condition. It says when people are younger, symptoms are often attributed to stress, anxiety, depression or menopause.
What types of dementia affect younger people?
The most common form of dementia affecting younger people is Alzheimer's – accounting for about a third of those affected, compared to about 60 per cent of older people who have dementia.
For younger people vascular dementia is the second most common form – making up about 20 per cent of cases.
Frontotemporal dementia accounts for around 12 per cent of cases in younger people – most commonly between the ages of 45 and 65.
Around 10 per cent of dementias in younger people are down to Korsakoff syndrome, caused by a lack of vitamin B1 and commonly associated with alcohol abuse.
Around ten per cent of cases in younger people are caused by dementia with Lewy bodies, which has hallucinations as one of its symptoms.
Around 20 per cent of young people with dementia have a rarer form, caused by conditions such as Parkinson's disease, Huntington's disease and Creutzfeld-Jakob disease.
What are the early symptoms of dementia in younger people?
According to Dementia UK, early symptoms in younger people may include changes in the:
Personality
Behaviour
Language
Social Functioning
Relationships with Others
Activities of Everyday Living
Motivation
Mood eg Depression, Anxiety
Concentration Levels
Decision Making and Problem-Solving
Vision and Spatial Awareness
Customised stairlifts can make a big difference to people who have mobility issues, whether young or old. If you need an affordable stairlift or if you know someone else who would benefit from one, call Halton Stairlifts on 0800 644 7766 to speak to an experienced member of the team. Our trained professionals can offer clear and honest advice about any model from our range and can also offer a free home survey.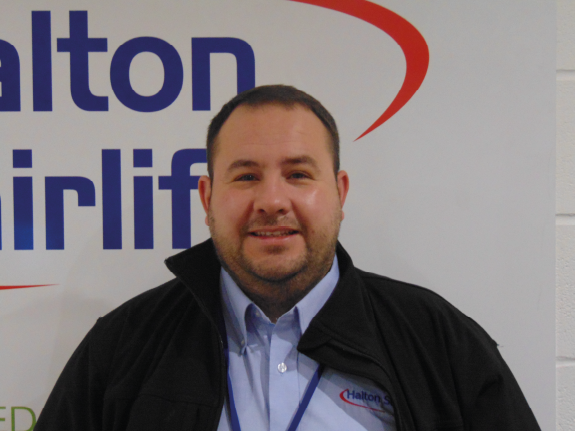 Neil is the founder of Halton Stairlifts. He has years of experience installing stairlifts across the UK. With an eagerness to help those with mobility issues get up the stairs, Neil understands how important it is for a seamless and straightforward approach to installing stairlifts to help those in need quickly.