[rev_slider alias="measure-staircase"]
Stairlift Measuring Guide
How to measure a staircase for our next day stairlift installation service
Halton stairlifts have provided this step by step guide to help you with the self measuring process,that can speed up any installation and so that we can provide a accurate telephone quotation if you request that from us. Please follow these simple step by step measurement's to ensure a safe installation.
Stage 1- Installation Side – Stand at the bottom of the stairs and look up the staircase. This will determine if the stairlift should be installed on the left side or the right side. With safety in mind the side for stairlift installation is always on the main wall side. If the staircase has walls both sides or is situated in the middle of the house, then determine which side would be most practical for the user of the stairlift from the bottom sides of your staircase.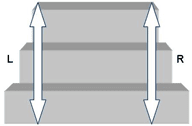 Step 2: Staircase Length ( aline measurement )  – Stand at the top of the staircase and measure from the top stair tread (A) and run your tape measure down the staircase. The tape measure should touch every edge of every stair tread and the tip of the tape measure should be extended right down to the bottom floor area (B) which is past the very bottom stair tread.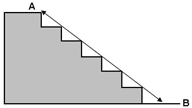 Step 3: Staircase Width – Measure the width of the staircase from the most narrowest point (C) to (D) making sure you measure from the skirting board and not the wall please take into account all newel posts and hazards that might cause a problem during travel.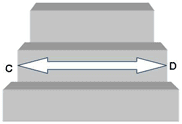 Step 4: Bottom clearing measurement – Measure from the kick plate of the bottom stair tread (E) to the nearest obstacle (F)., this could be a near by door opening, radiator, wall or cupboard. When you measure this clearing distance, it will give you an idea as to how much space is available at the bottom of the stairs. A minimum distance of 18″- 20″ is needed for the stairlift to be parked or getting on and off safely. If the space is limited you may require a hinge track system.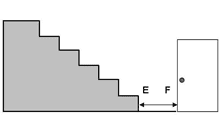 Do you have a curved staircase? No problem are curved stairlifts start from only £2895 fitted.