As we get older or develop mobility issues, we may find it difficult to carry out everyday activities such as using the stairs. Stairlifts are more popular now than ever – which could be due to the variety of stairlifts available and the features that come with them.
If you are someone who suffers from joint pain or mobility problems, then you have probably already started looking into purchasing stairlifts. However, due to the wide range of stairlifts available, it can be hard to find the best stairlift for you.
The cost of a stairlift depends on a number of factors such as the type of stairlift, the length of the track and the installation/ maintenance costs. Throughout this blog, we will be exploring different factors that affect the price of stairlifts and much more.
Types of Stairlifts
There are many different types of stairlifts such as straight and curved stairlifts. Here at Halton Stairlifts, we have it all. The price of your stairlift depends on the type of model and track. For example, curved stairlifts may cost more as they take longer to make and feature custom-made rails.
Straight stairlifts, on the other hand, are often a cheaper option as they are not made with bespoke rails and don't take as long to make. Both stairlifts are made to fit seamlessly into your home – however, curved stairlifts are made to measure so they fit around any bends or corners.
Stairlifts allow for that extra bit of freedom, if you feel like you rely heavily on others to help you move around, then you may feel like a burden. However, that doesn't have to be the case. To estimate a stairlift price, there are a number of factors that need to be taken into account such as:
The type of stairlift (straight or curved)
The length of the staircase
The cover and duration of the warranty
Details in the maintenance cost
The stairlift model (new or refurbished)
Curved Stairlifts Cost
Here at Halton Stairlifts, we are a Checkatrade-approved company that provides a wide range of stairlifts such as straight and curved. We understand that not all staircases are straightforward- some have bends, half-landings and turns.
This can make curved staircases more challenging than straight ones. Due to this, we offer curved stairlifts suited to your home. All of our curved lifts are made-to-measure and come with a bespoke track to fit seamlessly onto your staircase.
Curved stairlifts can be costly and relatively more expensive compared to straight stairlifts. This is due to the personalised tracks made for curved staircases and a lot more work is involved when it comes to manufacturing and installation.
The average cost for a single-flight curved stairlift is around £3,300 to £6,000 to install. However, if you are interested in a new multi-flight curved stairlift, then you will need an average budget of around £4500 to £8000.
Here at Halton Stairlifts, we provide a wide range of stairlifts suited for your home, so you can rest assured that there is a stairlift for you! Some of the curved stairlifts we offer are:
Signature Curved Stairlift
Dual Rail Curved Stairlift
Halton Infinity Curved Stairlift
Halton Style Curved Stairlift
Halton Ultimate Curved Stairlift
Straight Stairlifts Cost
Straight Stairlifts are slightly cheaper than curved, this is because the tracks aren't custom-made and therefore the installation time is much quicker compared to curved stairlifts. Straight stairlifts are one of the most common types of lifts available on the market right now.
This type of stairlift is designed for staircases with no bends, half-landings or curves. Here at Halton Stairlifts, we have a variety of straight staircases suited to your home such as:
Halton Slimline Stairlifts
Reconditioned Halton Slimline Stairlift
New Halton Slimline Stairlift
Halton Heavy Duty Stairlifts
Halton Sit and Stand Stairlift
Halton Synergy Straight Stairlift
Our straight stairlifts are ideal as they cause little to no disruption to your home decor. This is because our straight stairlift rails are fitted to your stairs instead of your walls – so you can rest assured that there will be minimal invasive work in your home.
Not only do we provide you with stairlifts, but we also offer stairlift installation to cut out any unnecessary hassle. All of our engineers are highly qualified and DBS-checked. Due to the amount of experience we have in this industry, it takes us as little as two hours to install your stairlifts!
Reconditioned Vs New
Here at Halton Stairlifts, we offer a range of new and used stairlifts suited for you. Each of our reconditioned stairlifts has been thoroughly tested to ensure that they are safe and reliable before they are installed in your home.
We ensure that our stairlifts are serviced and are up to the highest standards so that you are getting the most out of your purchase. The stairlift cost for reconditioned lifts is relatively cheaper compared to new lifts as they have been pre-loved. Reconditioned stairlifts are just as reliable as new stairlifts.
When you purchase our reconditioned stairlift, not only are you one step closer to gaining that extra bit of freedom, but you are also helping the environment. Overall, our reconditioned stairlifts can help you regain your confidence and independence allowing easy access to the rest of your home or garden!
Here at Halton Stairlifts, we offer a range of reconditioned straight and curved stairlifts such as:
Reconditioned Halton Style Curved Stairlift
Reconditioned Halton Signature Curved Stairlift
Reconditioned Halton Signature Plus Curved Stairlift
Halton Ultimate Curved Stairlift
Reconditioned Halton Slimline Stairlifts
Reconditioned Halton Slimline HD Stairlifts
Reconditioned Halton Slimline Sit and Stand Stairlifts
The new stairlifts we offer are slightly more expensive compared to reconditioned lifts, this is because new stairlifts are brand new. However, both types offer the same features and are of excellent quality. If you are wondering whether you can get a grant for a stairlift, check out this blog.
Halton Stairlifts
If you are interested in any of the stairlifts we have to offer or would like some more information on the prices of our stairlifts, then contact us today at 0808 644 7766, we are happy to help.
Whether you're looking to buy or rent a stairlift, fill out our online personalised quote form to find a stairlift suited for you!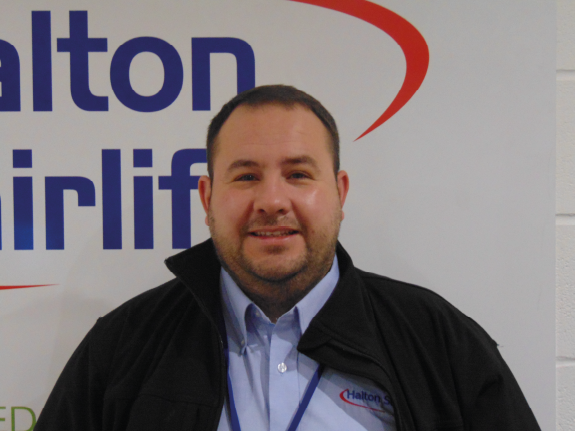 Neil is the founder of Halton Stairlifts. He has years of experience installing stairlifts across the UK. With an eagerness to help those with mobility issues get up the stairs, Neil understands how important it is for a seamless and straightforward approach to installing stairlifts to help those in need quickly.