If you suffer from joint or mobility problems or find it hard to get up and down the stairs, then a stairlift is the perfect solution for you. However, many stairlifts can be quite expensive, some more than others.
For example, new and curved stairlifts are relatively more expensive compared to straight and reconditioned ones.
This is because curved stairlifts are made to measure, whereas straight stairlifts can fit onto any straight staircase; therefore, they do not need custom-made tracks.
Reconditioned stairlifts are cheaper than new ones as they have been pre-owned; therefore, they are sold at a lower price.
With such a wide range of models and stairlift equipment available, there are many different types of cost-effective options for installing a stairlift. For more information on how you can find an affordable stair lift, read on!
Purchase a Reconditioned Stairlift
Here at Halton Stairlifts, we offer a wide range of stairlifts made to fit seamlessly into your home. Whether you own a straight or curved staircase, we can assure you that we have a stairlift suited for you.
When purchasing a stairlift, the last thing you want to think about is how you are going to afford it. We believe that anyone who needs a stairlift for whatever reason should be entitled to one without worrying about the cost.
We offer reconditioned stairlifts at a cost-effective price, so you don't have to worry about the price. Although reconditioned stairlifts have had a previous owner, we can assure you that the quality of the lifts is the exact same as that of new stairlifts, and they offer the same features as new ones.
The only difference between new and reconditioned stairlifts is that reconditioned lifts have been pre-owned. We make sure that all reconditioned stairlifts meet our health and safety standards before they are re-sold.
Our reconditioned stairlifts undergo thorough testing, so you can be sure of their reliability and safety. We also ensure that all our refurbished stairlifts are fully serviced before they are installed in your home.
Not only are reconditioned stairlifts more affordable, but they are also a more environmentally friendly option. Here at Halton Stairlifts, we offer a wide range of used stairlifts for you to choose from, so you can rest assured that there is a stairlift for you!
Overall, reconditioned stairlifts allow you to cut costs without compromising the quality of the product. So, If you are looking for an affordable way to purchase a stairlift, then investing in a reconditioned stairlift is the solution!
Purchase a Stairlift on Finance
Here at Halton Stairlifts, we believe that if you need a stairlift to help you up and down the stairs, you should be able to purchase one. This is why we provide our customers with a finance, interest-free option.
Purchasing a stairlift on finance is ideal if you want to spread out your payments rather than pay upfront. However, it is important that you check your eligibility before selecting the finance section when you check out.
Financing your lift allows you to feel more in control of your payments. So if you are looking into purchasing your stairlift but don't want to pay the full amount, then financing is the ideal solution for you!
Rent a Stairlift
You may be wondering 'should I buy or rent a stairlift', however, If you have recently undergone an operation and find it hard to face the stairs, then you are best renting a stairlift. This option allows you to pay an affordable amount monthly until you no longer require the stairlift.
This type of service is ideal for temporary situations. For example, to help with hospital discharge if you are expected to recover within a few weeks or months.
If you have guests or family members due to stay in your home for a while and they suffer from reduced mobility, then hiring a stairlift will also be ideal for this.
Not only do we install stairlifts, but we also remove them. So, if you are considering renting a stairlift but are unsure of how you can remove your stairlifts, you can rest assured as we can help!
Renting a stairlift rather than buying one is an ideal and affordable option. With a variety of stairlift models to choose from, hiring a stairlift temporarily can be the perfect solution for you!
For more information on our rental prices for your stairlifts, don't hesitate to contact us via the number provided at the bottom of this page!
Halton Stairlifts Can Help
There is a wide range of stairlift companies that sell these lifts, and it can be daunting. With all these companies selling similar products, how do you know where to purchase your stairlift? Well, this is where we step in.
Take a look at our curved stairlift range, straight stairlift options, pre-loved and new ones too. We are a Checkatrade-approved company with years of experience in this industry.
Here at Halton Stairlifts, we price-match our stairlifts competitively with a promise to beat any other quote from different companies. The average cost of a stairlift in the UK is around £3,369.
This is why we work with our customers to help satisfy their needs. For example, if you don't want to purchase a stairlift upfront, financing options are available. However, if you only require a stairlift for a short amount of time, rental options are available too!
For more information or advice on the stairlifts we offer or to find out more about the payment options we offer, contact us at 0800 644 7766. We are more than happy to help!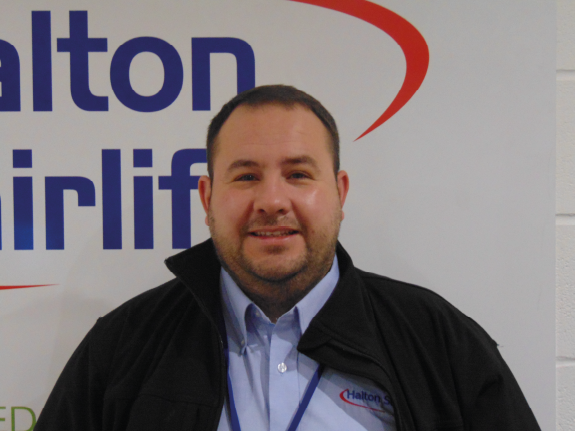 Neil is the founder of Halton Stairlifts. He has years of experience installing stairlifts across the UK. With an eagerness to help those with mobility issues get up the stairs, Neil understands how important it is for a seamless and straightforward approach to installing stairlifts to help those in need quickly.