LOW MONTHLY PAYMENTS AVAILABLE
Call today on 0800 644 7766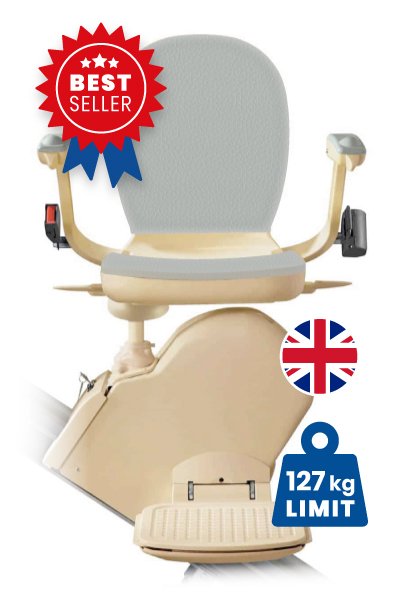 *Featured Mist upholstery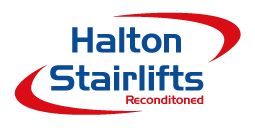 Reconditioned Halton Slimline Stairlift
If space is limited on your stairway, the Reconditioned Halton Slimline Stairlift could be perfect for helping you remain in your home.
The Halton Slimline Stairlift has a smooth start and stop mechanism, making it easy to move effortlessly between different levels of your house.
It is designed to be installed quickly and easily to straight staircases, allowing you to continue to live independently.
No upheaval involved with a Reconditioned Halton Slimline Stairlift
The reconditioned Halton Slimline stairlift is installed without the need for structural changes to your property. It fits easily to the stairs rather than to the wall, which means your decor will not be affected, and its slimline design means it can be easily folded away when not in use.
If you have ever thought fitting a stairlift would require major work then think again.
The BROOKS-NS-SL 130 offers a padded seat and hard-wearing backrest, giving you a comfortable ride from top to bottom.
No probloem with Doorways
An optional manual hinged rail can be provided if there is a doorway or hallway at the bottom of the stairs.
A Safe Stairlift Choice
Stringent testing and certification is carried out on all of Halton's current stairlifts to ensure they comply with the most up to date European safety standards. Among its safety features an inertia seatbelt gives added security, and safety sensors will stop the stairlift immediately if there is any obstruction. It can also be locked and deactivated with a key.
The BROOKS-NS-SL plugs into UK mains electrical sockets so no changes are needed to the structure or the electrics of your home.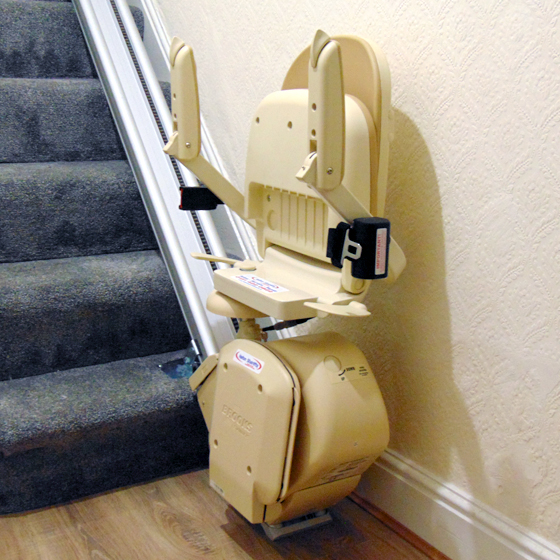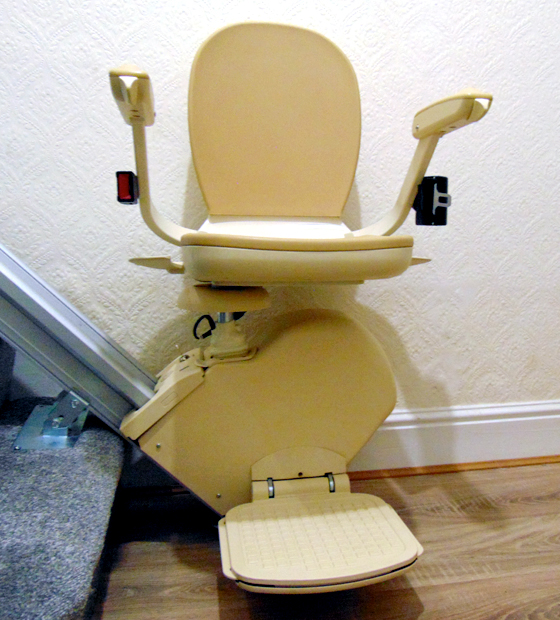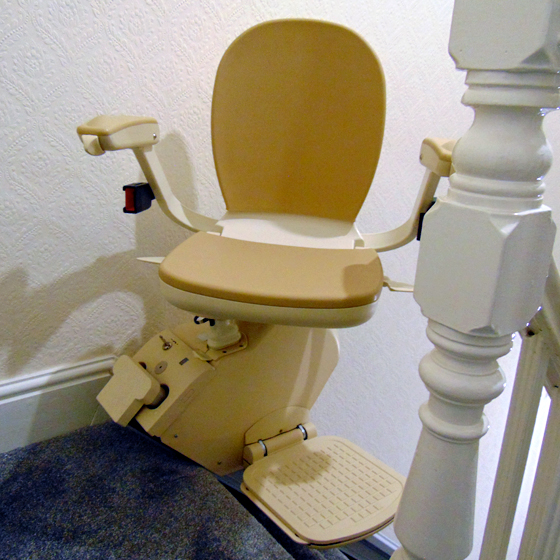 Exclusive to Halton Stairlifts
Halton Stairlifts Premium Colour Upgrade
Not happy with the standard stairlift look, Halton Stairlifts has teamed up with a leading healthcare material supplier to offer these 8 modern contemporary colour upgrades.
Not every house is the same so why should your stairlift be? The key focus of our customers is the option to change the standard upholstery to complement the surroundings of their home so their stairlift will fit seamlessly into any décor.
Hand tailored by a local, family run, upholstery company, this upgrade can be fitted at the time of order or retro fitted at a later date to freshen up your stairlift.
Stairlift Features & Benefits
Our highly trained engineer will discuss the optional stairlift features on offer during a free initial consultation.
Battery Operated
All stairlifts are battery operated, so they continue to work even if you have a power cut. You will need a convenient power supply to recharge your battery. Our engineers will explain the most appropriate solution and layout for your home after a free initial survey.
Adaptable Seats
Stairlift seats come in a range of finishes, with or without padded seats and can be either fixed or swivel. Swivel seats allow the user to sit down without making any awkward turns. Some seats can also be folded upright to provide extra space for other stair users.
Safety Features
Every stairlift is fitted with safety sensors to stop it in the event of an obstacle being on the staircase. All lifts provide a cushioned stop/start for a smooth gentle ride. Folding footplates provide extra stability and flexibility. Hinged safety rails are also available to stop the stair lift becoming a tripping hazard.
Perch and Sit/Stand Stairlifts
You don't necessarily have to be seated to enjoy the smooth ride up a stairlift. We can respond to specific medical needs or constraints of narrow staircases etc by offering a number of different standing/perching options too. These are fitted with an extra safety barrier and control panel.
Custom Made Rails
All our curved rails are custom designed and built to suit each individual home. We always use a twin rail system to ensure complete safety and stability. Variable bend speeds can be selected by user. Trim can be chosen to suit any décor.
Indoors or Outdoors
Mobility in the garden is just as important to many users as inside the home. We can supply and fit a number of outdoor stairlift models so people can continue to access all the favourite parts of their garden.
Lockable On Off Switch
This allows the user to control who operates the stairlift and is particularly useful when children are around.
Safety checks
All our stairlifts are subjected to a rigorous safety check after installation. We also operate a 24 hour emergency call out service, so you can have complete peace of mind whenever a problem arises.
We remain true to our guiding principles of quality and care.
Here are just a few of the features that set us apart.
Fits to the stairs, not the wall
FREE no obligation quotation
Lockable on/off switch allows the user Swivel seat means no need for twisting to get on or off. Hinged Rail eliminates any problem you may have with obstruction to a doorway at the foot of the stairs. Folding seat and footrest allow full access to the staircase. Sit/Stand Stairlift gives the user the choice whether to sit or stand. Perch Stairlift is ideal for customers who may have trouble sitting or bending at the knee.
| | | | |
| --- | --- | --- | --- |
| | | mm | inch |
| A | Foor to top of footrest | 85 | 3.5 |
| B | Top of footrest to top of seat | 445 | 18 |
| C | Top of seat to top of arms | 250 | 10 |
| D | Top of arms to top of seat back | 250 | 10 |
| E | Width between armrests (Wide arm version) | 445 (495) | 17.5 (19.5) |
| F | Overall width | 620 | 24.5 |
| G | Overall height | 995 | 38.5 |
| H | Length of arms from seat back | 470 | 18.5 |
| I | Length of seat base from seat back | 425 | 16.75 |
| J | Length of footrest | 325 | 12.75 |
| K | Width of footrest | 310 | 12.25 |
| L | Front of footrest to stringer | 546 | 21.5 |
| M | Back of seat to stringer | 13 | 0.5 |
| N | Folded width | 280 | 11 |
| O | Minimum width required to swivel at top | 645 | 26.25 |
| P | Distance from front of rail to stringer (Wide arm version) | 210 (235) | 8.25 (19.25) |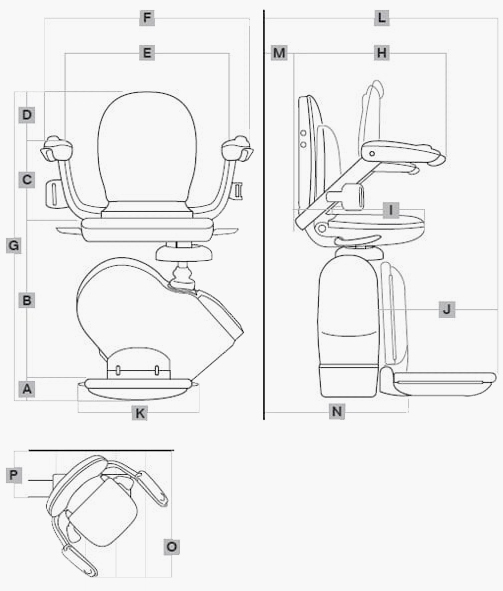 Would you like more information?
To enquire about the Reconditioned Halton Slimline Stairlift please contact us on 0800 644 7766 or use our online quick quote form.