LOW MONTHLY PAYMENTS AVAILABLE
Call today on 0800 644 7766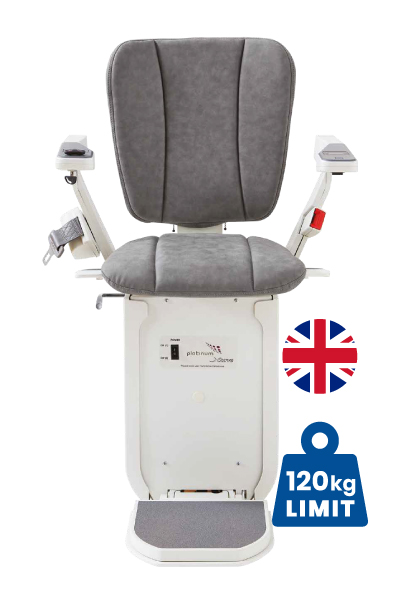 *Featured cobalt blue upholstery
Brand New Halton Dual Rail Curved Stairlift
The Halton Dual Rail Curved Stairlift uses the latest technology to provide the very best features – and it can be positioned on either the inside or outside of the staircase.
It runs on one of the tightest curved tracks on the market and is also one of the quietest rides, taking you smoothly and safely around your home.
A Quality Stairlift
It is built in the UK to the highest standards and with an emphasis on ease of use, reliability and comfort in mind. Every Halton Curved Stairlift system goes through a strict quality control process before it leaves the factory. This stringent attention to detail results in excellent build qualities which ensure there are no jerky movements.
The track is custom built to fit your staircase, and the Halton Curved is one of the slimmest stairlifts on the market when folded.
Battery powered
In common with all modern stairlifts the Halton Curved benefits from being battery powered – making it extremely quiet and ensuring that it will continue to work in a power cut.
Its features include a safety belt, an easy to use toggle switch, a lockable key switch and a remote control. The chair swivels at the top of the stairs to allow easy access to the landing.
Get to know the Halton Dual Rail Curved stairlift
The Platinum Curve stairlift offers you the ideal combination of function and comfort, letting you enjoy living in the home you love. Its innovative design means it can fit where other stairlifts cannot.
Tailor made for you and your home, there are several options that are configured to you and your comfort at the point of order, and installation. Here, we have detailed these and many other benefits, so you can be confident in your decision that the Curve is the right stairlift for you.
Comfort
Choices for an easy and comfortable stairlift
The Ergo Seat pad options are shaped to make sitting on the seat easy for the user, whatever size or shape

A lever linked footplate means no awkward bending to




fold up the footplate

Powered or manual lever swivel for easy exiting of the seat

Can accommodate up to 25st (160kg)
Halton Stairlifts Dual Rail Curved Stairlift Includes:
Installation, One 90 Degree Bend & Comprehensive Parts & Labour Warranty.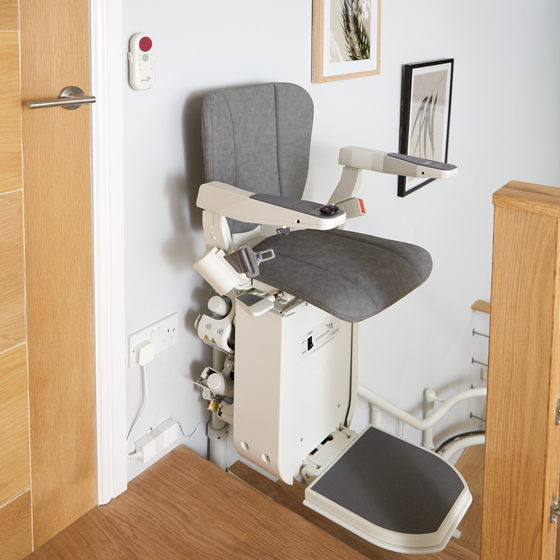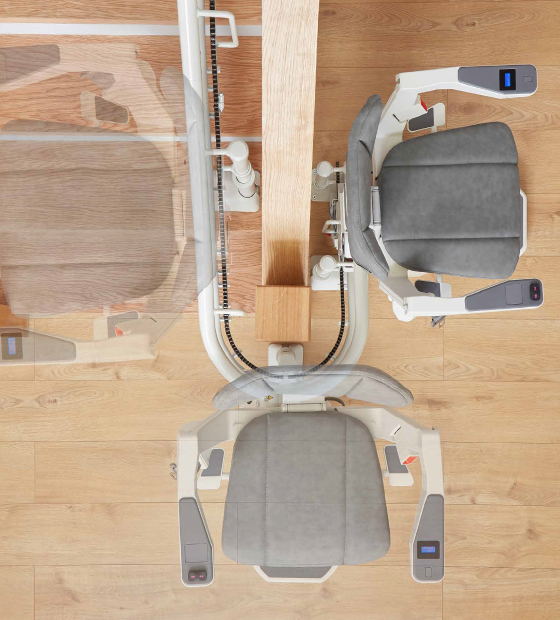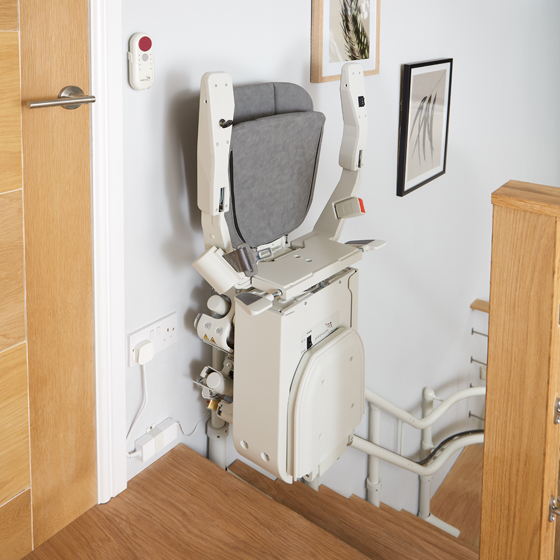 Halton Stairlifts Colour Upgrade
Choose From Four Contemporary Colours To Match Your Homes Decor.
Not every house is the same so why should your stairlift be? The key focus of our customers is the option to change the standard upholstery to complement the surroundings of their home so their stairlift will fit seamlessly into any décor.
Stairlift Features & Benefits
Our highly trained engineer will discuss the optional stairlift features on offer during a free initial consultation.
Swivel Seat – (Optional Powered)
Operated by easy-to-use levers on either side of the stairlift, allowing you to get on and off the chair with maximum ease.
Double Rail Technology
The double rail technology is the most tried and tested type of stairlift tracking within the industry, its slim design will blend into any homes décor. The advanced CAD drawn stairlift track gets the most ideal bespoke made to measure fit.
Battery Backup
Powers the stairlift and ensures a smooth controlled ride with its gentle start and stop feature. The Halton Style charges automatically when its parked at the top or bottom of the stairs.
Remote Controls
Allows you to call the stairlift from top to bottom, it is designed for when the stairlift used by two people.
Easy Use Joystick
The stairlift is controlled by an easy-to-use joystick that is located on either arm of the stairlift.
Reliability as Standard
The on-board computer diagnostic display lets the engineer know the status of the stairlift at all times.
Key Switch
Can be used to completely isolate the stairlift. It's ideal for if children are around or installed in a public area.
Safety Protection Sensors
These are located on the carriage and footplate so that the stairlift will stop automatically if it meets any obstruction.
Retractable Seat Belt
Gives you added reassurance and safety, all of our stairlift come with a safety belt as standard.
We remain true to our guiding principles of quality and care.
Here are just a few of the features that set us apart.
Fits to the stairs, not the wall
FREE no obligation quotation
Lockable on/off switch allows the user Swivel seat means no need for twisting to get on or off. Hinged Rail eliminates any problem you may have with obstruction to a doorway at the foot of the stairs. Folding seat and footrest allow full access to the staircase. Sit/Stand Stairlift gives the user the choice whether to sit or stand. Perch Stairlift is ideal for customers who may have trouble sitting or bending at the knee.
| | | | |
| --- | --- | --- | --- |
| | | mm | inch |
| A | Floor to bottom of footrest | 54 | 2.1 |
| B | Top of footrest to top of seat | 494 | 19.4 |
| C | Top of seat to top of arms | 244 | 9.6 |
| D | Top of arms to top of seat back | 261 | 10.3 |
| E | Overall height | 1041 | 41.0 |
| F | Length of footrest | 329 | 13.0 |
| G | Front of footrest to back of leg | 65.1 | 25.6 |
| H | Back of seat to back of leg | 39 | 1.5 |
| I | Width between armrest | 541 | 21.3 |
| J | Overall width | 589 | 23.4 |
| K | Width of footrest | 290 | 11.4 |
| L | Footrest offset | 49 | 1.9 |
| M | Folded footrest width | 363 | 14.3 |
| N | Newel post typical | 90×90 | 3.5×3.5 |
| O | Newel post typical | 136 | 5.4 |
| P | 180 Bend on rail centre to centre typical | 400 | 15.7 |
| Q | Newel post to inside of rail | 136 | 5.4 |
| R | Bend radius on centre line (min) | 200 | 7.9 |
| S | Front of drop nose to first step (typical* 52 start) | 300 | 11.8 |
| T | Minimum swivel radius from wall | 660 | 26.0 |
| U | Seat to floor (on a horizontal run on) | 589 | 23.2 |
| V | Top of the footrest to floor (on a horizontal run on) | 95 | 3.7 |
| W | Centre of the tube to floor | 140 | 5.5 |
| X | Back of chain (inside) to wall (on a horizontal run on) | 115 | 4.5 |
| Y | Top of the footrest to floor (on a normal start) | 58 | 2.0 |
| Z | Armrest to 1st riser (typical* 52 start) | 610 | 21.0 |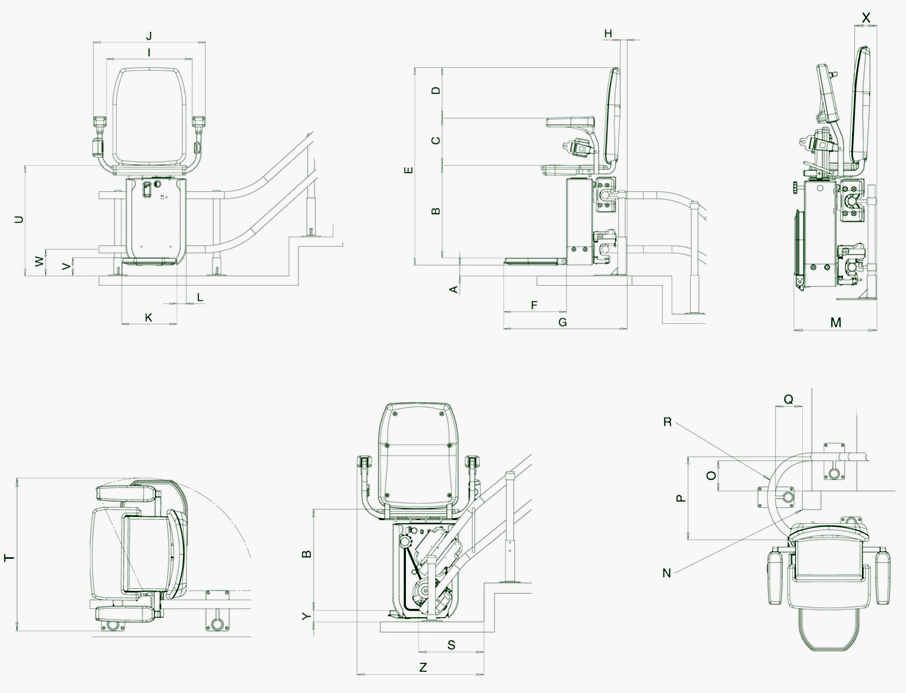 *Tyical step 180mm height
Measurement are only a guide and subject to site and client survey
Would you like more information?
To enquire about the Halton Dual Rail Curved Stairlift please contact us
on 0800 644 7766 or use our online quick quote form.