LOW MONTHLY PAYMENTS AVAILABLE
Call today on 0800 644 7766
Halton Ultimate Stairlift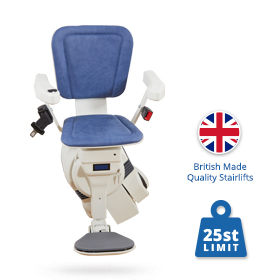 THE HALTON ULTIMATE STAIRLIFT
Welcome to the Halton Ultimate stairlift – A contemporary style single rail stairlift created to a standard like no other. Choosing a stairlift can be an overwhelming decision. However, the freedom offered in helping you return to independent living without having to leave the home you love makes it a great choice, providing you with a better quality of life and peace of mind for you, and your loved ones.
GET TO KNOW THE HALTON ULTIMATE STAIRLIFT
The Halton Ultimate stairlift is all about offering you choice. Its innovative design means it can go steeper, tighter and fits, where no other stairlift can.
Your stairlift is tailor made for you and your home. Here, we have detailed some of the
Ultimate's unique features and the many benefits, so you can be confident in your decision.
FIRST STEP START
The industry's leading stairlift to start on the first step, not the floor.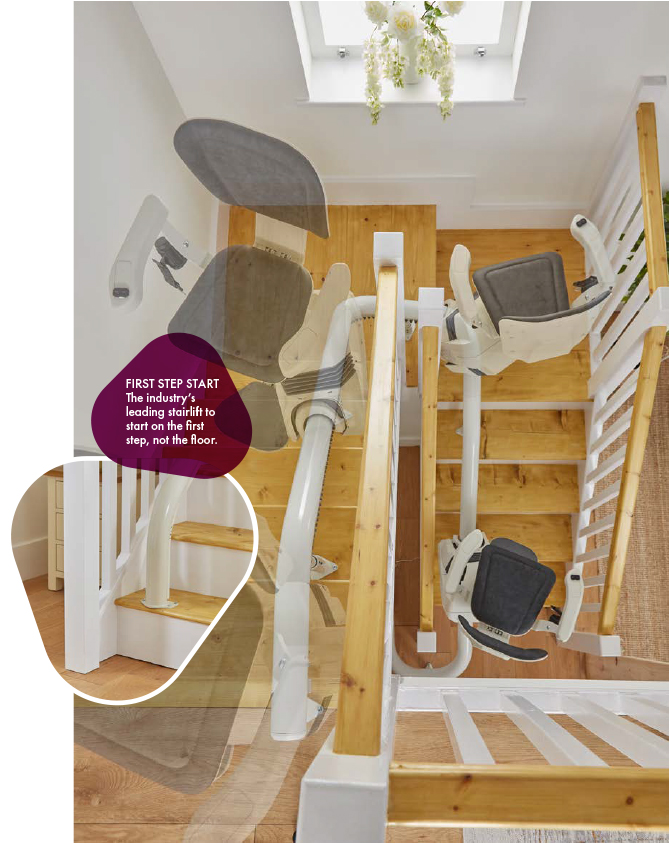 FORWARD FACING TRAVEL
INNOVATION
Industry leading features
Our space saving 'First Step Start'is a unique, stylish option, leaving your floor space and any doors completely free from obstruction
Complete Forward-Facing Travel option available with a standard start and overrun start options
The only single tube stairlift on the market that can accommodate weight up to 25st (160kg)
A fully adjustable seat to suit the user
THE WEIGHT OPTIONS
A choice of weight capacity.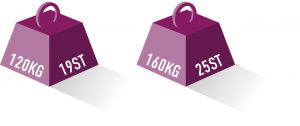 Call us today for a free quotation, without obligation. Tel 0800 644 7766
---
Did You Know?
All Halton Stairlifts plug directly into your existing mains power supply.
This means no hassle and no mess during installation.
What Makes Us Different?
New & Used Stairlifts
Next Day Installation On Straight Stairlifts
UK Based Call Centre Staff
Over 22 Years Experience
Nationwide Team Of Callout Engineers
24 Hours 7 Days A Week Customer Service
Ultimate Curved Stairlifts – Features & Benefits
DIRECTION OF TRAVEL
Your Ultimate stairlift can be designed to travel in a number of ways to suit your needs. You can choose to travel forward and upwards*, sideways or forward and downwards.
* Not available with First Step Start.
THE RAIL
First step, standard, overrun or wrap start and finishes are available so you can choose where your chair is stationed at the bottom and the top of your stairs, accommodating the design of your stairs and hallway.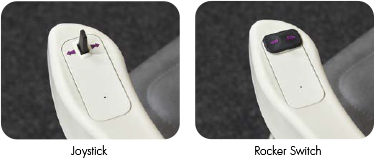 THE JOYSTICK/ROCKER SWITCH
Your engineer will offer you a choice of control devices at installation. The joystick units are easily changeable and can be installed in either the left or right arm rest to suit your ability.
SEAT ADJUSTMENTS
Adjustments to the arms, footplate and backrest for your comfort.
Power activated or manual seat lever swivel.
Ultimate Upholstery Colours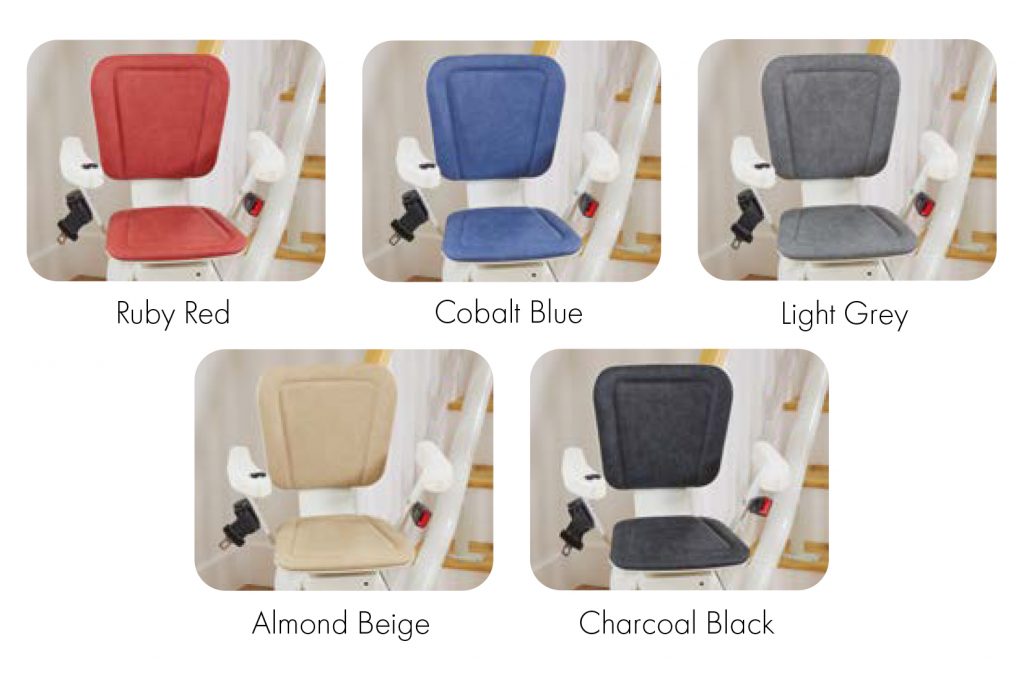 Halton Ultimate Dimensions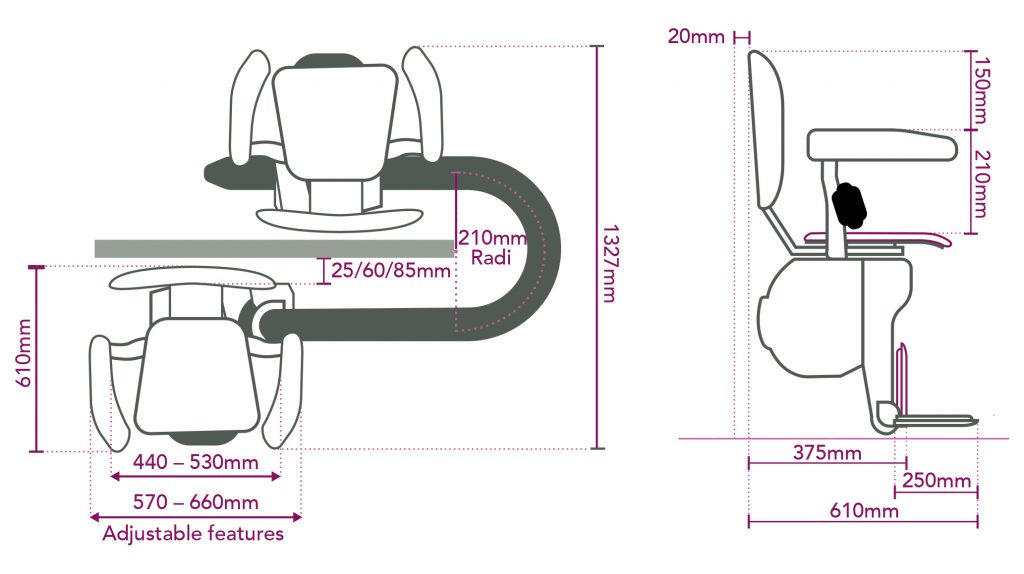 Speed
0.12m/s Max.
Drive
Rack & Pinion
Weight Capacity
120kg/19 St/265 lbs or 160kg/25 St/352 lbs
Staircase Incline
Up to 75°
Operation
Joystick or rocker switch on arm, control type & hand configurable at install.
Certification
BS EN 81:40 Machinery Directive 2006/42/EC
Seat Swivel
Manual Swivel as Standard/2-way Power Swivel Option
Footplate
Linked to Seat
Seat Height
510mm seat to floor, Seat to footplate height adjustable to 2 positions
Safety
Safety edges around drive unit and underside of footplate to protect against trapping hazards
Over-speed governor
Retractable Reel Seat belt