LOW MONTHLY PAYMENTS AVAILABLE
Call today on 0800 644 7766
New Halton Slimline 130 T700 Stairlift 

Call Now on 0800 644 7766 for a No Obligation Quote on a New Halton Slimline 130 T700 Stairlift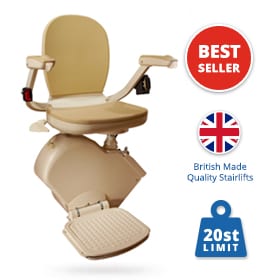 You couldn't get a better pedigree than the New Halton Slimline 130 T700 Stairlift which is built by Britain's very first stairlift manufacturer. The Halton Slimline 130 T700 Stairlift is the latest design from Halton Stairlifts – who have been at the forefront of the market for more than four decades.
An established reputation combined with style.
The Halton slimline 130 T700 Stairlift has a strong reputation for reliability and is also one of the slimmest stair lifts on the market – making it ideal for narrow, steep and straight staircases. In fact it can be installed on staircases as narrow as 24 inches.
Choosing a New Halton Slimline 130 T700 Stairlift
Manufactured in the UK it combines high reliability and comfort with low maintenance.
It's quiet and smooth operation, padded vinyl upholstery and soft stop and start function makes getting up and down stairs both calm and effortless.
It features an easy to use directional arm and swivel controls on both sides of the stairlift.
It is also extremely sturdy and able to take a weight of up to 20 stone.
What about safety?
As you might expect from such an established company safety is paramount. The stair lift is controlled by an electronic and mechanical braking system, ensuring that all journeys are not just safe but also smooth.
Other safety features include safety limit sensors, pressure sensors, a lockable key and a lap harness.
As is the norm for most modern stair lifts its battery packs are automatically recharged at the end of each journey, meaning that each trip is smooth and quiet. In the event of a power cut the Brooks Lincoln will continue to work.
Quick and easy installation.
The Halton Slimline stairlift BROOKS-130-SL is quick and easy to install – taking between one to two hours – and you don't need to worry about it ruining your decor. The slimline track is fitted to the stairs rather than the wall, meaning there is no unsightly work or damage.
The stairlift track can be installed on either the right or left hand side of the staircase.
Call us today for a free quotation, without obligation. Tel 0800 644 7766
---
Did You Know?
All Halton Stairlifts plug directly into your existing mains power supply.
This means no hassle and no mess during installation.
What Makes Us Different?
New & Used Stairlifts
Next Day Installation On Straight Stairlifts
UK Based Call Centre Staff
Over 22 Years Experience
Nationwide Team Of Callout Engineers
24 Hours 7 Days A Week Customer Service
New Halton Slimline 130 T700 Stairlift Features & Benefits
Professionalism & Care
Safety and comfort come first at Brooks. The lift uses DC power packs that are automatically recharged when the lift is at rest. This means the lift is whisper quiet, incredibly smooth and will function even during a power cut. Brooks Lincoln Stairlifts have slimline motors that provide a steady start/stop action and many years of faithful service. When you purchase a Brooks stairlift, you are buying freedom – not costly maintenance. Indeed, every part of the lift has been designed with you in mind. Each feature is the result of careful consideration in response to the requirements of the stairlift user. We listen, and then we produce the best solution.
Quality And Craftsmanship
Halton Stairlifts are renowned for their low maintenance and high reliability. This is why we can offer a no-quibble warranty and complete peace of mind to all our customers. Our helpline and customer support network ensures that Brooks will always be there for you. Every member of the Brooks team has been trained to the highest standard. From our customer support representatives to the engineer who installs your lift, our care and attention to detail is second to none. For thirty years, we have provided the finest Stairlifts to our customers. Ours is a heritage based on quality and service – a heritage you can trust. Join the thousands who associate 'Brooks' with excellence.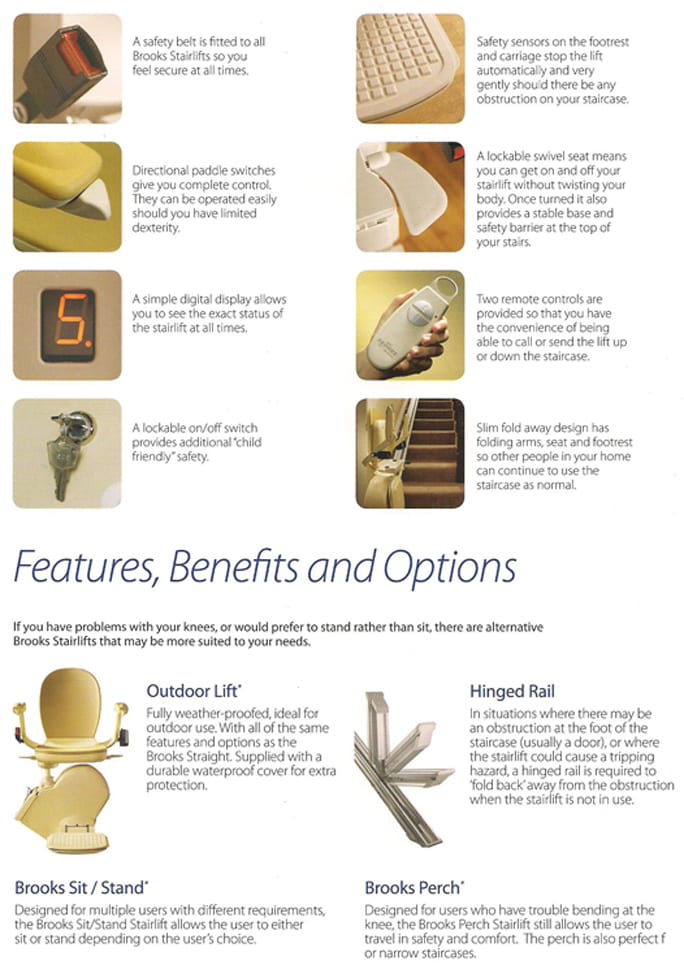 New Brooks Slimline 130 Stairlift Options
We remain true to our guiding principles of quality and care. Here are just a few of the features that set us apart.
Easy to use controls
Safety sensors
Lockable swivel seat
Slim fold-away design
Fits to the stairs, not the wall
Option to sit or stand
12-month warranty
FREE no obligation quotation
Lockable on/off switch allows the user Swivel seat means no need for twisting to get on or off. Hinged Rail eliminates any problem you may have with obstruction to a doorway at the foot of the stairs. Folding seat and footrest allow full access to the staircase. Sit/Stand Stairlift gives the user the choice whether to sit or stand. Perch Stairlift is ideal for customers who may have trouble sitting or bending at the knee.
New Halton Slimline 130 T700 Stairlift Technical Specifications