LOW MONTHLY PAYMENTS AVAILABLE
Call today on 0800 644 7766
Brand New Halton Curved Dual Rail HD Stairlift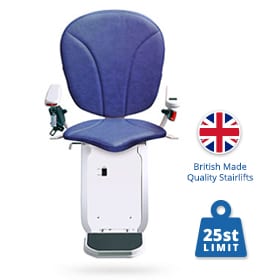 The Halton Heavy Duty Dual Rail Curved Stairlift is ideal for people who are carrying a little more weight.
With a capacity of up to 25 stone it can accommodate 6 stone more than most standard chairlifts giving mobility and independence to people who might otherwise struggle.
Hand-built in the UK it also features a wider padded seat with adjustable arms, as well as hardened acetyl rollers to ensure a smooth and comfortable ride. Additional legs placed on the rail make it stronger and more stable.
In common with the standard Halton Curved the Heavy Duty model has a PDMC motor to make sure every ride is smooth and trouble-free.
You can be sure of a gentle and secure ride around corners thanks to its twin rail mechanical levelling system and special rail bending process. And an inbuilt safety brake means you don't have to worry about travelling too fast on the way down.
Halton Heavy Duty Curved Stairlift Safety Features
Safety and ease of use are features of the Halton Curved HD Stairlift, which comes with a retractable, car style seatbelt as well as pressure sensitive safety edges to bring the stairlift to an immediate halt if it comes into contact with obstructions. The seat can be swiveled away, making it easier to get off at the top of the stairs, and the equipment also has a key-switch to prevent young children setting off on an unauthorized journey.
The Halton Curved HD model also comes with all the usual features found in standard Halton Curve stairlifts – such as battery operation, charge points at the top and bottom of the track, remote controls and an easy to use joystick control.
There is also an optional powered swivel seat which folds itself away and parks on its charge point.
Halton Stairlifts Dual Rail Curved Heavy Duty Stairlift Includes Installation, One 90 Degree Bend & 24 Months Parts & Labour Warranty.
Call us today for a free quotation, without obligation. Tel 0800 644 7766
---
Did You Know?
All Halton Stairlifts plug directly into your existing mains power supply.
This means no hassle and no mess during installation.
What Makes Us Different?
New & Used Stairlifts
Next Day Installation On Straight Stairlifts
UK Based Call Centre Staff
Over 22 Years Experience
Nationwide Team Of Callout Engineers
24 Hours 7 Days A Week Customer Service
Benefits
Designed to incorporate the same high standards of comfort and safety as the standard Halton Dual Rail Curve And The Halton Curve Heavy Duty Dual Rail Stairlift has a number of additional extras including:
An increased weight capacity of 160kg (25st) – 40kg (6st) more than most standard lifts
Wider seat with adjustable arm width in 25mm increments
A stronger swivel boss and hardened acetyl rollers to retain a smooth and comfortable ride quality
Additional legs placed on the rail for additional stability and strength
Halton was the first UK stairlift manufacturer to design and build a dedicated curved stairlift aimed at helping to cater for the Bariatric consumer.
Powered or Manual Footrest Raisers
Drop Nose Finish
Choice of Upholstery Colours
Full LED Diagnostic System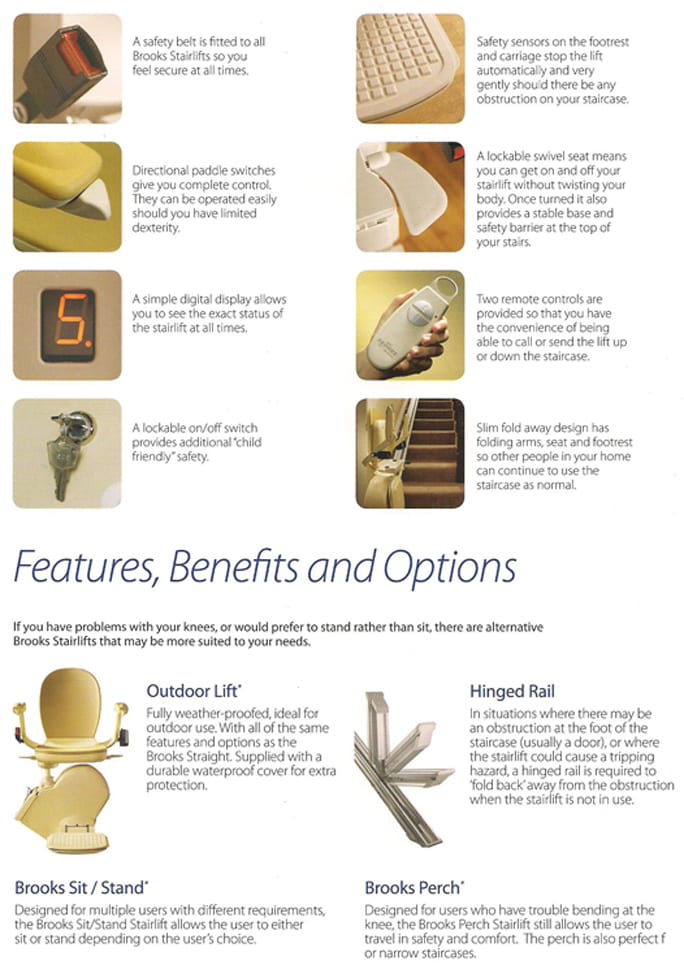 Product Options:
Powered Swivel and Footrest options
Lever Linked Footplate option
Footcover option
Heavy Duty Option available up to 160kg