LOW MONTHLY PAYMENTS AVAILABLE
Call today on 0800 644 7766
Halton Infinity Curved Stairlift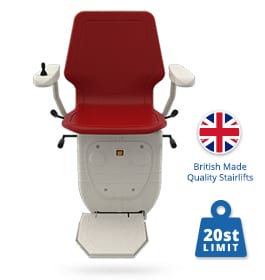 Comfort reliability and peace of mind all come as standard with the Halton Infinity Curved Stairlift
Drawing on over 25 years of knowledge within the Stairlift industry we have created a product that offers supreme comfort and reliability. Both ergonomic yet robust the Halton Infinity Curved Stairlift provides an enjoyable ride without compromising safety.
Elegant
Designed to compliment any home and cater for your every need. Excellence as standard, unbeatable with our range of extras to suit any user.
A range of upholstery to integrate seamlessly into your home
Powered swivel option to simplify access whatever your needs.
The confidence of a twin rail system with a variety of start and finish options.
Precision engineered rail to offer an exquisite ride quality.
Halton Stairlifts Infinity Curved Stairlift Includes Installation, One 90 Degree Bend & 24 Months Parts & Labour Warranty.
Call us today for a free quotation, without obligation. Tel 0800 644 7766
---
Did You Know?
All Halton Stairlifts plug directly into your existing mains power supply.
This means no hassle and no mess during installation.
What Makes Us Different?
New & Used Stairlifts
Next Day Installation On Straight Stairlifts
UK Based Call Centre Staff
Over 22 Years Experience
Nationwide Team Of Callout Engineers
24 Hours 7 Days A Week Customer Service
Halton Infinity Curved Stairlift – Features & Benefits

1. Ergonomically Designed Seat
Luxuriously upholstered ensuring a comfortable, smooth ride. Various colour options available.
2. Manual or Powered Swivel Options
Simple operation with either option safely enabling the user to easily turn the seat on arrival.
3. Manual Footrest Lever
No awkward bending to lower and raise the footrest.
4. Easy to Use Ergonomic Joystick
Effortless directional control, even for those with limited dexterity.
5. Electronic Keyswitch
Complete security from any unwanted users.
6. Seatbelt
Easy-to-use seatbelt offering the user added safety and comfort.
7. Sensitive Safety Edges
Enabling the Stairlift to stop safely should something obstruct the Stairlift. Safety is always our priority.
8. DC Battery Powered
Works even during a power cut. Charges automatically so the chair is always ready to use.
9. Heavy Duty Option
Comfortably accomodate users up to 160kg (25 stone)
10. Soft Start
Seamlessly ease into the journey with a perfectly smooth start.
Halton Infinity Upholstery Colours – (subject to availability)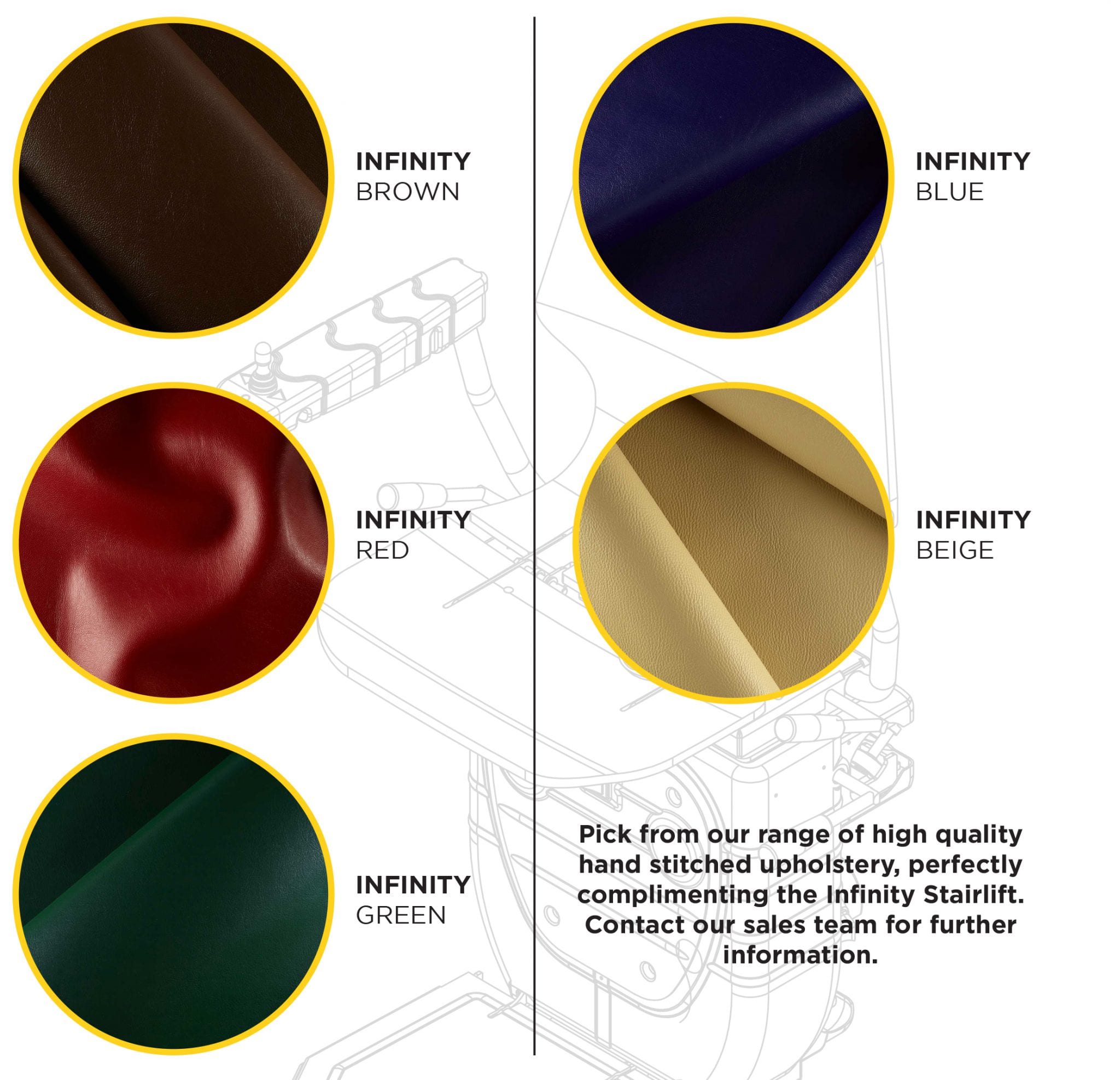 Halton Infinity Curved Stairlift – Tech Spec
Carriage: Fabricated steel
Rail: Twin steel tubing
Maximum weight capacity: 22 st / 140 kg
Power supply input: 240v AC
Carriage power: 24v DC batteries
Motor output speed: 0.15m/s adjustable