LOW MONTHLY PAYMENTS AVAILABLE
Call today on 0800 644 7766
You'll need to choose a hinged rail stairlift, if there is a doorway or passageway at the foot of your staircase.
A hinged rail helps to prevent the stairlift track from becoming a tripping hazard.  When raised, the rail will no longer cross an open passage or doorway, leaving the area obstacle free.
A manual hinge rail is lifted or lowered by hand. Designed to make this as easy as possible for users, you will still need to bend down to take the track in and out.
A powered hinge rails unfolds and stores itself away automatically. All you need to do is pull the toggle and your track will do the rest.
There are two different finishes of stairlift track, as illustrated below. It's helpful to compare our images to your staircase at home, to see if you're likely to need a hinged rail or not (Please note all images are for a right handed installation)
HINGED RAIL STAIRLIFT OPTIONS
If you have a standard staircase with at least 12 inches clearance from doorway/passage…
NO HINGE IS REQUIRED
If the stairlift track will finish on the floor and it would cause a tripping hazard across either a doorway or passage way…
A HINGE RAIL IS REQUIRED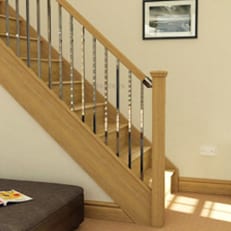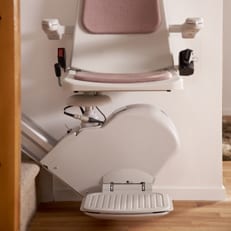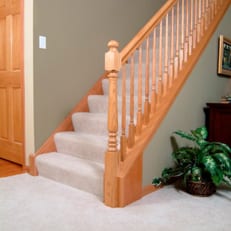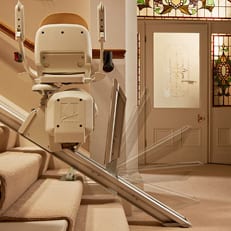 HOW DO I KNOW IF I NEED A HINGED TRACK?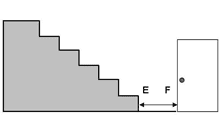 If you have a clearance of less than 12 inches or 300mm (E to F) a hinged rail is required.
If you have an obstruction (radiator or cupboard) the minimum distance required is 26 inches or 650mm for the stairlift to park at the bottom. 
When an order is placed, a qualified stairlift engineer from Halton Stairlifts will call to check the suitability for installation.