Regarding mobility aids in the United Kingdom, stairlifts are a great solution. Stairlifts have been improving the lives of individuals with limited mobility for years.
These devices offer a convenient and safe way to navigate the different levels of a home, providing independence and access to all areas of the house.
Stairlifts come in various types, each designed to suit specific needs and preferences. But what are the main designs of stairlifts?
Throughout this blog post, we will explore the three main types of stairlifts commonly found in the UK – straight stairlifts, curved stairlifts, and outdoor stairlifts.
Straight Stairlifts
Firstly, we have straight stairlifts. These are the most common types of stairlifts found in the UK. They are designed for homes with straight stairs that do not have any curves, bends, or landings.
The straightforward design of a straight stairlift makes it highly efficient and cost-effective. But how exactly do they work?
How Do Straight Stairlifts Work?
Straight stairlifts are fitted directly onto the stair treads, consisting of a chair or a platform that travels up and down the staircase along a rail.
The user can simply sit in the chair, fasten their seatbelt, and operate the lift using a control panel or a remote control. The lift smoothly transports them to their desired destination, upstairs or downstairs, with minimal effort.
Key Features of Straight Stairlifts
Straight stairlifts are relatively easy to install since they require no customisations to accommodate curves or bends. This means a quicker stairlift installation process and lower costs.
Moreover, these stairlifts have a compact design that allows them to fold up when not in use, leaving ample space on the staircase for other family members or visitors.
Due to their simplicity and standard design, straight stairlifts are often more budget-friendly compared to other types of stairlifts.
While they are designed for straight stairs, straight stairlifts can still be customised with features such as power swivel seats, adjustable seat heights, and different upholstery options for added comfort and style.
Curved Stairlifts
Next, we have curved stairlifts. In homes with curved or winding staircases, a straight stairlift simply won't fit. This is where curved stairlifts come into play.
These stairlifts are customised to fit staircases with bends, turns, or multiple landings, providing a safe and smooth ride for people while navigating complex layouts.
How Do Curved Stairlifts Work?
Curved stairlifts are designed to follow the precise contours of your unique staircase. They feature a rail that is custom-made to match the shape of your stairs.
The chair or platform of the stairlift then travels along this rail, ensuring a secure and comfortable ride even on curved or spiral staircases.
Key Features of Curved Stairlifts:
The bespoke design of curved stairlifts ensures a perfect fit for your specific staircase, regardless of its complexity.
These stairlifts are equipped with advanced technology to ensure a smooth ride, even on curved staircases. With features like adjustable speed and safety sensors, you can rest assured that your safety and comfort are our top priorities.
Just like straight stairlifts, curved stairlifts can be customised with features like power swivel seats, powered footrests, and an additional choice of upholstery.
Despite their complex installations, curved stairlifts are designed to be discreet and blend seamlessly with your home's interior, ensuring a sleek appearance.
Outdoor Stairlifts: Extending Independence to the Outdoors
Finally, we have outdoor stairlifts. While most stairlifts are installed indoors, outdoor stairlifts are specifically designed to provide mobility and accessibility outdoors, allowing users to access their gardens, patios, or porches without barriers.
Outdoor stairlifts are similar in design to indoor lifts, with a chair or platform travelling along a rail. However, they are built to withstand harsh weather conditions, such as rain, wind, and UV exposure. These stairlifts often have weather-resistant features to ensure durability.
Key Features of Outdoor Stairlifts
Outdoor stairlifts are constructed using materials and coatings that can withstand varying weather conditions, ensuring their longevity and reliability.
They come equipped with safety features such as obstruction sensors, seatbelts, and remote controls, ensuring a safe and secure outdoor experience.
Our outdoor stairlifts are designed for low maintenance and easy cleaning, helping them remain in excellent condition. Finally, outdoor stairlifts provide you with the freedom to enjoy your outdoor spaces, enhancing your overall quality of life.
Contact Halton Stairlifts to Explore Your Options Today!
Stairlifts have revolutionised accessibility for individuals with limited mobility in the UK. Whether you have a straight or curved staircase or need access to your outdoor spaces, there are stairlift types designed to meet your specific requirements.
These devices not only provide practical solutions but also enhance the overall independence and quality of life for those who use them.
When considering a stairlift for your home, it's essential to assess your unique needs and consult with a reputable supplier to determine the most suitable option for you.
With the right stairlift in place, you or your loved ones can continue to enjoy all areas of your home safely and comfortably.
Here at Halton Stairlifts, we offer a wide range of services, from installation to removal, fitting to maintenance. We have everything you need in one place.
All of our stairlifts are designed with your safety and comfort in mind to ensure that you receive the best service for your money. If you are looking for a more cost-effective option, we also offer reconditioned stairlifts, which are environmentally friendly.
From narrow lifts for narrow staircases to outdoor stairlifts with weather-resistant materials, we offer a range of stairlifts suited to your needs. If you would like more information or advice on the services we offer or to speak to a member of our team, don't hesitate to contact us today.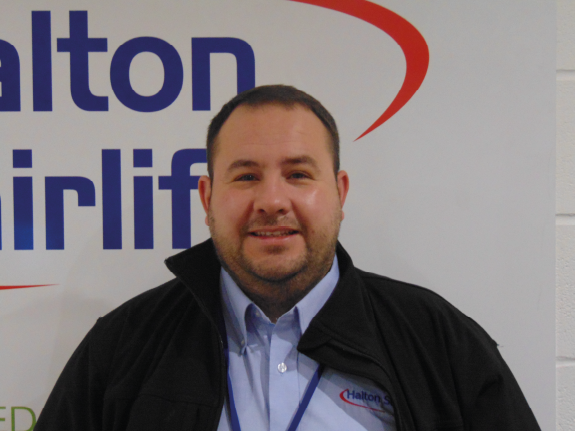 Neil is the founder of Halton Stairlifts. He has years of experience installing stairlifts across the UK. With an eagerness to help those with mobility issues get up the stairs, Neil understands how important it is for a seamless and straightforward approach to installing stairlifts to help those in need quickly.