Here at Halton Stairlifts, we are a Checkatrade-approved company and we offer a wide range of stairlifts available for everyone.
Whether it be straight or curved stairlifts, you can rest assured that there is a stairlift suited to your home. There is a huge variety of options available when it comes to purchasing a stairlift.
If you are interested in purchasing a stairlift but are unsure whether you should rent or buy one, then you are in the right place!
Throughout this blog, we will be exploring the pros and cons of rental stairlifts as well as buying a stairlift upfront. We'll also be talking about the stairlifts we offer here at Halton Stairlifts. For more information, read on.
Renting VS Buying a Stairlift
So, is it better to rent or buy a stairlift? If you only require a stairlift for a short period of time (for example, if you have recently had an operation), then renting a stairlift may be a better option. Stairlift rental also allows you to pay an affordable monthly fee for as long as you need.
Benefits of Renting a Stairlift
Renting a stairlift is a cost-effective and perfect solution for those who have recently been discharged from the hospital. This is ideal if you are expected to make a full recovery within a few weeks. However, if you suffer from mobility issues or joint problems, then you are best buying a stairlift instead.
Likewise, renting a stairlift is ideal if you wish to try out the stairlift before committing to it. Using a stairlift rental service is also a good idea if a member of your family who suffers from mobility or joint problems is visiting for a while.
Some business owners rent stairlifts if they need to provide temporary access for customers or visitors who suffer from mobility issues. If you are someone who is interested in buying a stairlift but only for a short amount of time, then you are best hiring one to save you money and hassle.
Benefits of Buying a Stairlift
There are many benefits of buying a stairlift such as they are a great long-term solution, easy to use and allow you to move around your house freely and independently without having to rely on others. You are best buying a stairlift if you have mobility issues, joint problems or simply find moving around the house a struggle.
Stairlifts come in many different models with a choice of different upholstery colours suited to your home. So you can rest assured that there is a stairlift for you! We believe that stairlifts help restore your independence which is why we do everything we can to ensure your safety and comfort when using our stairlifts.
Buy a Stairlift With Halton
Established in 2007 with over 22 years of experience in this industry, all of our engineers are DBS-checked and high-quality engineers. Here at Halton Stairlifts, we believe that a stairlift increases the quality of life by giving you that extra sense of freedom.
Halton Stairlifts specialises in the supply and installation of both new and reconditioned stairlifts throughout the UK. With finance options available, you can rest assured that you are in control of your I'm payments.
We are an award-winning stair lift company (4 years running) and offer stairlift repairs, servicing and no pressure promise. For more information on the stairlift hire options available here at Halton Stairlifts, contact us today at 0800 644 7766.
Here at Halton, we offer a variety of stairlifts that fit seamlessly into your home. Whether you want to rent or buy a stairlift, we can assure you that we have the perfect stairlift for you. Renting a stairlift is a perfect option for a short-term problem such as recovering from an operation.
Buying a stairlift is suitable for long-term problems such as arthritis and mobility issues. For more information on the stairlifts we offer, read on!
Curved Stairlifts
If you are someone who relies heavily on others to assist you around the house, then you will benefit from investing in a stairlift. We provide excellent, high-quality stairlifts that give you the freedom to move up and down the stairs in a stress-free way.
Here at Halton Stairlifts, we understand that not all staircases are straightforward. Some have bends, turns and even half-landings, which is why we offer a range of excellent quality curved stairlifts suited to your home. The types of curved stairlifts we offer are:
Signature Curved Stairlifts
Dual Rail Curved Stairlift
Halton Infinity Curved Stairlift
Halton Style Curved Stairlift
Halton Ultimate Curved Stairlift
Curved stairlifts are slightly more expensive than straight ones as they come with custom-made tracks to fit seamlessly onto your staircase. The installation time is slightly longer compared to straight stairlifts.
Straight Stairlifts
Another stairlift we offer is a straight stairlift. This lift is suited for staircases with no half-landings, bends or turns. But, does this mean that straight stairlifts are faster than curved ones? Read our blog to find out! Straight stairlifts are relatively cheaper than curved stairlifts as they don't need a custom-made rail and don't take as long to install.
We offer a wide range of stairlifts for your home such as:
Halton Slimline Stairlift
Reconditioned Halton Slimline Stairlifts
New Halton Slimline Stairlift
Halton Heavy Duty Stairlifts
Halton Sit and Stand Stairlift
Halton Synergy Straight Stairlift
Stairlift Features
There are many reasons why you should choose Halton Stairlifts for your lifts. Depending on the type of stairlift, there are many different features that come with it. For example, the Halton Heavy Duty Stairlift comes with a safety belt, safety sensors, a slim fold-away design, remote control and much more.
Although we offer different types of lifts here at Halton Stairlifts, we ensure that each stairlift provides high-quality and safety features. Here at Halton Stairlifts, we provide a variety of new and reconditioned stairlifts so that everyone has an option when it comes to choosing their stairlifts.
Although our reconditioned stairlifts have been pre-loved, they still meet our high-quality and safety standards. Our reconditioned stairlifts provide a reliable, smooth ride and are a cheaper alternative to new stairlifts.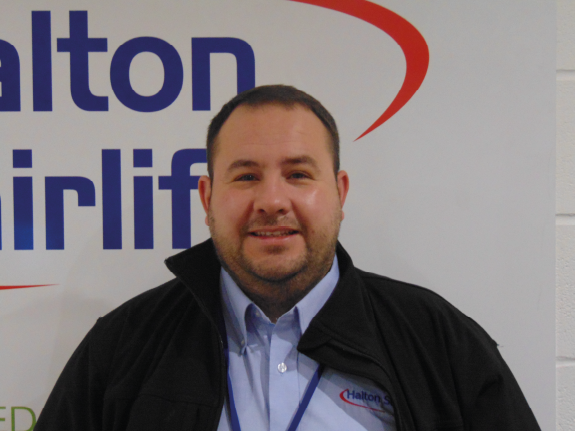 Neil is the founder of Halton Stairlifts. He has years of experience installing stairlifts across the UK. With an eagerness to help those with mobility issues get up the stairs, Neil understands how important it is for a seamless and straightforward approach to installing stairlifts to help those in need quickly.