Once your stairlift is installed, your home will open up again. You'll find moving around the rooms of your house easier as you become more independent.  But if you share your home with someone else, you might ask 'Can other people use the stairs once a stairlift is fitted?'
The last thing you want is for your newly fitted stairlift to become an obstacle. An ill-fitted stairlift has the potential to become an inconvenience at best and a safety hazard at worst.
CAN OTHER PEOPLE USE THE STAIRS ONCE A STAIRLIFT IS FITTED?
Most modern stairlifts are designed to be compact in design. Each stairlift we supply features either manual or automated folding seats, arms and footrests. These elements can be folded up neatly when the stairlift is not in use. Folding up the stairlift leaves lots of room at the top and bottom of the stairs and does not obstruct the staircase.
This means other people can use the stairs once a stairlift is fitted. The right size stairlift won't become a tripping hazard, with no need to squeeze past it either. It also shouldn't take up too much of the space that you might already use for storage.
FINDING THE RIGHT SIZE STAIRLIFT
To help you find the perfect fit for the space on and around your stairs, use our stairlift measuring guide. The guide will give you the dimensions of your staircase, and the clearance areas in the hallway, on the landing, and any half-landings you may have. This will help you choose a stairlift that is just the right size for your home. Once you find one that fits, either a regular or slimline model, you can be confident it won't become a problem for other people. Especially when it's folded away.
ASK HALTON STAIRLIFTS
If you're looking for the best new or reconditioned stairlift for your home, get in touch with Halton Stairlifts. With a range of straight and curved models, as well as compact stairlifts for narrow stairs, we can find the safest and most convenient model for your staircase. Speak to our stairlift experts today at 0800 644 7766. We can arrange a fast delivery and fitting too, sometimes the next day, no matter where you are in the UK.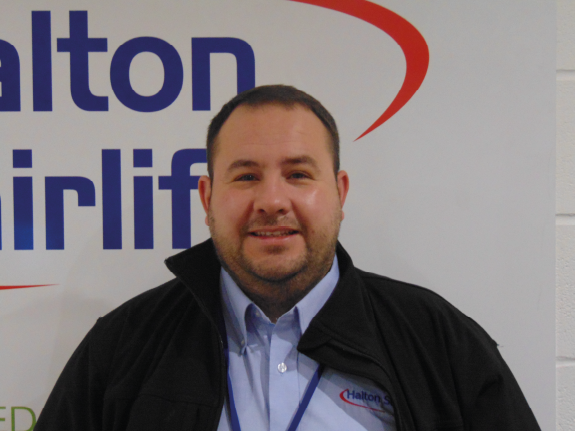 Neil is the founder of Halton Stairlifts. He has years of experience installing stairlifts across the UK. With an eagerness to help those with mobility issues get up the stairs, Neil understands how important it is for a seamless and straightforward approach to installing stairlifts to help those in need quickly.