Stairlifts are the perfect solution if you suffer from joint problems or mobility issues that affect your ability to move around the house. If you are considering purchasing a stairlift, then you probably have a few questions before you buy it.
For example, you may be wondering, 'can stairlifts be fitted to any stairs?'. This is a common question that many people ask themselves; however, we at Halton Stairlifts can help. In short, yes, a stairlift can fit on any staircase – and we have options available for a range of different staircases.
We understand how limited mobility can impact your life, which is why we provide our customers with high-quality stairlifts suited to their homes.
If you own a narrow staircase, we have narrow stairlifts for you. Likewise, if you have a curved or straight stairlift, we have a range of options available. So, you can rest assured that there is a stairlift for everyone.
For more information regarding the stairlifts we offer and whether they can be fitted to any staircase, read on.
Which Stairlift Is Best For Straight Staircases?
Here at Halton Stairlifts, we offer a wide range of stairlifts, such as straight, curved, new and reconditioned lifts, all of which are designed to fit seamlessly into your home. If you have a straight staircase, then our straight stairlifts are the choice for you.
We offer a range of straight stairlifts to fit into your home without causing any damage to the structure. All of our stairlifts are battery-powered and provide users with a range of safety features. Some of the straight stairlifts we offer are:
Halton Slimline 130 T700 Stairlift
Reconditioned Halton Slimline Stairlift
Halton Heavy Duty Stairlift
Halton Outdoor Straight Stairlift
Halton Sit and Stand Stairlift
Halton Synergy Straight Stairlift
As you can see, there are a wide range of options available if you own a straight stairlift. Straight stairlifts are usually more affordable compared to curved stairlifts as they don't require custom-made rails and can be fitted onto any straight stairlift.
Here at Halton Stairlifts, we are a Checkatrade-approved company with over a decade of experience in this industry, so you can rest assured that you are in safe hands.
If you feel you would benefit from a free home assessment to check your staircase requirements, then we can arrange this. If your stairlift is narrow, there is no need to worry, as we have stairlifts available for narrow stairs too.
Can Stairlifts be Fitted to Curved Staircases?
The type of stairlift you need depends on the type of staircase you have. So, if you have a curved stairlift, then you will need to invest in a curved stairlift. This is because curved staircases require custom-made rails in order to fit onto your staircase.
Because of this, straight stairlifts are not suitable for this type of staircase. A curved staircase will require a curved stairlift. Due to the need for bespoke tracks, the cost of a curved stairlift is slightly higher. The curved stairlifts we offer here at Halton Stairlifts are:
Halton Style Curved Stairlift
Halton Dual Rail Curved Stairlift
Halton Ultimate Curved Stairlift
Halton Signature Plus Curved
Halton Signature Curved Stairlift
Halton Dual Rail Curved HD
Halton Dual Rail Curved Stairlift
Our range of curved stairlift options means that there is a stairlift available for everyone. For more information on our curved stairlifts, make sure to check out our curved stairlift page.
Can You Get Stairlifts For Outdoors?
Believe it or not, you can get stairlifts outdoors as well as indoors. So, if you have steps leading to your garden or your front door, then our outdoor stairlifts are the solution for you.
Although you don't tend to see outdoor stairlifts as often as indoor ones, they are still a popular choice for those with steps outside their property.
Here at Halton Stairlifts, we believe that no one should be limited to accessing different parts of their home, so why should you be limited to accessing your garden or other outdoor areas?
Stairlifts are a great way to help individuals regain their independence and sense of freedom so that they can continue to enjoy the comfort of their own homes.
All of our outdoor stairlifts are weather resistant, so you can rest assured that your stairlifts can face harsh weather conditions.
So, to answer your question, stairlifts can be fitted to certain stairs; however, there is a stairlift made for every staircase.
Find The Perfect Stairlift Today
Here at Halton Stairlifts, our customer's safety and comfort are our top priorities. Whether you are interested in our straight stairlift range, curved stairlift options or reconditioned stairlift range, we can guarantee that we have everything you need in one place!
Not only do we sell stairlifts, but we also install and remove them. Our team of DBS-checked engineers ensures that everything is completed to the highest standard without damaging your property.
For more information on the stairlifts we offer, or if you would like to chat with a member of our team, don't hesitate to contact us at 0800 644 7766. We look forward to hearing from you!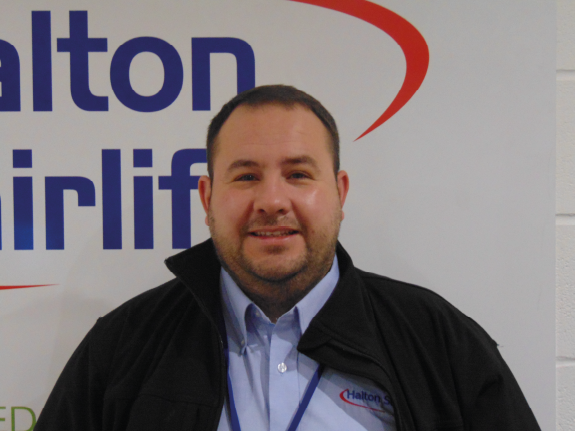 Neil is the founder of Halton Stairlifts. He has years of experience installing stairlifts across the UK. With an eagerness to help those with mobility issues get up the stairs, Neil understands how important it is for a seamless and straightforward approach to installing stairlifts to help those in need quickly.