Curved, straight, compact or reconditioned – which stairlift is right for you?
There will come a time for many of us when walking up and down stairs will be increasingly difficult.
When moving between different floors in our home becomes fraught with problems it could well be time to consider getting a stairlift. But for anyone who has no experience in these matters, the amount of choice can be confusing and even overwhelming.
Choose a good supplier
This is why it is so important to choose a reputable supplier such as Halton Stairlifts to make sure you get the very best advice and service.
With our free home assessment, you can arrange for one of our experts to visit your property and give advice on what would suit you best. Your stairlift will be made to measure and will be fitted in no time at all.
We are registered with the Trading Standards Institute, and we follow the British Healthcare Trading Association-approved Code of Practice, giving you up-to-date advice and guidance on the best stairlifts to maintain the full use of your home.
What type of stairlifts are there?
You might think your home is unsuitable for a stairlift – but the fact is there are many different types, and there is almost certainly one that is just right for you. Stairlifts are fixed to the stairs, NOT the wall, and follow the line of the stairwell, so they can be either 'straight' or 'curved'.
Straight Stairlifts
If your stairs go from the hallway to landing in a straight line then a straight stairlift will be the right choice for you. There are many benefits to this type of equipment. Construction is easier and there will be less need for customisation. Straight-line stairlifts are also affordable, easy to use, and quick to install.
Curved Stairlifts
Curved stairlift rail systems are the best choice for homes with more complicated layouts such as half-landings and spiral staircases. The need to customise them to the curvature of the stairwell means they can take a little longer to install. But that doesn't mean messy, intrusive work around the home. Curved stairlifts from Halton Stairlifts are fitted with a state-of-the-art modern track rail system. This means they're built to fit in almost every home neatly, without the need for any intrusive drilling of walls or damage to decor.
Compact Stairlifts
Slimline models are ideal for narrow stairs. They are also the best choice for hallways with little or limited space.  They are quick and easy to install and don't necessitate any big structural changes. They also fold away neatly to take up less space.
Reconditioned Stairlifts
Saving on cost doesn't have to mean scrimping on quality. Our range of used stairlifts is fully serviced and has been reconditioned to the highest standards to suit a wide variety of budgets.
Heavy Duty Stairlifts
Heavy-duty stairlifts are the ideal choice for people who weigh more than 20 stone – which is usually the upper weight limit of most traditional models. Bariatric stairlifts can take up to 25 stones – allowing people who are a little larger to safely navigate the stairs.
If you've never had a stairlift before this could all be new to you – but you don't need to try to work out the best option on your own.  Get in touch with us to book a free no-obligation home quote and to get advice about which stairlift is right for you. Call our friendly Halton Stairlift team on 0800 644 7766  to chat about your needs and arrange a free home assessment.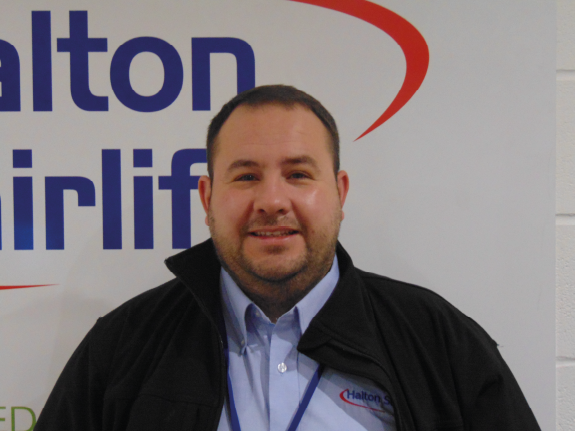 Neil is the founder of Halton Stairlifts. He has years of experience installing stairlifts across the UK. With an eagerness to help those with mobility issues get up the stairs, Neil understands how important it is for a seamless and straightforward approach to installing stairlifts to help those in need quickly.