As we age or face mobility challenges, simple tasks can become increasingly difficult. For example, climbing stairs, a daily activity for most, can become daunting and potentially dangerous.
This is where stairlifts come in, providing a range of benefits as well as a safe and convenient solution to help you move up and down your stairs in a safe and efficient manner.
Whether you experience mobility issues due to age, are a mobility scooter user, or simply find it hard to move around the house in an efficient manner, a stairlift is a great solution for you. Throughout this blog, we will be discussing the right time to buy a stairlift and more. For more information, read on.
Assess Your Mobility Needs
Before jumping into when the right time to buy a stairlift is, it's important that you assess your specific mobility needs. Everyone's circumstances are different, and we at Halton Stairlifts understand this more than anyone.
The first thing you will want to consider is your health. This is because it plays an important role in determining when a stairlift becomes necessary. If you have a medical condition or physical limitations that affect your ability to climb stairs, it's time to seriously consider a stairlift.
Common problems that may affect your ability to use the stairs efficiently include arthritis, joint problems, or any condition that affects your strength and balance. Another way you can identify the right time to buy a stairlift is by taking note of how often you use the stairs.
For example, If you find yourself avoiding stairs entirely or dreading the climb, it may be time for a stairlift. Frequent use of stairs can worsen mobility issues and lead to accidents.
Safety should be a top priority, so if you've had near-miss accidents on the stairs or have fallen, then this is a sign that you should invest in a stairlift to prevent serious injuries.
Don't just think about your current situation. Think about the future too. If your mobility issues are likely to worsen over time, then getting a stairlift early can save you from potential complications in years to come.
Once you've decided that a stairlift is the right solution for your mobility needs, it's time to explore your options. Stairlifts come in various types, each designed to meet different requirements.
Here at Halton Stairlifts, we provide a range of different services and stairlift options suited to your home. From our range of curved stairlifts to a selection of straight stairlifts, reconditioned to new and outdoor to standing, we have everything you need in one place.
Is Now The Right Time for Me to Buy a Stairlift?
So, is now the right time for you to buy a stairlift? The answer depends on your mobility needs, the type of stairlift that suits your situation, and your financial considerations.
It's a decision that should not be rushed, as it has a significant impact on your daily life and overall well-being. Here are some scenarios that may indicate it's time to seriously consider investing in a stairlift:
Firstly, If you've experienced accidents on your staircase due to mobility issues, then you are best investing in a stairlift as soon as you can. This is because safety should always be the top priority.
Moreover, when the stairs become more of a chore and you find yourself avoiding them whenever possible, this is a clear sign that a stairlift is needed to help improve your quality of life.
Another thing to consider is If your health conditions are likely to worsen with time. If this is the case, then getting a stairlift early can prevent your mobility from worsening and reduce the risk of accidents.
Another reason people invest in a stairlift is when they want to regain independence in their home. If you want to continue living in your home comfortably and safely, a stairlift can be a great investment in achieving that goal.
Once you've carefully assessed your needs, explored funding options and decided that a stairlift is the best solution for you, it's time to look into companies that offer high-quality stairlifts at affordable prices.
Here at Halton Stairlifts, we offer excellent quality stairlifts at a competitive price. We are a Checkatrade-approved company with over a decade of experience in this industry. So, you can rest assured that you are in safe hands.
Where Can I Buy a Stairlift?
The right time to buy a stairlift is a decision that depends on your circumstances. It's a solution that can massively improve your quality of life by improving your safety at home.
To determine the right time for you, consider your health conditions, the frequency of stair use, safety concerns, and potential future needs.
Ultimately, when you find that your safety, independence, and quality of life are compromised due to mobility challenges, it's time to consider purchasing a stairlift. Understanding the different types of stairlifts and their costs is important when making an informed decision.
If you're looking to purchase a stairlift, look no further than Halton Stairlifts. Here at Halton Stairlifts, your safety and comfort is our top priority.
We offer repairs, servicing and installation services. All of our engineers are DBS-checked, so you can rest assured that we have everything you need in one place!
If you are unsure about which stairlift is best for your home, we offer a free home assessment so we can find the best stairlift for you!
Here at Halton Stairlifts, we provide our customers with a year warranty on reconditioned stairlifts and a 24-month warranty on new ones. However, you can extend this if you would like that extra piece of mind.
We offer services nationwide in the UK. For more information and advice regarding the different types of stairlifts we offer or to speak to a member of our team, don't hesitate to contact us at 0800 644 7766. We are more than happy to help!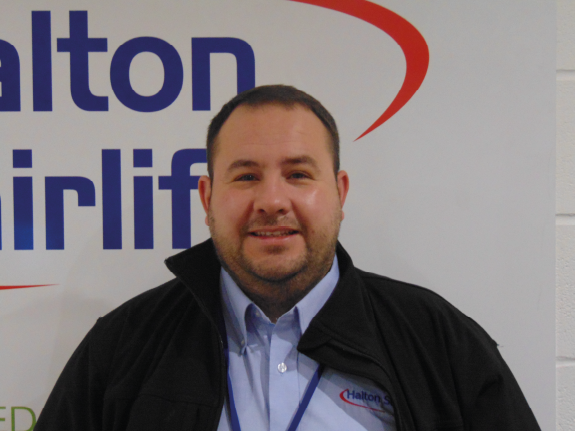 Neil is the founder of Halton Stairlifts. He has years of experience installing stairlifts across the UK. With an eagerness to help those with mobility issues get up the stairs, Neil understands how important it is for a seamless and straightforward approach to installing stairlifts to help those in need quickly.