Outdoor stairlifts aren't as commonplace as their indoor counterparts, but when you think about the possibilities they can open up for people with reduced mobility you can start to see why they're becoming an increasingly popular option for homeowners and carers throughout the UK.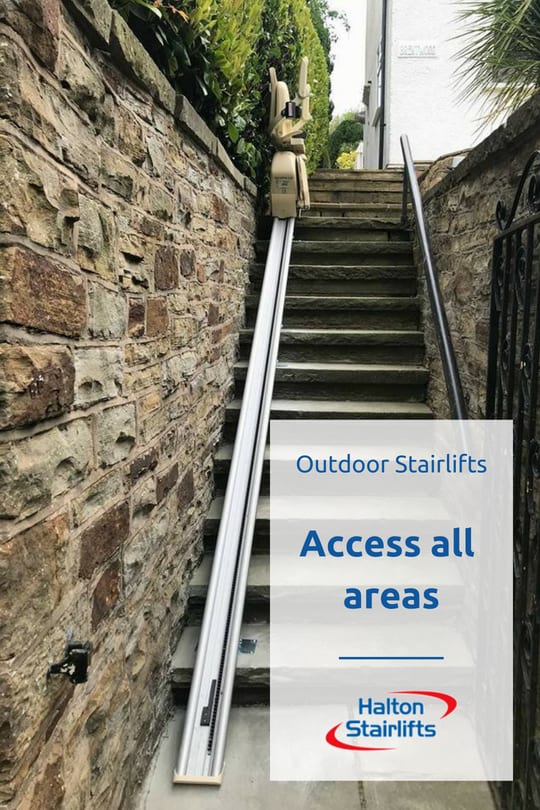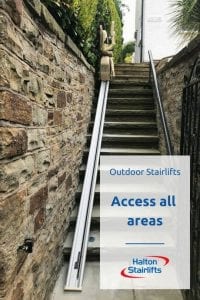 You're probably already aware that indoor stairlifts are the convenient and hassle-free way to reach the upper floor of your home, taking the struggle and strain out of climbing the stairs when you're less mobile than you used to be. But, it's the Outdoor Stairlifts from Halton Stairlifts that are proving to be the real gamechanger for individuals and families across the north west of England.
OUTDOOR STAIRLIFTS: A PRACTICAL CHOICE
When staying in your own home is the most important thing, an internal stairlift is a great solution for maintaining your independence and ensuring you continue to enjoy your own home comforts.  But, for many individuals with reduced mobility, this can mean feeling limited to stay within just the interior of your property, especially if you need to use stairs or steps to reach your own front door or garden.
Giving you an all-access pass to the gardens, patios, and pathways around your home, an outdoor stairlift extends your living space so you can enjoy the outdoors all year round (just make sure you wrap up warm in Winter).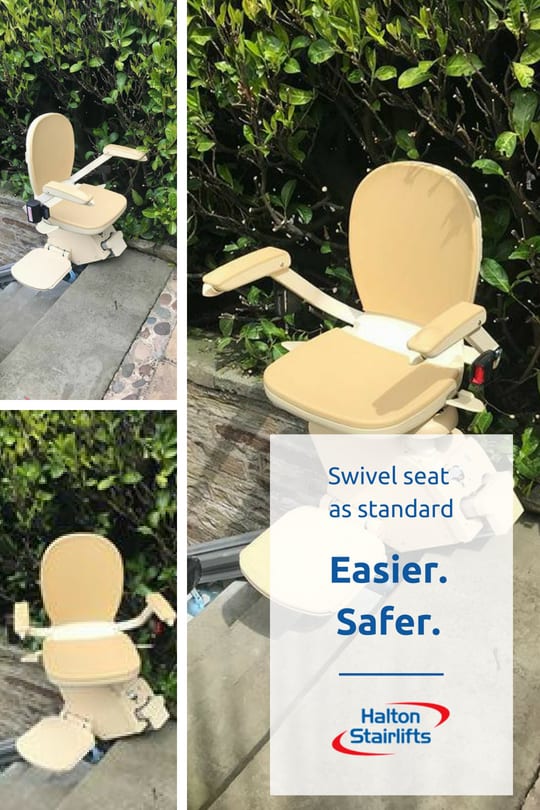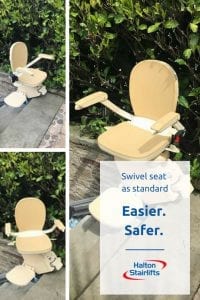 GET BACK TO NATURE
An external stairlift also helps to boost physical and mental wellbeing. Accessing the outside allows gardeners to return to a beloved pastime, or nature lovers to get closer to the trees, plants, and wildlife they enjoy. For younger stairlift users, and outdoor stairlift can be the opportunity to join siblings or friends in a game of catch (without mum worrying about any lamps being knocked over indoors).
And, when the weather turns wintery and steps become icy, an outdoor stairlift can help to reduce the risk of slipping on stairs, offering some extra peace of mind.
For days out with the family, an outdoor stairlift can make accessing transport even easier, without putting additional pressure on family members to carry or lift for themselves. And, making light work of a shopping trip, a remote control feature means that bags can be transferred upstairs without difficulty, just make sure there's a helping hand at the top of the stairs to unload your shopping spree.
SAFE. STEADFAST. SWIVELLY.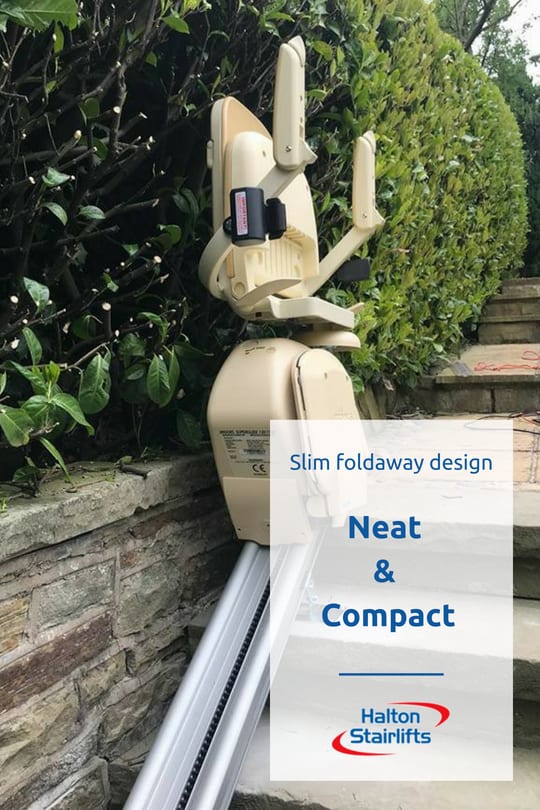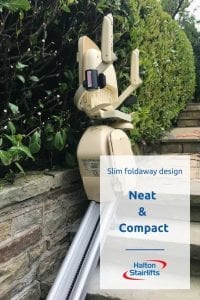 Each outdoor stairlift from Halton Stairlifts comes with a swivel seat, helping you to make a smooth transition from sitting to standing, and vice versa, with each use. Designed to fold-away neatly, the slimline design won't cause an obstruction to visitors to your home either. And, each unit is extremely durable, built to withstand the elements and whatever the Great British weather can throw at it. They're able to tolerate temperature extremes and stay operational during a downpour, and we even throw in a waterproof cover to keep the seat dry, clean and ready for its next journey. Plus, battery backup ensures your stairlift will keep running even in a powercut.
Whether you need help getting up just a few steps or a need to climb a full flight of stairs, there's likely to be an external stairlift for you. Speak to our friendly team of stairlift engineers who will be able to answer all of your questions about outdoor stairlifts. Call us on 0800 644 7766 to find out more about outdoor stairlift prices or to book an appointment for a stairlift 'test-drive' in the Halton Stairlifts Speke showroom in Merseyside.