As we get older, it is not as easy to move around the house without some sort of joint or mobility problems.
If you suffer from these problems, are a wheelchair user, or simply find it hard to get around the house, then investing in a stairlift could be the perfect solution! Having full access to your home is important, especially when using the stairs.
When you hear the term stairlift, you automatically think of a classic indoor stairlift. However, this is not always the case.
Here at Halton Stairlifts, we offer a range of stairlifts for both indoor and outdoor use. Although indoor stairlifts have traditionally been more popular, outdoor stairlifts are increasing in popularity as more people discover their benefits.
If you use a stairlift in your home but have steps outside leading to your front door or to your garden, then it would be ideal to purchase a stairlift for the outdoors.
Everyone should be able to have a sense of independence and freedom in and out of their own home which is why we have a wide range of outdoor stairlifts for you to choose from! For a guide to outdoor stairlifts or for more information on the lifts we offer, read on!
What Are The Benefits of an Outdoor Stairlift
Here at Halton Stairlifts, we understand the importance of going outside regularly to enjoy the outdoors. Those who suffer from mobility issues may find it hard to get outside due to the steps they have to face.
Every home is built differently, some may require stairs in order to access your garden or other outside areas, whereas others may not.
However, if this applies to you, then an outdoor stairlift may be the solution for you. Read on for some of the many benefits that outdoor stairlifts offer!
Designed to Withstand Harsh Weather Conditions
When people think of outdoor stairlifts, many worry that the harsh weather conditions will damage their stairlift over time, however, most stairlifts are designed to brave the elements and therefore are able to withstand harsh weather conditions.
From UV-resistant material to water-resistant motors, it becomes clear that your outdoor stairlift is engineered to withstand and brave the elements. All outdoor stairlifts are designed to operate safely in a range of weather conditions, such as rain, snow, ice and even sleet!
Energy Efficient
Many outdoor stairlifts are energy efficient, lowering the amount of energy needed to run them. Our stairlifts are completed with a fold-away design to avoid any additional strain on the motor or batteries.
New stairlifts can be pricey; therefore, saving money on electricity allows you to save some money after the initial investment. This is why energy-efficient stairlifts are ideal.
Why Choose an Outdoor Stairlift
There are many reasons why you should choose an external stairlift, whether you live in a family home or modern accommodation. There are not many gardens and outdoor areas that are completely flat.
This can cause many accessibility problems if you suffer from mobility or joint problems. During harsh weather conditions, outdoor slopes and steps can become wet or even poorly lit.
This makes going outdoors during these times quite dangerous, which is why investing in an outdoor stairlift is ideal. Here at Halton Stairlifts, we have a wide range of stairlifts suited to your home. From a waterproof cover to durable designs, we can provide you with a stairlift perfect for your outdoor area.
Outdoor Stairlifts at Halton Stairlifts
When looking for a stairlift, finding a reliable company that provides high-quality stairlifts can be hard. However, there is no need to look any further, as we at Halton Stairlifts offer excellent quality stairlifts that fit seamlessly into your home.
When choosing your stairlift, there are a few things you need to keep in mind. For example, the shape of the stairs; are they straight or do they curve? We recommend booking a free home assessment with us in order to find the perfect stairlift for your home.
We offer a no-pressure promise and obligation-free quotes, so if you decide to buy a stairlift from us, we can guarantee that you will be happy with your purchase.
One of the outdoor lifts we offer is the Halton Outdoor Stairlift 130 T700. This model is weather resistant and designed for straight staircases in your garden. This lift provides the same features as an indoor stairlift and is highly reliable and low maintenance.
Your safety and comfort are our top priorities. This stairlift is completed with a waterproof, lockable key switch, a padded backrest and seat, easy-to-use paddle direction control, a seatbelt and much more.
All of our stairlifts undergo strict testing before they are sold to our customers. This is to ensure that they comply with European safety standards.
Contact Halton Stairlifts
Here at Halton Stairlifts, we make sure that all of our stairlifts meet our high standards. Whether you are looking for stairlifts for straight staircases, stairlifts for staircases with bends or turns, pre-loved stairlifts or new ones, we have everything you need in one place.
With a range of upholstery colours, models and tracks, we have a stairlift for everyone. With over a decade of experience, we make sure that we go above and beyond for our clients.
We beat or match any quotes you may receive from other stairlift companies to ensure you get a stairlift for the best price.
If you would like more information on how an outdoor stairlift could benefit you, contact us today by filling in our online form. We are more than happy to help!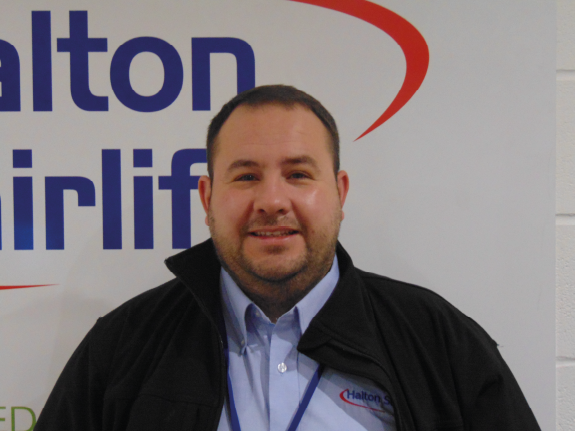 Neil is the founder of Halton Stairlifts. He has years of experience installing stairlifts across the UK. With an eagerness to help those with mobility issues get up the stairs, Neil understands how important it is for a seamless and straightforward approach to installing stairlifts to help those in need quickly.