There are so many stairlifts out there that it can be confusing to know which one is best. From reconditioned stairlifts to new stairlifts and different models, the number of choices can be daunting – which is why we are here to help. But what are the benefits of reconditioned stairlifts? Click here to find out!
Stairlifts are an ideal solution for those with mobility issues or joint problems as they allow you to have an increased sense of freedom and independence. But are reconditioned stairlifts reliable? Read on to find out!
What Makes Reconditioned Stairlifts Different to New Ones?
When people hear the term 'reconditioned', many automatically think lower of the product. However, here at Halton Stairlifts, this is not the case. The only difference between our reconditioned and new stairlifts is simply that our refurbished ones have been pre-loved.
Reconditioned stairlifts are used stairlifts that have been restored and fully serviced ready for resale. Although these stairlifts have been pre-loved, we ensure that they meet our high quality and safety standards before being put back up to be sold.
Moreover, these stairlifts provide a smooth and reliable ride as new stairlifts do. They are a cheaper alternative and are better for the environment!
Are Reconditioned Stairlifts Reliable?
When purchasing a reconditioned stairlift, many people are weary for various reasons. For example, they are unsure whether reconditioned stairlifts are of inferior quality compared to new ones, and wonder whether they are reliable.
However, there is no need to worry as we are here to help with any questions you may have.
Due to us being a reputable company with over 22 years of experience in this industry, we only sell refurbished stairlifts that conform to our strict health and safety standards.
All of our stairlifts undergo thorough testing so you can be sure of their safety and reliability. So, to answer your question, yes our reconditioned stairlifts are reliable and provide the same high-quality features that our new stairlifts offer.
What Are The Best Reconditioned Stairlifts To Buy?
Here at Halton Stairlifts, we offer a wide range of reconditioned stairlifts designed to fit seamlessly into your home. Purchasing a stairlift can help you regain your independence and freedom to allow you to have easy access around your home and garden. For more information on the reconditioned stairlifts we offer, read on!
Halton 130 Slimline Straight Stairlift
This type of second-hand stairlift is designed for straight stairlifts and comes with a stop-start mechanism to allow you to move safely up and down the stairs. If you suffer from arthritis or joint problems, or you find it difficult to move around the house, then a stairlift is the ideal solution.
This stairlift comes with many features such as a backrest, padded seat, folding arms, a safety belt and much more. Here at Halton Stairlifts, your safety is our top priority which is why we ensure that all of our stairlifts are fitted with safety sensors.
Each lift is completed with a cushioned stop-start function to ensure you have a smooth safe ride. If you are worried about your stairlift becoming a tripping hazard then you can opt for our hinged safety rails.
Halton Heavy Duty Stairlifts
Another example of a reconditioned stairlift we offer is the Halton HD Stairlifts. This stairlift comes with a range of features such as a safety belt, safety sensors, a lockable swivel seat, a slim fold-away design and a hinged rail option.
All of our stairlifts are designed to give you that extra sense of independence and freedom without the costly maintenance weighing you down. Completed with slimline motors that offer a steady stop-start action, you can rest assured that your stairlift is safe and efficient.
Halton Sit And Stand Stairlift
Next, we have the Halton Sit and Stand Stairlift. With easy-to-use controls, this stairlift comes with a wide range of features with safety and comfort being our number one priority.
We believe that no one should be singled-out when it comes to stairlifts, which is why we offer the Halton Sit And Stand Stairlift.
This stairlift comes with a variety of features such as a safety belt, sensors attached to the lift, a backrest, a comfortable seat and easy-to-use remote controls. Most of our stairlifts are available in a range of upholstery colours to fit into your home's aesthetic.
This type of stairlift is fitted with a grab rail for that extra bit of security and to your stairs rather than the wall. This means that there is no need for any unnecessary invasive building work. This type of lift is designed for people with problems bending their knees and is designed to be stood on.
Halton Style Curved Stairlift
This type of stairlift is made for curved staircases and is one of the slimmest curved stairlifts on the market. The Halton Style Curved Stairlift is also fitted to your stairs rather than to the walls. This stairlift is extremely versatile and has the ability to be fitted either internally or externally!
Completed with a range of features such as an Over Speed Governor OSG and mechanical braking system, limit sensors, a pressure-sensitive safety plate and a safety belt harness, it becomes apparent that our reconditioned stairlifts are just as high-quality as our new stairlifts.
For more information on the reconditioned stairlifts we offer, make sure to visit our used stairlifts section on our website!
Buy A Reliable Stairlift With Halton Stairlifts
Here at Halton Stairlifts, your safety is our top priority which is why we go above and beyond for our customers. But why should you choose us? That's simple! We offer a no-obligation, free home survey so you never feel pressured into buying.
Not only do we supply stairlifts, but we also offer installation services no matter the size. We beat or match any quotations you may receive from other companies to ensure you get the most out of your money.
We are a Checkatrade-approved company that offers a variety of stairlifts suited to your home. Whether it be reconditioned or new, straight or curved stairlifts, we can guarantee we have everything you need in one place!
For more information and advice on our reconditioned stairlifts, call us today at 0800 664 7766. We are more than happy to help and look forward to hearing from you!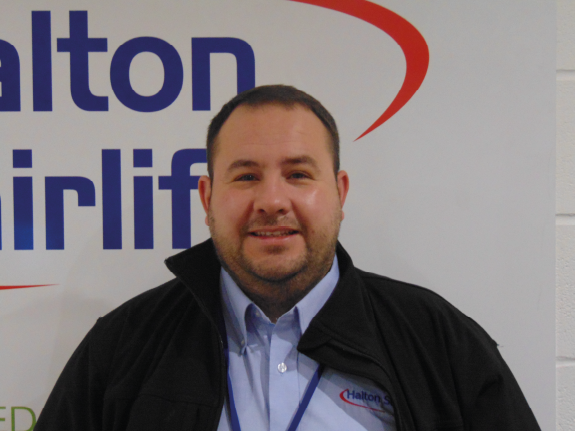 Neil is the founder of Halton Stairlifts. He has years of experience installing stairlifts across the UK. With an eagerness to help those with mobility issues get up the stairs, Neil understands how important it is for a seamless and straightforward approach to installing stairlifts to help those in need quickly.