Stairlifts are a necessity for many people. But this doesn't mean that they're a one-size-fits-all kind of purchase. On the contrary, stairlifts are so important for promoting safety and comfort for people with distinct mobility needs, so they come in all shapes and sizes and can be adapted to meet all kinds of needs for every individual. If you're wondering "Can I modify my stairlift?" then read on to find out.
How to modify a stairlift
You might have heard people say that "stairlifts are all the same" however, this isn't strictly true at all. On all modern stairlifts, you'll notice standard features including a manual footrest and a safety belt. But, once you've deciphered which type of stairlift will fit your staircase, there are multiple ways to personalize the lift to your needs and preferences. Then comes the fun part, where you can select things like extra features, customized styles and specific upholstery colours.
Hinged rails
A folding rail – better known as a hinged rail stairlift – is ideal for particularly small hallways or landings that have obstructions like doors or cupboards. On measuring your staircase and surrounding areas, your stairlift engineer will know straight away whether a hinge rail is going to be needed or not. A hinged rail means a section of the track folds up when the stairlift is not in use, this allows full access to the doorway or obstructed space. Typically, if you have what's considered a standard staircase with at least 12 inches of clearance from the doorway/passage then a hinge rail isn't needed. However, if the stairlift track will finish on the floor and would cause a tripping hazard across either a doorway, then a hinge rail is necessary.


Swivel seats
Stairlift seat options are always going to be dependent on which stairlift model you choose. Your health status and range of movement are all important factors that the team at Halton help you take into consideration when choosing your model. Your stairlift can be adjusted to your height, and our engineers will do this at the point of installation. Most stairlifts come with swivel seats as standard. They are operated by easy-to-use levers on either side of the chair.
Certain stairlift models including The Reconditioned Halton Curved Signature+ come with a two-way powered swivel seat, meaning the chair can swivel at the top and bottom of the staircase for much easier access, taking the pressure off the user's joints. It also means the user is facing away from the staircase when they get off the stairlift, making it much easier and safer to get on and off – an ideal feature for anyone dealing with mobility restrictions in their hips or lower body.
Upholstery and colour
When you buy a stairlift from a reputable supplier, safety, durability and ease of use should always take priority, but here at Halton, we believe that doesn't mean you should have to compromise on style. Let's face it, your stairlift is an essential part of your living space that's going to be used every single day. So why not tailor it to fit in with your current colour scheme, the way you would with your furniture? Models such as the Reconditioned Halton Curved Signature Stairlift come with the option of a wide range of upholstery fabric colours to match any home décor.
Using a professionally installed stairlift that is tailored to the needs of the person using it will eliminate the risk of falling or slipping in the home, making life just that little bit easier. Halton stairlifts offer a wide variety of stairlift options to suit families with all sorts of needs and tastes. To learn more about our full range of stairlifts call our friendly team on 0800 644 7766  to request a brochure, or arrange a no-obligation quote or home assessment.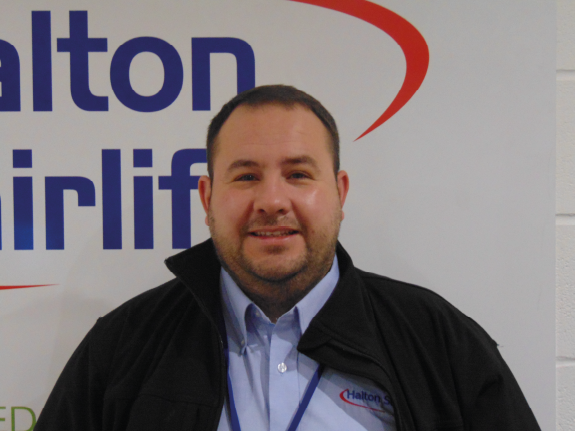 Neil is the founder of Halton Stairlifts. He has years of experience installing stairlifts across the UK. With an eagerness to help those with mobility issues get up the stairs, Neil understands how important it is for a seamless and straightforward approach to installing stairlifts to help those in need quickly.