Choosing a stairlift is a very personal journey. So, when deciding on yours, you'll want to take into account the range of special stairlift features available. Added features can be built into your stairlift to make it totally tailored to your home, and more importantly, to your individual needs and mobility concerns.
Hinged Track System

A hinged track is one that folds or retracts, and it allows for safe and even access to the stairs. It's suitable for staircases that have unusual layouts, or ones that have doors or passageways at the bottom of them. Having the added safety of a hinged track system allows users to gain access to a door that would normally be blocked by a regular rail. It also means that there's no tripping hazard if you have an open hallway downstairs.
Swivel Seat

If you or a loved one struggle a lot with balance, then choosing to have a swivel seat built into your stairlift is a helpful stairlift feature. When you reach the top or bottom of the stairs, swivel seats turn gently so that the user is facing away from the stairs. This makes for a much smoother and safer experience when getting on and off the lift, and gives added peace of mind if you're particularly worried about the potential of falling or losing balance. Swivel seats can be fitted to any of Halton's curved or straight stairlifts, too.
Foldable footrest
As stairlift features go, this one is important. Stairlift footrests aren't just for decoration, they can make for a much more comfortable ride. In fact, they're well-suited to users who have trouble bending their knees. If you struggle with ailments such as arthritis, using a stairlift with a retractable footrest is a popular choice as it offers much-needed respite from having to endure the pain of bending or straining every time you need to go up or down the stairs. With the flick of a button, you can easily fold or unfold the footrest as and when you need it.
Sit and stand stairlifts

If you have trouble sitting or sharing a home with someone who does, then you may have considered investing in a sit-and-stand stairlift. These are ideal for homes where two people need help using the stairs, but both have slightly different requirements from the stairlift. Sit-and-stand stairlifts are designed to offer as much comfort and practicality for the user as possible. At Halton, our models come with a range of features to ensure safety and are approved by the Arthritis Foundation.
Some circumstances (like the confines of a staircase, or the specific needs of a certain user, for example) call for a different type of stairlift or additional features, but at Halton, we're always here to help guide you. Have further questions or queries about your current or future stairlift? Get in touch to chat with our friendly team on 0800 644 7766 to request a free Halton Stairlifts brochure, or to arrange your free no-obligation quote.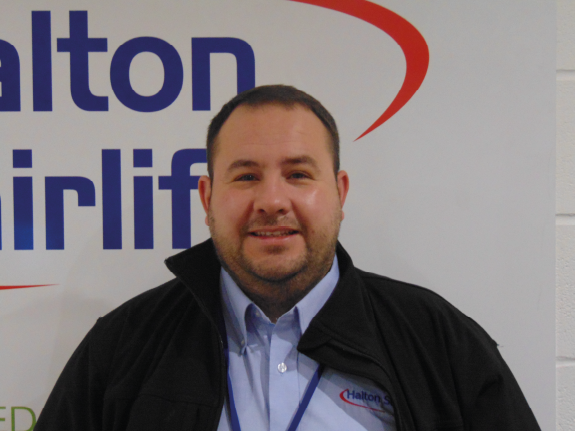 Neil is the founder of Halton Stairlifts. He has years of experience installing stairlifts across the UK. With an eagerness to help those with mobility issues get up the stairs, Neil understands how important it is for a seamless and straightforward approach to installing stairlifts to help those in need quickly.