When the stairs start to cause a problem your thoughts may turn to stairlift installation. The Halton Stairlifts Guide to Stairlift Rental can help you weigh up the pros and cons of hiring a stairlift versus buying a stairlift.
From style and function to cost and duration, we've summarised everything you need to think about before you decide.
BUYING A STAIRLIFT OR HIRING A STAIRLIFT?
Stairlift Rental: Access to the latest stairlift technology
Hiring a stairlift often means accessing the most up-to-date stairlift models. Usually for a fraction of the price of buying one.  Stairlift engineers are always working to improve the comfort and usability of newer stairlift models. So when you rent a stairlift, you'll have access to the latest improvements in design.
When you're renting a stairlift you'll experience the smoothest movement, user-friendly controls, longer battery life, modern installation methods, and more hardwearing yet lightweight chairs. And when renting, you'll also have the option to upgrade your stairlift when even newer models enter the market.
Hiring a Stairlift: The affordable option
Depending on your circumstances, renting a stairlift can be the most economical option for a lot of homes. Avoiding a lump sum payment, renting gives the option for low-cost monthly payments instead. This way you can stay in control of your costs by managing your stairlift budget on a month-by-month basis.
If you're planning on using a stairlift for more than a couple of months, it's more cost-effective in the long term to buy a stairlift. It's also worth exploring the finance options available to you. If you're not sure whether to buy or rent, make a direct comparison of costs to help you decide. You could start by getting a free quotation from a stairlift supplier like Halton Stairlifts.
Broaden your search to include both new and reconditioned stairlifts. Doing so can help to accommodate a wider range of budgets. Halton Stairlifts also offer a price-matching promise. This means we'll match any written quote for other stairlift providers to help keep costs as low as possible. This means you can spread your payments on the price you've been quoted.
Renting a Stairlift: A short-term solution
If your stairlift usage is expected to be temporary, stairlift rental can be the ideal short-term solution. Compared to buying a stairlift, hiring a stairlift can be an economical way to help people who are:
Recovering from short-term injuries or recovering from surgery that has affected their mobility temporarily. A rental stairlift can be quickly installed and removed without any damage to decor. It will also allow individuals to get around their home, as they complete their physical rehabilitation or until their mobility improves.
Visiting a home with stairs. If you are used to using a stairlift or live in a single-story dwelling, visiting friends or relatives who don't have stairlift access to upper floors can be an obstacle. Before your visit, you may wish to discuss the possibility of installing a rental stairlift for the duration of your stay.
Waiting for a stairlift to be installed by the Local Authority (LA). Sometimes discharge from hospital or intermediate care can depend on whether you can access your home safely. This can include having adequate home adaptations that support access to washing and sleeping facilities.  If this means installing a stairlift, there can often be a significant delay in returning home. The process for LA installation can take a long time. A rental stairlift can be a low-cost and satisfactory interim option. Rental stairlifts allow you to return to the comfort and familiarity of your own home as soon as possible. And you can return it once your wait for the LA stairlift is over.
Stairlift Hire: Try before you buy
If you're thinking about buying a stairlift, but aren't sure if you're ready to take the plunge, renting a stairlift gives you the chance to give one a whirl before making a long-term commitment. Stairlift rental allows you to see how much of a difference a stairlift can make to your lifestyle before you decide to buy one.
If you'd like to find out more about stairlift rental, speak to the Halton Stairlifts customer service team. You can also arrange a free no obligation home assessment. Discuss the range of rental or purchase options available to you and discover which one would best suit your needs.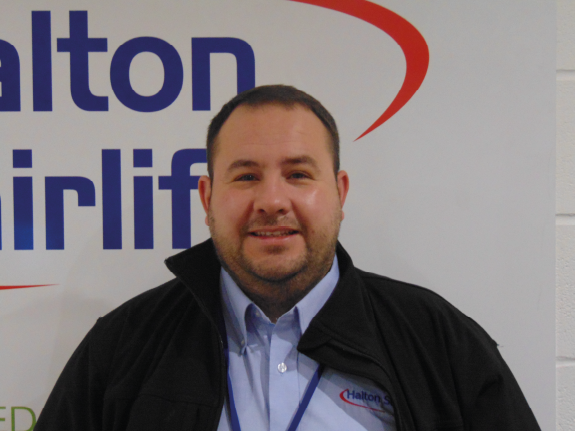 Neil is the founder of Halton Stairlifts. He has years of experience installing stairlifts across the UK. With an eagerness to help those with mobility issues get up the stairs, Neil understands how important it is for a seamless and straightforward approach to installing stairlifts to help those in need quickly.