When you've chosen your ideal stairlift, you'll need to arrange for it to be installed. To make sure you can plan around the fitting, you'll need to know 'how long does a stairlift installation take?'. It's also helpful to know what happens when a stairlift is installed.
Knowing how long your installation is likely to take will allow you to notify any friends, relatives, or carers to be on hand should you need some extra help. You'll also be able to plan the rest of your day around our engineer's visit. This means you can still attend any appointments you may have or pop to the shops.
What Happens When a Stairlift Is Installed?
If you've provided accurate measurements of your stairs using our stairlift measuring guide you should have received a FREE quote from Halton Stairlifts. If you're happy with your stairlift price let us know and your stairlift could be installed within just 24 hours (if next-day delivery is available). Alternatively, if you'd prefer stairlift installation on a specific date, we'll do all we can to arrange this at your convenience.
Before the installation, it's helpful to keep the area at the bottom of the stairs and the stairs themselves clear. This way our engineers can get to work straight away without needing to move any obstacles out of the way.
Our installers will then carefully fit your custom-made stair rail track to the stairs, and not the wall, for fuss-free installation without any mess.
How Long Does Stairlift Installation Take?
The time it takes to install a stair lift depends on the size and shape of the stairs it is being fitted to. Our experienced stairlift fitters are all highly trained in installing a range of stairlift makes and models. Their training and experience mean our engineers will get your stairlift up and running as quickly as possible.
Straight Stairlift Installation
When you buy a straight stairlift, you can expect the stairlift installation to take around two hours.
Because the stairlift track is following a straight line along your staircase, the installation process for straight stairlifts is largely straightforward. Some stairlifts can be fitted in less time, and others make take a little longer. But our average fitting time is approximately two hours.
Curved Stairlift Installation
Curved stairlift installation takes on average around three to five hours to complete.
Compared to straight stairlifts, installing curved stairlifts is a little more complicated. This is because our engineers need to take extra time to ensure the bespoke rails fit around any bends, turns, or curves in the stairwell perfectly.
Post Installation Demonstration
Once the stairlift is installed, our stairlift fitters will do a final safety check. Once they're happy the stairlift is safe to use, they'll then spend a little extra time demonstrating how to operate your stairlift. Because our stairlifts are easy to use, this shouldn't take up too much more of your time. But, if you're still unsure, our engineers are happy to stay a little longer. They'll make sure you feel completely confident in using your new stairlift, in line with the BHTA Code of Practice.
Our team will then share relevant paperwork with you about your stairlift. They'll also give you information about your standard stairlift warranty cover. Or your extended stairlift warranty if you've chosen that option. You should also know how to contact us if you have any queries or need to arrange a 24-hour call-out.
And, before they leave, our fitters will tidy up after themselves and remove any waste packaging.
Stairlift installation is quick and hassle-free, with most fittings completed in less than half a day. Speak to the team at Halton Stairlifts to book your stairlift installation today at 0800 644 7766. Or arrange a FREE home survey to get a no-obligation quote on a new or reconditioned stairlift.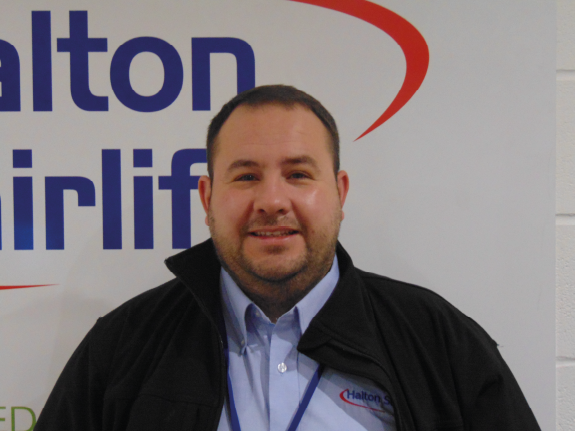 Neil is the founder of Halton Stairlifts. He has years of experience installing stairlifts across the UK. With an eagerness to help those with mobility issues get up the stairs, Neil understands how important it is for a seamless and straightforward approach to installing stairlifts to help those in need quickly.