We consider our homes a place of solace and comfort, particularly as we get older. So, it's not nice to think of tripping or falling on our own stairs. Although falling is not an inevitable part of ageing, trips and slips can happen from time to time. Knowing how to avoid any potential hazards is important, and can prevent accidents from ever happening again.
At Halton, we know the world of difference it can make to a person's confidence when climbing the stairs safely becomes an option, for older and disabled people in particular. We've compiled a list of our best tips for how to prevent falls on the stairs. Read on to find out more.
Take your time
If you're not feeling confident on your feet it can be frustrating, but the main thing to remember is not to rush. Lots of things can cause us to feel unsteady on our feet: from injury and knee pain to low blood pressure making us lose balance. Always take your time when tackling steep steps or staircases, and make sure you're using two fully secure handrails for every descent or ascent.
Reducing the likelihood of falls and fractures in older people is important for maintaining overall health, well-being and independence. If you're unsure whether your current layout is safe enough, speak to a professional occupational therapist who can assess your situation and surroundings. You can also read more about improving mobility and the benefits for older people, here.
Keep things bright
Did you know that low light areas are one of the most common causes of trips and slips in the home? It's so easy to miss or misjudge the distance of a step when you can't see it properly.
Sometimes the layouts of our homes don't let in much natural light from windows, so make sure that landings and hallways are always lit well with sufficient lights or lamps. Improving visibility on the stairs can significantly reduce the risk of common mishaps.
Don't be embarrassed
Having a fall can happen to anyone. If you're used to being totally independent but are suddenly feeling unconfident when going up the stairs, it's absolutely nothing to be embarrassed about. Always share your concerns with your GP if you feel your mobility has changed drastically, as they will be able to provide professional advice and assess the status of any current medication and health conditions.
Speaking to friends or loved ones about unsteadiness on the stairs can also be a weight off your mind, as losing balance as we age is often more common than you might think. Once you've explored your options, you might decide that having a stairlift installed in your home is a helpful solution to gaining back confidence on the stairs. If you'd like free impartial advice about stairlift installation options in your area, then speak to the stairlift experts at Halton Stairlifts.
Falls on the stairs can be prevented. If you're concerned about an elderly relative or loved one getting around the house on their own, then installing a stairlift can bring peace of mind. Whether you'd like to arrange a home survey or are in need of some friendly, impartial advice, the team at Halton are on hand to talk you through every step. Call 0800 644 7766 to book a home visit with one of our experienced surveyors or to find out more about any of our straight or curved stairlifts.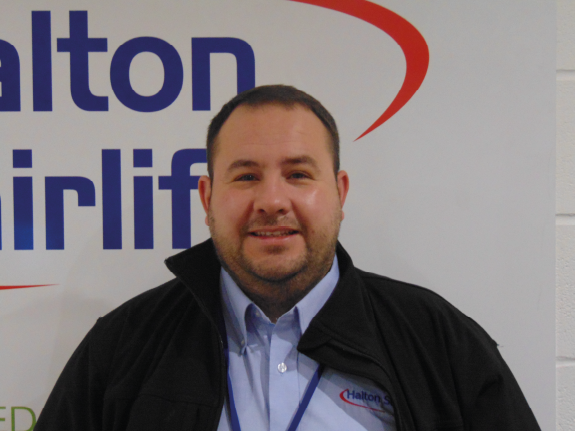 Neil is the founder of Halton Stairlifts. He has years of experience installing stairlifts across the UK. With an eagerness to help those with mobility issues get up the stairs, Neil understands how important it is for a seamless and straightforward approach to installing stairlifts to help those in need quickly.