If you have difficulty with mobility due to age, joint pain, or rely on a mobility scooter, you may have considered purchasing a stairlift at some point in your life.
Many people with mobility problems offer rely on a companion to help them around the house. However, with a stairlift, you will be able to regain your independence and freedom.
There are a wide range of factors that contribute to the removal of a stairlift. This is simply due to the fact that the stair lift is no longer needed.
Whether you have recently recovered from an injury and can therefore use the stairs independently again or a loved one has sadly passed away, you are probably asking yourself, 'Can a stairlift be removed?'.
The answer to this depends on a range of factors. For more information on removing a stairlift and a guide about what to do once it has been removed, read on!
Can a Stairlift be Removed?
Many people now own a stairlift due to its increasing popularity, but what happens when a stairlift is no longer needed? Are you stuck with it, or can it be removed? The answer to this is yes; the stairlift can be removed.
Stairlift installation can be reversed when your stairlift is no longer in use. Due to the modern fitting methods we use, our stair lift removal process is non-invasive and can be done efficiently without damaging your property or decor.
We fit all of our stairlift rails to the stairs rather than the walls to avoid any invasive work; therefore, we do not need to fill any drill holes once your stairlift has been removed.
Once your stairlift is removed, you have a few options for how to get rid of an old stairlift. For example, you may qualify for a buy-back service; otherwise, you may have to sell it privately. For more information on the choices you have when removing your stairlift, read on!
What Choices Do You Have When Removing a Stairlift?
Whether you want to replace your stairlift with a new and updated one, need to remove it for a short period of time, or simply need it taken away completely, we can help.
However, it is important to remember that once a stairlift has been fitted, the supplier is under no obligation to buy the stairlift back from you if this is no longer required.
This is why it is important to read the terms and conditions of stairlift sales before purchasing your lift, as these are usually outlined here. It can be quite difficult to sell a stairlift if it was made to fit your staircase.
This is because a bespoke lift is not likely to fit another staircase, therefore making it difficult to sell. However, there is no need to worry as there are multiple ways that you can get rid of your unwanted stairlift!
Try to Sell Your Stairlifts Privately
Here at Halton Stairlifts, we do not buy back any products supplied or installed within the first six months and bespoke, made-to-measure products will not be exchanged or refunded.
If this applies to you and you wish to sell your stairlift, then you can try selling it privately on platforms such as eBay, Shpock or Gumtree.
Selling privately can have its pros and cons. For example, organising and monitoring your listing can be extremely time-consuming and the end sale result is not always guaranteed. However, it is doable and you are more likely to sell your stairlift if you offer it for a slightly lower price than normal.
Before selling your stairlift, it will need to be removed by a professional. Once your lift has been removed correctly, you can then look into selling it.
Here at Halton Stairlifts, we offer a stairlift removal service and can provide you with a valuation on your lift if it meets our buyback criteria. For more information on the removal services we offer, read on!
Halton Removal Services
Our stairlift removal process allows us to remove your unwanted stairlift at little or no cost to you. Once we have removed your lift, we recycle the parts in an environmentally friendly manner.
All of our engineers are DBS-checked and highly qualified workers who can effectively remove your stairlift.
Here at Halton Stairlifts, we are a reputable company that buys most unwanted straight and curved stairlifts back, with some exceptions. To see if you are eligible for our buyback services, don't hesitate to call us at 0800 644 7766.
We offer fast removal and same-day payment services and provide our customers with a free, no obligation valuation. Once you contact us regarding the removal of your stairlift, we will provide you with a fair price.
The removal cost of your stairlift depends on the type of stairlift that needs to be removed as well as the number of floors it covers. However, in some circumstances, we may even pay you for your stairlift model, depending on whether it is a well-known brand or a newer model.
Contact Halton Stairlifts
Here at Halton Stairlift, we are a Checkatrade-approved company that offers cost-effective removal services.
With over a decade of experience in this industry, we always go above and beyond for our clients and offer a free home survey, no obligation quotes and no pressure-selling.
We beat or match any other quotes given to you by other stairlift companies to ensure you get the most out of your money!
Not only do we install stairlifts in your home, but we also remove them. From our range of curved stairlifts to straight stairlift options, reconditioned options to new, we offer removal services for them all!
If you would like more advice or information regarding our removal services, contact us today by filling out our online form with any questions you may have. We look forward to hearing from you!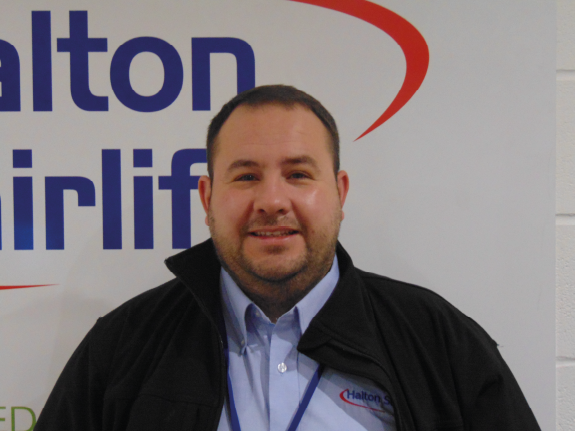 Neil is the founder of Halton Stairlifts. He has years of experience installing stairlifts across the UK. With an eagerness to help those with mobility issues get up the stairs, Neil understands how important it is for a seamless and straightforward approach to installing stairlifts to help those in need quickly.