Having a stairlift installed in your home is beneficial for many reasons. Whether you require a stairlift due to limited mobility or age, it's vital to find the right one that's best suited for you. When you have a stairlift installed, you'll be able to get around your home with ease.
Everyone wants the chance to get around their home freely. If you're struggling to get up and down your stairs, it might be time to consider purchasing a stairlift. By investing in a stairlift, you'll greatly benefit. Not only will your body thank you, but you won't have to worry about navigating yourself from one area of your home to another with difficulty.
Safety is key, which is why it's important to have a stairlift installed if you require one. Putting a strain on your body every day comes with a multitude of disadvantages. Many believe that stairlifts are simply there to aid you from one section of your property to another, but they provide so much more than that. To find out the main benefits of stairlifts, read on.
How Can a Stairlift Benefit You?
Stairlifts are an ideal solution for those struggling to get around their home. Similar to wheelchairs or mobility scooters, stairlifts are a necessity for individuals who need assistance. Stairlifts offer safety and security, providing their users with comfort and convenience at the same time.
It's not uncommon for accidents to occur within the home when you're unable to get around freely. Stairlifts can prevent accidents from happening; if you're elderly or unsteady, there's a higher chance that an injury could take place.
It can be challenging to have to rely on close relatives or carers to help you get up the stairs. Owning a stairlift gives you a great sense of independence. Rather than relying on others, you'll be able to travel up and down the stairs unaided.
Stairlifts are incredibly easy to operate for most individuals. Being able to remain at home is essential for many seniors; having to consider moving properties because you can't access the upper part of your home anymore can be upsetting to think about. Once a stairlift is installed, you can remain in your home with better accessibility.
Your friends and family will be able to relax knowing you're safely being transported to the areas of your home you desire to reach. It can cause anxiety and stress for close loved ones to know there's a chance of an accident occurring when they're not there. Owning a stairlift means you have reliable assistance in place.
How to Know Which Stairlift to Buy
It can be difficult to know which stairlift to buy. There are a number of factors to consider before purchasing a stairlift for your home. Typically, the main indication of what stairlift to buy comes down to the type of staircase you own.
All properties are different, so it's important to find out what type of staircase you have by observing its shape and complexity. If you have a simple staircase design, you won't require the same type of stairlift that'll be used on a curved staircase. Straight-style stairlifts are best used on single-flight staircases that have no immediate landings.
The professionals working on your stairlift installation should be able to equip you with all the necessary information before you go ahead and pick out your chosen model. Finding the right stairlift to suit your needs and requirements can be an interesting process.
Installing a stairlift is relatively straightforward for trained engineers to complete. Most stairlift companies provide customers with a home survey to ensure they're able to find the most suitable stairlift product possible for their humble abode.
Are Stairlifts Safe?
Yes, stairlifts are safe to use. Compared to navigating yourself up and down the stairs, using a stairlift comes with a much lower risk of an accident taking place. There aren't many risk factors that come with operating a stairlift, but it's important to be cautious with everything you do; even more so if you have poor mobility.
You can trust stairlifts to glide you up and down your staircase seamlessly with peace of mind. Stairlifts are specifically designed to carry one person at a time. Attempting to carry an additional person, including children, could exceed the maximum weight limit.
Designed with optimal safety in mind, staircases are there to protect you. If you use them correctly, you shouldn't have to worry about an injury occurring.
Regular maintenance and care can keep your stairlift working efficiently for a long period of time. When a stairlift is used and serviced accordingly, you can expect years' worth of reliability. Seatbelts should be provided on all stairlift designs; they help keep users secure whilst the stairlift operates.
Loose items such as blankets, towels, or long clothing could potentially become trapped in your stairlift. It's crucial that you make sure that there are no hanging fabrics or obstructions in the way of your stairlift before you use it. If loose items damage your stairlift, it could result in costly repairs.
Do You Need a Stairlift?
At Halton Stairlifts, we offer a wide range of stairlift models for customers to choose from. Our expert team of specialists are masters at what they do; each of our professional engineers is DBS-checked and continuously ensures each customer is satisfied with our services.
Purchasing a stairlift can prove tedious, especially if it's your first time doing so. There's a large selection of models to consider, so we understand that it can be overwhelming. We help people from all walks of life, offering support, guidance, and advice when needed.
It can be a battle to live with mobility issues. You can trust Halton Stairlifts to provide you with the most efficient and reliable stairlifts. No matter how complex your staircase is, you can rest assured that we will be able to help. Within our range, we offer straight stairlift designs, reliable curved stairlifts, and side-hinged stairlift models, to name a few.
If your staircase has unique curvatures, you'll be glad to know that we can create a custom track to be applied to your stairs. For stairlift services that are second to none, look no further than ourselves here at Halton Stairlifts. For more information, contact us today at 0800 644 7766. We look forward to hearing from you soon.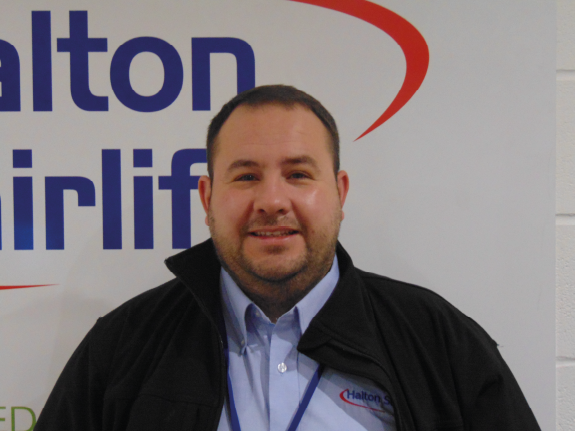 Neil is the founder of Halton Stairlifts. He has years of experience installing stairlifts across the UK. With an eagerness to help those with mobility issues get up the stairs, Neil understands how important it is for a seamless and straightforward approach to installing stairlifts to help those in need quickly.