When purchasing a stairlift, many people don't realise that there are responsibilities that come with it. If you struggle with your mobility or find it hard to move around the house due to age, then a stairlift is the perfect solution for you.
But, how do you ensure your stairlift remains in good condition? There are a range of ways you can do this, whether it's through stairlift maintenance, servicing, or warranties. We can help you with this.
The British Healthcare Trade Association (BHTA) was put in place to focus on all aspects of purchasing a stairlift, such as picking the right stairlift and stairlift maintenance. Knowing how to look after your stairlift is ideal for preventing breakdowns and repairs.
When you purchase a stairlift from us, we can guarantee that you are getting the best quality product and service at a great price. So, when we install the stairlift in your home, it becomes your responsibility to look after it.
Here at Halton Stairlifts, we aim to look after our customers by providing them with high-quality services and stairlift repairs. If you are ever in need of assistance, we can help!
Throughout this blog, we will be providing you with a guide on how you can look after your stairlift to make sure that it lasts you for a long period of time. Read on to learn more.
Why is Stairlift Maintenance Important?
It is recommended that your lift be serviced every 12 months to ensure that everything is working properly and nothing is damaged or broken. This service is essential as it can effectively identify if anything needs to be repaired, replaced or tightened.
Keeping on top of your stairlift is important if you want it to last. If you leave your stairlift unattended for an extended period of time, dust and grime can build up, causing your stairlift to not perform or, in the worst case, fail.
It is important to keep your rails as clean as possible as often as you can to ensure that nothing is obstructing them. You can do this by cleaning the tracks with a dry cloth and a vacuum.
So, in order to maintain the quality of your stairlifts, make sure that you are cleaning the tracks and stairlifts every so often.
However, if you are someone who struggles with their mobility or suffers from joint problems, then you would be best asking someone else to do this for you where possible.
Halton Stairlifts Warranty Cover
We offer an extended warranty cover option to give you that extra piece of mind. However, all of our stairlifts come with a minimum 12-month warranty period, which is completely free for both straight and curved stairlifts.
We offer a standard 12-month warranty period for all of our straight and curved stairlifts, completely free of charge. This includes a standard warranty cover with a 24-hour emergency helpline service that covers both labour and parts.
If you have a breakdown after your 12-month warranty has expired, then you will be covered with the extended warranty. However, if you don't, then we will still attend your call-out, however, you will be charged the standard call-out rate. (Subject to our Terms & Conditions)
With your standard cover, you will receive a year's worth of cover, one annual service visit, medium attention, access to a 24-hour helpline and more! If you would like more information on the warranty options we offer, check out our 'warranty cover' option on our website.
How can You ensure Your stairlift remains in good condition?
The main way you can make sure your stairlift remains in good condition is by routinely wiping and regularly servicing it. You can clean your stairlift simply by using a clean, damp cloth and wiping it.
You should aim to avoid cleaning sprays and other solutions when cleaning the tracks, as these can be too abrasive. Over time, dust and debris can build up on your stairlifts and affect their performance.
If you have a pet, then this is another factor that can affect your lifts performance. This is because pet hair can get stuck in the track, causing an obstruction. So, in order to keep your stairlift in good condition, it is important to clean the tracks and wipe down the lift too.
Once you have cleaned the tracks, applying lubrication is necessary to ensure the stairlift continues moving smoothly.
Although it is very unlikely for our stairlifts to get stuck on the track, applying lubricants regularly will ensure that the stairlift doesn't experience any friction. The older your stairlift is, the more prone it will be to buildup and debris, which is why regular maintenance is crucial.
Regular checks on your stairlift are another way to ensure that it is in working order and that everything is working properly. If there is anything wrong with your lift during the service, then our stairlift engineers will resolve the issue as soon as possible.
Contact Halton Stairlifts
Here at Halton Stairlifts, we are a Checkatrade-approved company with over a decade of experience in this industry. Not only do we install and design our stairlifts, but we also remove them.
We offer a range of stairlifts, such as our curved stairlift range, pre-owned lifts, and straight stairlift services. Our stairlifts come in a range of upholstery colours to fit into your home's aesthetic, so you can rest assured that there is a stairlift for everyone.
We beat or price match any quotes you receive from other companies to guarantee you get the best price. If you would like any more information on the stairlifts we offer, don't hesitate to call us at 0800 644 7766. We look forward to hearing from you!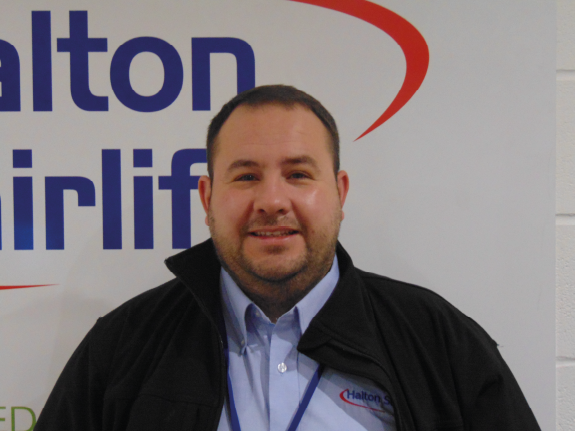 Neil is the founder of Halton Stairlifts. He has years of experience installing stairlifts across the UK. With an eagerness to help those with mobility issues get up the stairs, Neil understands how important it is for a seamless and straightforward approach to installing stairlifts to help those in need quickly.