Whether it be due to old age, mobility issues or a disability, it can be devastating when you can no longer access the entirety of your home. Stairlifts are the perfect solution for getting up and down the stairs.
Like most appliances, your stairlift needs regular upkeep and cleaning to keep it in top condition. When you have never completed such a task, however, it can be difficult to know how you can do so safely.
Continue reading to find out some of our top tips for cleaning your stairlift unit without damaging the mechanism while still giving you a thorough clean.
General Upkeep
One of the key things to remember when trying to clean your stairlift is the general upkeep of the device over time. This means that you should try to keep on top of cleaning this product to ensure that there is no issue further through the years.
If you are to do this, you will need to lightly dust the seat and handrail on a regular basis with a duster or a soft cloth. The mechanism itself should not require any kind of cleaning but a simple wipe over the controls will make sure that your unit remains clean for many years.
This simple act will be sure to keep the most frequently used components on your mechanism completely clean and germ-free, allowing you to focus on the more pressing matters of your home.
Cleaning
When the season for spring cleaning arrives, you might feel inclined to bring out the bleach and disinfectants. However, it's important to note that using cleaning solvents, bleach, or other household cleaning products on your stairlift is not to be advised.
Such actions can lead to detrimental effects on the equipment. While the necessity for a thorough cleaning of your stairlift does not occur very often, it is still important to conduct such processes to keep the stairlift in good condition.
To take care of your stairlift, opt for a slightly damp cloth to delicately get rid of any built-up dirt or dust without damaging the stairlift. While this can be rather difficult on more complex units such as curved stairlifts, keeping your stairlift clean is essential.
Regular Servicing and Warranty
When buying a stairlift from Halton Stairlifts, our new stairlifts come complete with a complimentary 24-month warranty and a 12-month warranty for our reconditioned options. The coverage commences on the same day your stairlift is installed.
One thing to note is that the standard Halton warranty incorporates a 24-hour emergency helpline. This assurance ensures that if any concerns arise regarding your stairlift, prompt resolution is guaranteed.
This comprehensive service encompasses replacements for parts or fittings that may require attention, as well as covering associated labour for repairs.
Upon the culmination of the initial 12-month period, the standard warranty for your stairlift will conclude. Renewal is optional, and the possibility of acquiring an extended warranty remains open for consideration at a later date.
When using a stairlift, it is vital that you take proper care, use it appropriately, and regular maintenance practices, your stairlift can serve you for a lifetime. Should you encounter uncertainty about maintaining your stairlift, it is advisable to consult a professional.
The affable and knowledgeable team at Halton Stairlifts is readily available to address your inquiries and alleviate any concerns.
If you're considering obtaining a new stairlift, the process of placing an order and installing a fully operational stairlift can be completed in as little as a few days. For those seeking expedited delivery, the option of next-day delivery can be explored by consulting our team.
To initiate action or acquire further insights into our extensive array of stairlifts and warranty choices, don't hesitate to contact us at 0800 644 7766. A commitment-free quote and arrangement of a complimentary home assessment await your call.
Buying a Stairlift With Halton Stairlifts
Halton Stairlifts is one of the leading brands in the mobility solutions industry, offering outstanding stairlifts for all eventualities.
With an unwavering commitment to helping the quality of life for all of our customers with mobility challenges, we have consistently demonstrated our dedication through innovation, reliability, and customer satisfaction.
Our team of experts takes a personalised approach, understanding your unique requirements and recommending solutions that perfectly fit your home and lifestyle.
We also ensure that have an unwavering commitment towards customer care. Throughout the entire time that you are under our care, you're greeted by a supportive and empathetic team that guides you through every step of the process.
We prioritise transparency, ensuring you have a clear understanding of the product, installation, and pricing. We aim to build trust with each of our customers to make sure that we are considering each and every one of your needs when suggesting a stairlift unit.
When you choose Halton Stairlifts, you can be assured that you are investing in safety, comfort, and the happiness that comes from keeping your independence.
Conclusion
To conclude, there are various different ways in which you can maintain and clean your stairlift to make sure that it continues to operate smoothly. It is vital for the long-term health of your stairlift mechanism that you carry out these checks regularly.
Simply wiping over the outer layer of your stairlift can prevent serious breakdowns in the future by removing any excess dust or debris that may build up over a long period of time. This is why it is imperative to do so.
If you are unable to complete these tasks, the team at Halton Stairlifts are more than happy to help. With our expert maintenance services and experienced repairs team, there is no stairlift fault that we have not seen.
If you would like to enlist the help of our team or would like to enquire about a unit from our straight stairlift collection, please do not hesitate to get in touch with us at 0800 644 7766 and we will be on hand to assist with whatever faults you may have found in your stairlift system.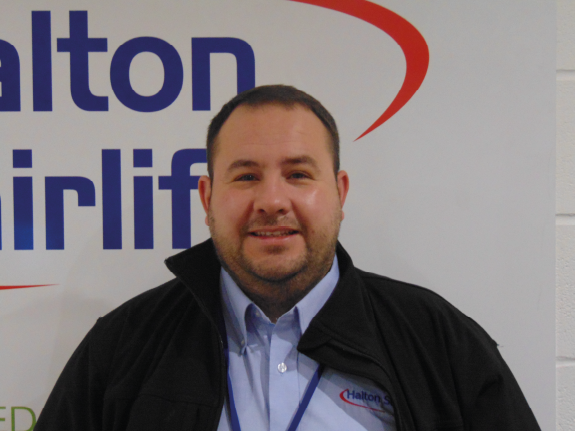 Neil is the founder of Halton Stairlifts. He has years of experience installing stairlifts across the UK. With an eagerness to help those with mobility issues get up the stairs, Neil understands how important it is for a seamless and straightforward approach to installing stairlifts to help those in need quickly.