When mobility becomes a challenge due to age or other reasons, a stairlift can be a great way to make your home more accessible and improve your quality of life. Stairlifts provide a safe and convenient way to navigate the stairs, ensuring that you can move freely within your own home.
Although brand-new stairlifts are readily available on the market, they can be quite expensive. This is where second-hand stairlifts come into play as a cost-effective alternative.
However, before you jump into buying a second-hand stairlift, there are a few important considerations to keep in mind. Throughout this blog, we will be discussing things to consider when buying a second-hand stairlift and the benefits surrounding them. For more information, read on.
Assess Your Needs
The first step to purchasing a second-hand stairlift is to assess your specific needs. Stairlifts come in various designs, so it's important to determine what type will best serve your requirements. Here are some key things to consider.
Firstly, you will need to know which type of stairlift is suitable for your home. For example, straight stairlifts are designed for stairs that have no bends or curves, while curved stairlifts are custom-built to fit stairs with twists and turns.
You will also need to check the weight requirements of the stairlifts. This is to ensure that the stairlift you choose can safely accommodate your weight.
Moreover, consider who you are purchasing the stairlift for. Is it for yourself or a loved one with specific mobility challenges? Take into account any unique requirements, such as the need for swivel seats or additional safety features.
By understanding your specific needs, you can narrow down your options and make a more informed choice. Here at Halton Stairlifts, we offer a wide range of options, and we are more than happy to assist you with any questions you may have.
Budget Considerations
One of the main reasons people choose second-hand stairlifts is to save money. However, it's crucial to set a budget and stick to it as much as you can.
When assessing your budget, remember that the cost of the stairlift is not the only expense you'll experience.
You may need to account for installation, maintenance, and any necessary modifications to your staircase. While second-hand stairlifts are generally more affordable than new ones, it's still important to be realistic about what you can afford.
Do Research Regarding Stairlift Companies
Once you have a clear understanding of your needs and budget, it's time to consider where you'll find a second-hand stairlift. When looking for a stairlift company, it is important to do your research to ensure that the company you are looking for is a reputable, well-known business.
There are a range of different companies that supply stairlifts – however, it is important that you go with one that is trustworthy, has experience in the industry and offers reliable services.
Here at Halton Stairlifts, we are a Checkatrade-approved company with over a decade of experience in this industry. We have worked with hundreds of customers ensuring that they receive the best possible service at a competitive price.
Inspection and Testing
When buying a second-hand stairlift, it's important that you thoroughly inspect and test the lift before making a decision. Firstly you will want to carry out a physical inspection by checking the condition of the stairlift, including the seat, track, and controls.
Look for signs of wear and tear, rust, or damage. Ensure that the unit appears well-maintained. Moreover, inquire about warranties and find out if the second-hand stairlift comes with any warranties or guarantees. This can provide added security in case of unexpected issues.
By carefully inspecting and testing the stairlift, you can make a more informed decision and avoid potential problems further down the road.
Maintenance and Service
Regular maintenance is crucial to keep your second-hand stairlift in excellent condition. Before purchasing, inquire about the availability of maintenance services and the cost of ongoing upkeep.
Some dealers and manufacturers offer maintenance contracts that cover regular inspections and repairs. These contracts can provide you with peace of mind and help you budget for maintenance costs.
If you're handy and comfortable with basic maintenance tasks, ask for guidance on simple maintenance routines you can perform yourself, such as cleaning and lubricating the track.
Safety Considerations
Safety should always be a top priority when buying a stairlift, especially if you or a loved one will be using it regularly. Ensure that the stairlift is equipped with a secure seatbelt or harness to prevent falls. Modern stairlifts often feature safety sensors that can detect obstacles on the track and automatically stop the lift to prevent collisions.
When you have your stairlift fitted, familiarise yourself with the location and operation of emergency stop buttons and controls in case of unexpected issues.
Moreover, If you or a loved one will be using the stairlift, make sure to receive proper training on its safe operation. Here at Halton Stairlifts, we ensure that all of our stairlifts meet the highest standards before they leave our workshop.
We offer maintenance services, inspections and testing and we always make sure that our customers understand everything they need to know about the stairlift before they use it.
Looking To Buy A Secondhand Stairlift?
Purchasing a second-hand stairlift can be a cost-effective solution to improve mobility and accessibility in your home. However, it's essential to approach the process with careful consideration.
From assessing your specific needs and setting a budget to inspecting the unit, ensuring professional installation, and planning for ongoing maintenance.
By following these steps and prioritising safety, you can make a well-informed decision that enhances your quality of life while providing you with peace of mind in your daily movements within your home.
Not only are reconditioned stairlifts cheaper, but they are also a more environmentally friendly option. Pre-loved stairlifts are not of inferior quality compared to new ones, the only difference between the two is that one has been pre-owned whereas the other is completely new.
If you're looking to buy a secondhand stairlift, look no further than Halton Stairlifts. Our reconditioned stairlifts are high-quality and durable – and come with a lower price tag than our range of brand-new stairlifts.
For more information or advice regarding our range of reconditioned stairlifts, don't hesitate to contact us at 0800 644 7766. We are more than happy to help!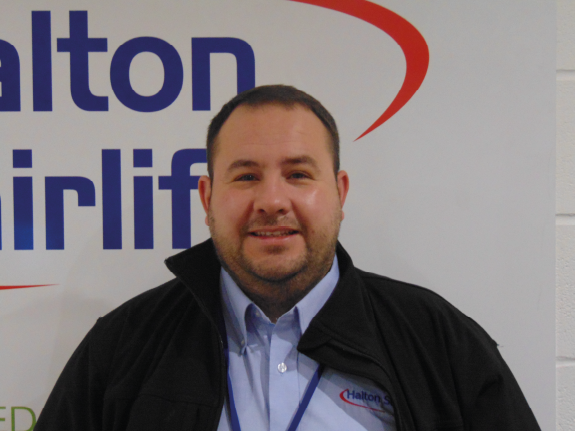 Neil is the founder of Halton Stairlifts. He has years of experience installing stairlifts across the UK. With an eagerness to help those with mobility issues get up the stairs, Neil understands how important it is for a seamless and straightforward approach to installing stairlifts to help those in need quickly.