When choosing your ideal stairlift, it can seem like there's an overwhelming amount of choices available. Do you need a curved or straight stairlift? Perched or standing? New or reconditioned? It's never a one size fits all situation, but by consulting the experts, you can find your perfect match. An increasingly popular choice is to buy a stairlift that's reconditioned. Reconditioned stairlifts are used stairlifts that have been fully serviced and returned to excellent condition, ready for re-sale. Reconditioned stairlifts are a brilliant option for many stairlift users. But why choose a reconditioned stairlift for your home? Read on to learn the 3 biggest benefits of a reconditioned stairlift.

1. Affordability
Stairlifts are a valuable investment, but at first glance they can seem expensive. By purchasing a pre-owned, secondhand or reconditioned stairlift, the price is considerably lower than buying a new model outright, but without compromising on quality or comfort. This is perfect if you're sticking to a specific budget.
2. Better for the environment
Did you know that by purchasing a reconditioned stairlift you're also helping the environment? By installing one of these instead of a new model, you're helping to upcycle materials that might otherwise have been wasted. This makes reconditioned stairlifts a much more economical way to get around your home than buying brand-new ones.

3. No fuss
Choosing to have a new stairlift involves the process of selecting every detail from scratch. This can include everything; from seat colour to adapted footrests, all of which are specific to a person's preferences and tailored to their ailments. If you simply want all the functionality, comfort, and safety features of a classic stairlift but for a cheaper price, then a reconditioned stairlift is an ideal option. In some cases, you can even arrange for your reconditioned stairlift to be installed a lot sooner than if you were ordering a brand-new model made from scratch.
It can feel like there are lots of decisions to make when welcoming a reconditioned stairlift into your home. But, at Halton, we're here to make the process as easy as possible for you. Whether you're in need of a curved, straight or slimline stairlift – Halton Stairlifts are with you every step of the way. All UK stairlifts are manufactured to exacting safety standards outlined by the British Safety Institution and each stairlift is built to last.
Reconditioned stairlifts are designed to be highly durable, and their parts are repurposed to work like brand-new ones. They're also more economical than buying a brand-new model outright. To find out if a reconditioned stairlift is the right choice for you, arrange a home assessment with our team of experienced surveyors today by calling the Halton Stairlifts team on 0800 644 7766. You can also request a free brochure at any time.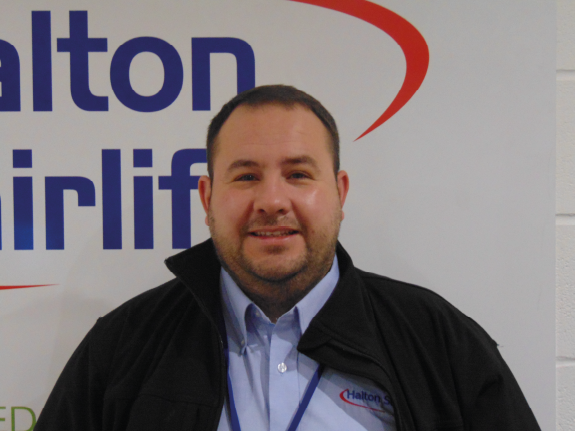 Neil is the founder of Halton Stairlifts. He has years of experience installing stairlifts across the UK. With an eagerness to help those with mobility issues get up the stairs, Neil understands how important it is for a seamless and straightforward approach to installing stairlifts to help those in need quickly.