If tackling the stairs is starting to feel like a chore, then you'll have already decided it's time to invest in a modern stairlift. Buying a stairlift will give you back the freedom you need. But what's the difference between a curved or a straight stairlift? And how do you know which type is right for you and your home?
Before your perfect stairlift is installed, it's natural that you'll have some questions. Here at Halton Stairlifts, we'll happily arrange a free home assessment to check out your stairlift installation requirements. During the home assessment, a specialist assessor will call in to find out more about the problems you're facing. They will then measure up your hallway, stairs, and landing and ask about your preferences for stairlift styles in and around your budget. Based on your needs, our experts will make a recommendation for your ideal type of stairlift, with no hard-sell.
So, What is the difference between a curved stairlift and a straight stairlift?
The biggest difference you'll notice between straight and curved stairlifts is the shape. Straight railed stairlifts are suited for straight flights of stairs. This means they ascend in a linear fashion with no turns, curves or bends. Straight-forward to fit, they can be mounted neatly with minimum interference to your hall, stairs and landing. The straight stairlift rail system is seamless and requires no complicated setup. It's fast fitting and simple to operate with no damage to your current home layout and décor.
For staircases with sharp turns, you'll need a curved stairlift. Curved stairlift rail systems are the perfect match for homes with a more complex layout. This includes stairs with half-landings and spiral staircases.
Your stairlift will be made to measure, but the benefits of owning one don't end there. Each stairlift is remote control operated for complete control. There are plenty of ways to customise your stairlift, from colour and footrest type, to make sure it's giving you everything you need. Our straight and curved stairlifts come complete with a safety belt harness, swivel seat locking system, and electronic braking system. Our modern safety features ensure every journey is as smooth as possible, allowing you to glide securely up and down the stairs.
Straight Stairlifts
Straight stairlifts generally fit standard staircases. Start by taking a look at your stairs. If they go from the hallway to the landing in a single straight line, then you'll need a straight stairlift. Straight stairlifts are one of the most affordable types of stairlifts, thanks to their standard fitting techniques.
Depending on the positioning of your stairwell, a hinged rail finish may be required.  Hinged rails are needed when the stairlift track goes to the floor, and there is something in the way. They're ideal if you have small hallways or stairs near doorways, as a hinge rail simply prevents any tripping hazards on both doorways and passageways.
Curved Stairlifts
If you have stairs with twists or bends, a curved stairlift is on the cards. While these can be slightly more complicated to install, a thorough home survey by Halton Stairlifts engineers will ensure this is completely customised to every nook and cranny of your home.
A full assessment gives our expert team everything they need to fix your fully modern track rail system. There's no need for any excessive renovation like drilling into walls. Our attention to detail ensures your curved stairlift is measured to perfection. Once the bespoke rail is made in the Halton Stairlifts workshop, it will fit your property exactly.
Whatever stairlift you require, with Halton Stairlifts, you can rest assured yours will be tailor-made in to suit you and your home in functionality, colour and style.
Ready to get started and secure your curved or straight stairlift? Give our friendly team a call for a free no-obligation home quote on 0800 644 7766.  Alternatively, arrange your free home assessment today.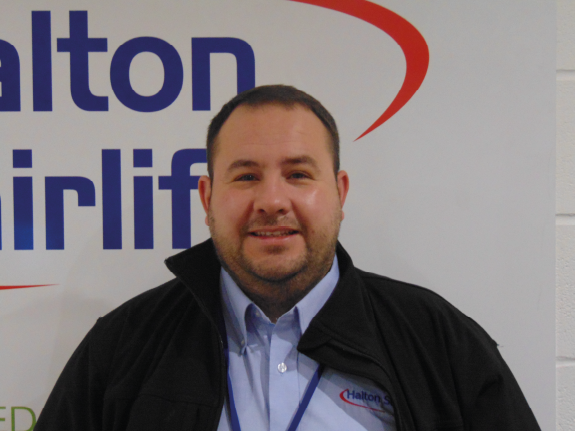 Neil is the founder of Halton Stairlifts. He has years of experience installing stairlifts across the UK. With an eagerness to help those with mobility issues get up the stairs, Neil understands how important it is for a seamless and straightforward approach to installing stairlifts to help those in need quickly.