Living with mobility issues can be challenging, but stairlifts offer many conveniences. They provide users with a safe and reliable way to get from one area of their home to another.
However, all properties are different and have various staircase designs. Stairlifts are a blessing to people who struggle to get around their homes independently.
They are designed to safely transport you up and down the stairs. When it comes to the design of a stairlift, there are generally two options to choose from, straight stairlifts and curved stairlifts; although some are manufactured for outdoor use.
Essentially, the type of staircase you have in your home determines what stairlift you require. In this blog, we'll explore the different stairlift options and find out if it's possible for stairlifts to turn corners. Read on for more information.
Owning a Stairlift
There are many advantages to owning a stairlift. Stairlifts provide a solution for individuals with limited mobility or physical disabilities, making it easier for them to access different levels of their homes. This can greatly enhance their independence and quality of life.
Staircases can be hazardous for individuals with mobility issues, especially the elderly. Stairlifts offer a safe and stable means of travelling stairs, reducing the risk of falls and injuries.
Many people prefer to age in the comfort of their own homes rather than move to assisted living facilities. Installing a stairlift allows elderly people to remain in their homes with great accessibility.
They eliminate the physical strain that you put your body under each time you walk up a flight of stairs. You'll know when it's the right time to purchase a stairlift, and once you do, you'll be able to live with peace of mind knowing a stairlift is installed in either your home or a loved one's.
Stairlifts that Can Turn Corners
So, can stairlifts turn corners? In short, yes, stairlifts can turn corners. They come in various models and can be customised to fit different staircase configurations, whether it be straight or curved. This adaptability means that they can be installed in most homes without major structural changes.
This means you can complete your staircase journey in one continuous journey, eliminating the risk of having to transfer yourself across a landing or manage the final few steps on your own.
If you do have a curved staircase, you'll benefit most from having a curved stairlift installed. A curved stairlift offers safety and reassurance, helping to seamlessly glide you around the bends of your stairs with ease.
Can Stairlifts Be Fitted to Any Stairs?
Stairlifts can be fitted to most staircases. If your stairway is particularly compact or has a turn or bend, you'll need to arrange for a detailed home survey. With a home survey, an experienced engineer will visit your property and measure your stairs and landing.
Having a trustworthy engineer to come and inspect your home is the best way to decipher what type of stairlift you'll need. Most staircases require either a straight stairlift or a curved stairlift.
How Does a Curved Stairlift Work?
A curved stairlift is fitted to a specially designed track that follows the curves and turns of your staircase. It's operated in the same way as a straight stairlift and also comes with similar features.
Curved stairlifts are custom-made to fit the precise shape and dimensions of your staircase, ensuring a smooth and safe ride around corners and along curved sections of the stairs. This customisation allows individuals with curved or winding staircases to still benefit from the convenience of a stairlift.
Modern curved stairlifts are designed for easy use, with simple controls and comfortable seating. Users can efficiently operate them with minimal effort. Curved stairlifts are completely safe to use and come with a seatbelt.
Having a curved stairlift installed in your home gives you the reassurance that you'll be able to move freely from the upper section of your home to the bottom whenever you need to.
Curved Stairlift Cost
Curved stairlift prices vary depending on numerous factors. Compared to straight stairlifts, curved stairlifts cost more. This is because curved stairlift designs are manufactured, customised and installed to fit the shape of your stairs perfectly.
Because of the bespoke nature of many curved stairlifts, it can be difficult to give an accurate estimate over the phone. Typically, you'll be given a stairlift quote upon your initial home survey visit.
Reconditioned curved stairlifts can be a more affordable option. Fully serviced and carefully restored, reconditioned stairlifts are reliable and comfortable to use. They can also offer better value for money, depending on your budget.
Once you've decided on your budget, your trusted stairlift engineer should be able to assist you in making a decision. When you choose Halton Stairlifts, you can expect an efficient and reliable service. We help find the best stairlift for your property that matches your budget.
How Can We Help at Halton Stairlifts?
Here at Halton Stairlifts, we understand the difficulties that people face when it comes to finding the best-suited stairlift for their property. Our expert team guides you through the array of choices we have to offer.
Our extensive range of stairlifts includes straight, curved and outdoor stairlifts to name a few. Outdoor stairlifts are made for outdoor use, allowing homeowners access to their gardens with ease. Curved stairlifts can be used on more complex staircase designs and straight stairlifts are best for straight staircases.
We can work on both wide and narrow staircases. In regard to stairlifts suitable for staircases with turns, our team are ready and waiting to help when it comes to buying a curved stairlift today.
Our professional services include a home survey, where one of our trusted, DBS-checked engineers visits your property, takes precise measurements and evaluates which stairlift is best for you.
In the event of an emergency or power cut, you'll be glad to know that you'll still be able to use your stairlift; each design is battery-operated.
If it's your first time purchasing a stairlift, it can seem pretty daunting, which is why our team remains on hand at all times to ensure you're equipped with all the information you need to know. We encourage you to complete a free, no-obligation quote today.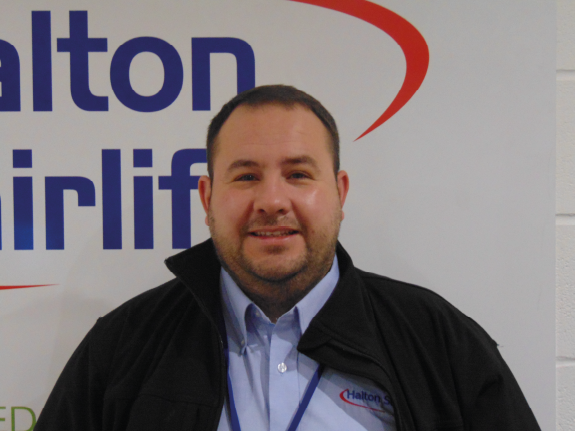 Neil is the founder of Halton Stairlifts. He has years of experience installing stairlifts across the UK. With an eagerness to help those with mobility issues get up the stairs, Neil understands how important it is for a seamless and straightforward approach to installing stairlifts to help those in need quickly.