If you are someone who is suffering from mobility issues or joint problems such as arthritis, then you most likely don't look forward to using the stairs day in and day out.
Here at Halton Stairlifts, we offer a wide range of stairlifts suited to you and your home. From curved stairlifts to straight stairlifts, reconditioned to new we have it all.
The cost of stairlifts depends on a variety of factors such as the type of stairlifts and the installation costs. Throughout this blog, we will be exploring how much curved stairlifts typically cost, and what factors can impact the price of curved stairlifts.
How Much Do Stairlifts Cost?
Here at Halton Stairlifts, we are a 5-star business that provides a variety of lifts whether you have a curved or straight staircase, we can assure you we have a stairlift suited for your home.
When purchasing a stairlift your first thought is most likely about the price. The price of your stairlift depends on a range of factors such as the type of lift you need and the type of model whether it is new or reconditioned.
The average cost of a curved stairlift for a single flight of curved stairs is around £3,300 to £6,000 to install. Whereas, if you are wanting to install a new multi-flight curved stair lift, then you will need around £4500 to £8000 on average.
Here at Halton Stairlifts, we offer warranty cover for your stairlifts to give you that extra piece of mind. With reconditioned stairlifts, we offer 12 months of warranty cover whereas with new, comprehensive and exclusive stairlifts we offer 24 months of warranty cover.
This covers equipment installation, which typically covers parts and labour. At Halton Stairlifts, our warranty cover also includes a 24-hour helpline for emergencies.
If you are on a budget, refurbished stairlifts may be the best option for you. You can find used stairlifts of exceptional quality at a fraction of the cost of a brand-new stairlift. Purchase a reconditioned stairlift at Halton Stairlifts today, or contact us to learn more.
Straight Stairlift Prices
Straight Stairlifts are one of the most common types of stairlifts available on the market right now. These types of stairlifts are designed for staircases that have no curves, twists, turns or landings.
Here at Halton, we offer a wide range of straight lifts such as slimline stairlifts, heavy-duty stairlifts, the Halton Sit and Stand Stairlift and much more. Our stairlifts come in a range of different models and come either new or reconditioned.
Some of the straight-reconditioned stairlifts we offer are the Halton Reconditioned Slimline Stairlifts, Slimline HD Stairlifts and Sit-and-Stand stairlifts. These stairlifts come in both new and reconditioned models.
Straight stairlifts are generally a more affordable option than curved stairlifts – this is because in many cases, one size fits all with straight stairlifts. If you have a narrow staircase, explore our range of slimline straight stairlifts at Halton Stairlifts.
Curved Stairlift Prices
Here at Halton, not only do we offer straight stairlifts, but we also offer curved stairlifts. Curved stairlifts are designed for staircases that have bends, corners and landings. The tracks for curved stairlifts are custom-made to fit the exact shape of your staircase.
Curved stairlifts are slightly more expensive compared to straight stairlift models, this is because it costs more to design a custom-built track to fit seamlessly onto your staircase. Here at Halton, we offer a range of curved stairlifts both new and reconditioned.
The new curved stairlifts we offer are the Halton Dual Rail Stairlift, Ultimate Curved Stairlifts and the Halton Infinity Curved Stairlift. We also offer a range of reconditioned stairlifts at a slightly cheaper price. The stairlifts we offer are:
The Reconditioned Halton Style Stairlift
Reconditioned Halton Signature Curved Stairlift
Reconditioned Halton Signature Plus Curved Stairlift
And finally the Reconditioned Halton Ultimate Curved Stairlift
Some factors that impact the cost of a curved stairlift include the style of stairlift (e.g. whether it is sit-and-stand, outdoor, etc), the make, and of course, the model.
Make the most of the competitive prices of our curved stairlifts at Halton Stairlifts today – we offer a promise to beat any like-for-like written quote.
Curved Stairlifts vs. Straight Stairlifts
Straight stairlifts are a lot less complex and easier to install compared to straight stairlifts, therefore, they cost less. Straight staircases have no corners, landings or turns meaning that they don't need to be custom-made for your stairs.
Curved stairlifts, on the other hand, have curves, turns and landings, therefore, the track needs to be custom-made to fit your staircase.
The average starting price for straight stairlifts is around £1695. Curved stairlifts, however, start at a much higher price of £3300. This is because they require a much more complex solution.
When you purchase a curved stairlift you are not only paying for the lift, you are also paying for a curved custom-made stairlift track, higher production costs, increased installation costs and a bespoke design.
Contact Halton Stairlifts
If you would like more information about the stairlifts we have available and would like a free no-obligation quote all you have to do is share some information with us such as:
Your personal circumstances
The layout of your house
The measurements of your staircase
We take pride in our fast and efficient services – we offer next-day fittings. This means that most of our stairlift orders can be fulfilled and installed within just 24 hours of your call. In some cases, we can even install stairlifts on the same day – but most of our lifts are fittin within a few days.
If you have any questions or would like more information about the stairlifts we have to offer, call us today at 0800 644 7766 and we will be more than happy to help!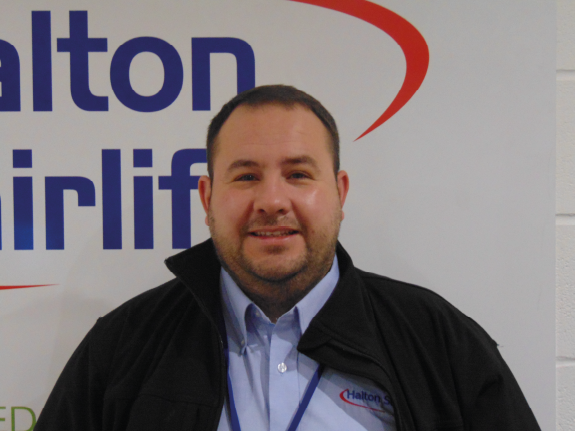 Neil is the founder of Halton Stairlifts. He has years of experience installing stairlifts across the UK. With an eagerness to help those with mobility issues get up the stairs, Neil understands how important it is for a seamless and straightforward approach to installing stairlifts to help those in need quickly.