LOW MONTHLY PAYMENTS AVAILABLE
Call today on 0800 644 7766
Buy Online Halton Style Curved Stairlifts – £2995 Instock
Halton Style Curved Stairlifts | Call Now on 0800 644 7766 for a No Obligation Quote
Buy Online Halton Style Curved Stairlifts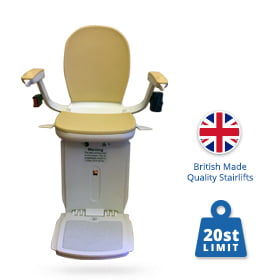 The Halton Style  is the slimmest curved stairlift on the market and is ideal for narrow staircases or when space is at a premium.
It can be installed on staircases as narrow at 24 inches. And when it is folded up it has a depth of just 12.5 inches.
The British made stairlift is incredibly versatile and can be fitted internally or externally. It's also suitable for a wide variety of staircase types. This includes 90 degree bends, 180 degree turns, fan shaped stairs and square landings.  Run on a neat single modular rail track, it's built to the exact specification needed in your home. HALTON-CURVE-SR 
Perfect for curves

If your staircase has any type of curved design, the Halton Style will almost certainly be suitable.
The rail is fitted to your stairs rather than the wall so there will be no damage to your home.
Safety is obviously of primary importance where stairlifts are concerned. And the Halton Style will not disappoint on that score with a wealth of safety features. These include dual electronic and mechanical braking systems, pressure sensitive safety plates, limit sensors, and a safety belt harness.
You can be sure you will be travelling up and down stairs safely and without compromising on comfort. The Halton Style Curved Stairlift offers comfortable upholstery, as well as a smooth and near silent operation and controls which are simple to use.
Additional features available

Our HALTON-CURVE-SR stairlift can also be fitted with other features – such as an automatic swivel seat, hinged track system and large footrest if required.
Call us today for a free quotation, without obligation. Tel 0800 644 7766
---
Did You Know?

All Halton Style Curved Stairlift plug directly into your existing mains power supply. This means no hassle and no mess during installation.
What Makes Us Different?
New & Used Stairlifts
Next Day Installation Available On Straight & Curved Stairlifts
UK Based Call Centre Staff
Over 22 Years Experience
Nationwide Team Of Callout Engineers
24 Hours 7 Days A Week Customer Service
Halton Style Curved Stairlifts – Features & Benefits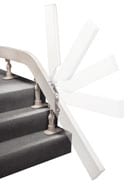 Halton Style Curved Stairlifts Optional Extra – Powered Hinged Rail
The lower section of the rail folds up and out of the way when not in use, allowing greater access at the foot of the stairs.
Having the option of a powered hinged rail is ideal when there may be a doorway near the foot of the stairs.
When the stairlift is not is use, the rail is neatly out of the way and causes no obstruction.
Brooks Curved Stairlifts – Techical Specifications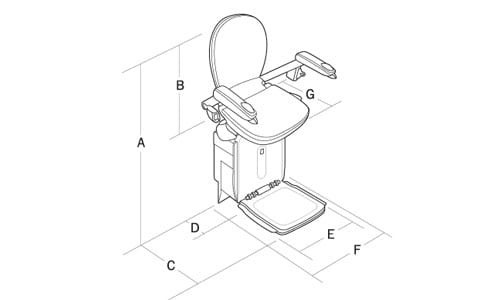 Dimensions
mm
inch
A
Overall height
975
38.5
B
Height of seat
430
17
C
Overall depth (from wall)
590
23.25
D
Overall depth (when folded)
320
12.5
E
Width of footrest
375
15
F
Overall width
557
22
G
Depth of seat
370
14.5
Specifications
Motor output speed
120mm/s | 4.8inches per second – No greater than 0.15 meters per second
Method of drive
rack & pinion
Power supply
24 v DC (battery)
Maximum capacity
265lbs/120kg
Track
Modular rail, extruded aluminium
Mains supply
50-60Hz, 100-240v AC
*NOTE: Halton in keeping with its policy of continual development, reserves the right to change specification without notice. All measurements are approximate.