LOW MONTHLY PAYMENTS AVAILABLE
Call today on 0800 644 7766
Reconditioned Curved Stairlifts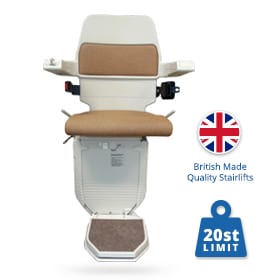 Whatever the twists and turns in your home the Curved Stairlift – HALTON-CURVE-TW, could well be the answer to your problems.
Incredibly versatile it is ideally suited to a wide variety of staircases, including internal and external.
What type of staircases is it suitable for?
This popular piece of equipment is designed for staircases which turn or bend around corners and it is highly adaptable. From 90 degree bends and 180 degree turns to multiple bends, square landings and 360 degree shaped staircases it is perfect for a whole host of twists and turns.
The Reconditioned Curved Stairlift HALTON-CURVE-TW is designed by the leading British stairlift manufacturer and comes fully reconditioned to look and perform as new. It is an excellent choice for reliability, adaptability, safety features and durability.
What about safety features?
Not only is the Reconditioned Curved Stairlift versatile, it also incorporates the latest safety features including stop sensors which will bring it to a halt if anything is in its path. Other safety features include a safety belt harness, swivel seat locking system and electronic braking system to control speed and make every journey smooth and trouble free.
The Curved Stairlift benefits from a compact and slimline design, meaning you will be left with plenty of space on your staircase.
Call us today for a free quotation, without obligation. Tel 0800 644 7766
---
Did You Know?
All Halton Stairlifts plug directly into your existing mains power supply.
This means no hassle and no mess during installation.
What Makes Us Different?
New & Used Stairlifts
Next Day Installation On Straight Stairlifts
UK Based Call Centre Staff
Over 16 Years Experience
Nationwide Team Of Callout Engineers
24 Hours 7 Days A Week Customer Service
Reconditioned Curved Stairlifts – Feature & Benefits
Features:
Battery powered for reliability smoothness and safety
Comprehensive warranty for two years
24 hour callout service 365 days a year
Custom made rail to contour individual staircases
Cushioned stop/start for a smooth gentle ride
Automatic charging at the base and top
Manual swivel or powered swivel options
Automatic slowing on bends
Powered hinged rail for access
Customized trim to any decor
Fitted to the stairs not the wall
Slim fold-away design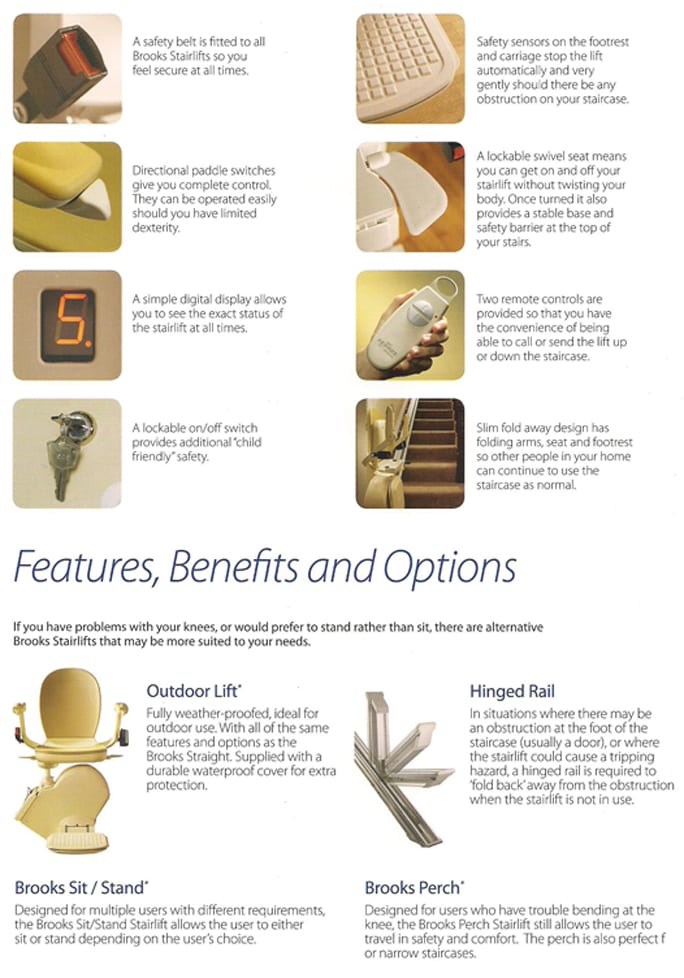 Reconditioned Curved Stairlifts – Options
Designed to fit around YOU During the survey visit, you will also be shown a range of seat and safety options, so you can design the perfect stairlift combination to suit your individual home and medical needs. The curved rail would then be fitted to your stairs, not your walls, so there is little disruption to your décor.
Rigorous 42 point safety check
Slim fold away designs
Market leading installation times
Battery backup
No mess no fuss fast installations
Swivel seat options
Tailor made rails for the perfect fit
Internal or external bends
Choice of fabric for the perfect look
Reconditioned Curved Stairlifts – Techical Specifications
Load capacity 19 stone or 120kg
Drive Rack and Pinion
Power Supply 24v DC Battery
Charger Unit 240v AC
Operation Joystick or Button control
Landing Call and Send controls Top and Bottom
Twin tubular rail- Post mounted Stair Tread Fixed
Every BS101 carriage is thoroughly inspected and passes vigorous testing by our specially trained engineers to ensure a consistently high standard with every lift we sell. Our emphasis is not just on quality, but also on safety. A major part of our testing process involves ensuring all our safety features on the BS101 are effective and user safety is never compromised.
Our BS101 rails are individually built, tested and inspected to ensure a smooth ride quality and finished using the latest, high quality, powder coating techniques.