LOW MONTHLY PAYMENTS AVAILABLE
Call today on 0800 644 7766
Sapphire Curved Stairlift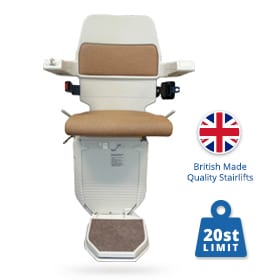 The Reconditioned Sapphire is our entry model for curved staircases. It has all the standard safety features that you would expect on a modern curve stairlift. When not in use the stairlift can be folded flat against the wall. This way it will take up less space in your home and leave the stairs clear for other users.
With its high build quality and industry-leading engineering, it's designed not only to be a Stairlift but to be part of the home. This stairlift also comes a wide range of upholstery colours to match any décor. And its custom-built rail means you get the best possible ride quality and fit for your staircase.
Some of the other great features are an easy-to-use retractable seat belt and manual or power swivel seat option. All these factors mean the stairlift can be fitted on almost any type of curved staircase. And all our curved Stairlifts come with a full 12 months full parts and labour warranty as standard.
Additional features available
The stairlift can also be fitted with other features – such as an automatic swivel seat, hinged track system and large footrest if required.
Call us today for a free quotation, without obligation. Tel 0800 644 7766
---
Did You Know?
All Halton Stairlifts plug directly into your existing mains power supply.
This means no hassle and no mess during installation.
What Makes Us Different?
New & Used Stairlifts
Next Day Installation On Straight Stairlifts
UK Based Call Centre Staff
Many Years Of Experience
Nationwide Team Of Callout Engineers
24 Hours 7 Days A Week Customer Service
Sapphire Curved Stairlifts – Features & Benefits
Sapphire Upholstery Colours – (subject to availability)
Sapphire Curved Stairlifts – Dimensions
Min. Width of Unfolded Stairlift: 26.7" (679mm)Min. Width of Folded Stairlift: 15.5" (395mm)
Max. Weight: 120kg-135kg/19-21 stone
Seat Width: 19" (484mm)
Seat to Footrest: 18.5" (470mm)