LOW MONTHLY PAYMENTS AVAILABLE
Call today on 0800 644 7766
New Brooks Perch Stairlift – Discontinued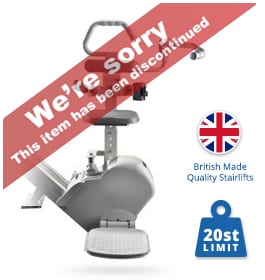 BROOKS-SL-PERCH – If you have narrow stairs or you find it difficult to bend your knees a perch stairlift could be just what you need.
This innovative design is ideal for people who have restricted movement in their knees or hips and may find sitting painful. Similar to standing stairlifts they provide some support for customers who feel more comfortable in a perching position.
They are designed with shortened seats and retractable seatbelt.
The BROOKS-SL-PERCH Stairlift has the same features as the 130 but you will also be provided with a grab rail for extra security.
The Brooks Perch Stairlift | The perfect answer if you have trouble bending

The model is the perfect solution for anyone who has trouble bending, or for people whose stairs are very narrow.
Reliable and easy to use, it benefits from a slimline fold-away design and is attached to the steps rather than the wall.
As always safety is important and all Brooks' stairlifts are tested and certified to make sure they comply with European safety standards.
The BROOKS-SL-PERCH stairlift is fitted with safety obstruction sensors as well as a key lockable on/off switch to prevent others from using the equipment. Two remote controls are included with larges easy to use buttons.
Call us today for a free quotation, without obligation. Tel 0800 644 7766
---
Did You Know?
All Halton Stairlifts plug directly into your existing mains power supply.
This means no hassle and no mess during installation.
What Makes Us Different?
New & Used Stairlifts
Next Day Installation On Straight Stairlifts
UK Based Call Centre Staff
Over 16 Years Experience
Nationwide Team Of Callout Engineers
24 Hours 7 Days A Week Customer Service
Key Features:
Safety rail makes for safer and more comfortable ride.
Secure safety seat belt system.
Seat and backrest with soft padding.
Digital display shows the status of the stairlift.
Key lockable on/off switch allows the user to prevent others from using the lift.
Safety obstruction sensors stop the stairlift if it comes into contact with anything.
Two remote controls are included with large easy to use buttons used to call and park the stairlift.
This stairlift is independently tested to comply with:
BS EN 81-40:2008 – European safety standard – 'Specification for powered stairlifts'.
CE mark – Acorn Stairlift meets the requirements of the applicable European Directive(s).
ISO 9386:2-2000 International standard for stairlifts.
Dimensions
mm
inch
A
Overall height
1095
43
B
Height of Seat
520
20.5
C
Overall depth (from wall)
585
23
D
Overall depth (when folded)
325
12.75
E
Width of footrest
310
12.25
F
Overall width
660
26
G
Depth of seat
320
12.25
Specifications
Motor output speed
120mm/s | 4.8inches per second – No greater than 0.15 meters per second
Method of drive
Rack and pinion
Power supply
24V DC (battery)
Maximum capacity
266lbs/120kg
Track
Extruded aluminium
Mains supply
50-60Hz, 100-240V AC