LOW MONTHLY PAYMENTS AVAILABLE
Call today on 0800 644 7766
Reconditioned Stannah Stairlifts Sofia
Call Now on 0800 644 7766 for a No Obligation Quote on the Reconditioned Stannah Stairlifts Sofia
Reconditioned Stannah Stairlifts Sofia
The innovative STANNAH-SOFIA-SL Sofia Stannah stairlifts is ideal for both straight and curved staircases.
Stylish, practical and user-friendly the Sofia has been developed with one of Europe's leading product design consultancies, Seymour Powell.
With a comfortable and contemporary design it will not only transform your ability to get around your home but will allow you to do it in style.
Stylish designs

The seat offers a high degree of comfort and the stylish chair is beautifully upholstered in woven super-soft or vinyl fabrics in a wide range of colours.
The stairlift comes with a host of distinctive user-friendly features, including a tiller-style control which will need only a nudge to take you smoothly up and down the stairs.
Folds Away Easily

The Reconditioned Stannah Stairlifts Sofia can be easily folded flat against the wall to allow others to use the stairs – and just as easily brought back into use with a simple and unique one-step unfolding action.
Peace of mind about safety is important and the Sofia has an easy to use retractable lap belt among its safety features. It also offers extra security with its special seat-load sensor which means it won't move until you are safely seated.
The STANNAH-SOFIA-SL is only available as a reconditioned stairlift, and is rigorously tested by engineers before it is fitted in your home.
Call us today for a free quotation, without obligation. Tel 0800 644 7766
---
Did You Know?
All Halton Stairlifts plug directly into your existing mains power supply.
This means no hassle and no mess during installation.
What Makes Us Different?
New & Used Stairlifts
Next Day Installation On Straight Stairlifts
UK Based Call Centre Staff
Over 16 Years Experience
Nationwide Team Of Callout Engineers
24 Hours 7 Days A Week Customer Service
Reconditioned Stannah Stairlifts Sofia Features & Benefits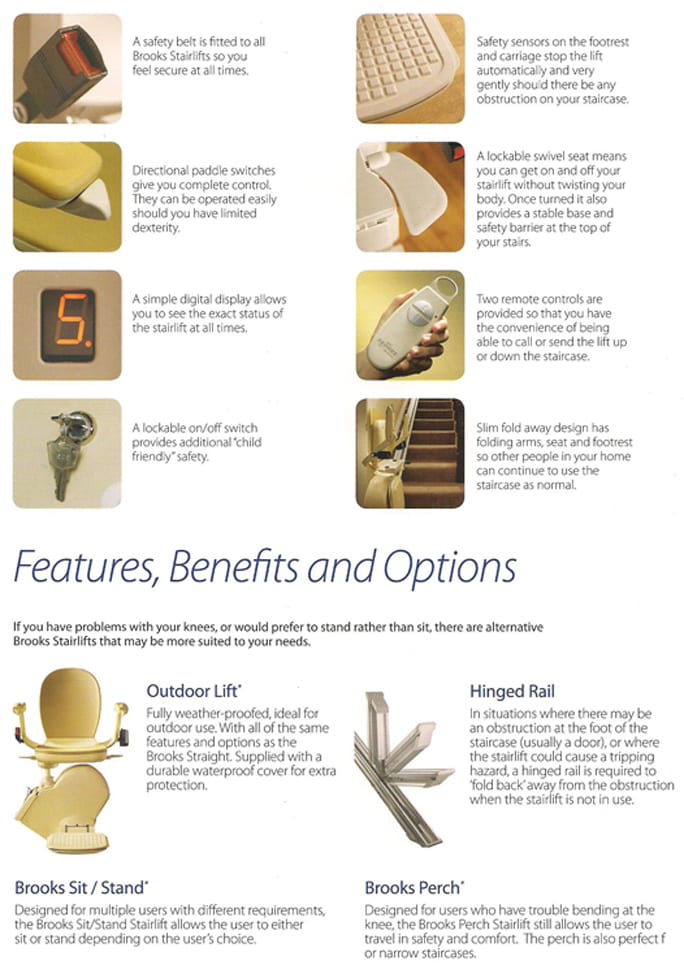 Reconditioned Stannah Stairlifts Sofia Options
Remote controls – Ideal for multiple users of the stairlift
Keyswitch – The stairlift can be immobilised, ideal if children are about
Retractable seat belt –  Secure you into the chair
Adjustable seat height – Fully Adjustable for the perfect fit
Safety edges – Automatically stops for obstructions
Upholstery material – A selection of attractive colours, to help the stairlift blend into your home
Unique one-step-folding – Means there's no need for unnecessary bending the footrest seat and arms all fold up in one smooth motion.
Swivel Seat – Seat turns for the safest and most convenient position at the top of the stairs
Two-way powered swivel – swivel seat top and bottom of the staircase fully motorised (only stairlift on the market with this option)
Reconditioned Stannah Stairlifts Sofia Technical Specification
| | | | |
| --- | --- | --- | --- |
| A | Floor to top of footrest | 1.5″ | 40mm |
| B | Top of footrest to top of seat | 17″ | 430mm |
| C | Top of seat to top of arms | 11″ | 290mm |
| D | Top of arms to top of seatback | 8″ | 200mm |
| E | Width between armrests | 16″ | 400mm |
| F | Overall width | 24″ | 610mm |
| G | Overall height | 39″ | 990mm |
| H | Length of arms from seat back | 16″ | 400mm |
| I | Length of seat base from seat back | 14.5″ | 370mm |
| J | Length of footrest | 14.5″ | 370mm |
| K | Width of footrest | 12.5″ | 320mm |
| L | Front of footrest to wall | 25″ | 640mm |
| M | Back of seat to wall | 3″ | 80mm |
Reconditioned Stannah Stairlifts Sofia Upholstery Colours