When you've made the decision to invest in a stairlift, you'll want to know 'what is the best stairlift to buy?'. From getting good value for money to a stairlift that's built to last, choosing the best stairlift often boils down to what you need from your stairlift combined with your personal preference and circumstances.
Here we take a closer look at the decision-making process for buying a stairlift. Make it easier to find your perfect match.
HOW DO I KNOW WHAT IS THE BEST STAIRLIFT TO BUY?
There are a few important considerations when buying a stairlift you should bear in mind. This way you can find the best stairlift for you. You'll want to think about:
Your needs
The first thing to think about when buying a stairlift is YOU. Your physical needs are most likely to determine the kind of stairlift you need. When struggling with the stairs, most people opt for a seated chair lift. This type of stairlift allows you to sit down during the journey up and down the stairs. Seated stairlifts take the pressure off joints and alleviate worries around balance when standing. Some models of stairlift also offer stand or perch options too.
Something else to consider is your weight. Most stairlifts can carry a weight limit of around 18-20 stone. If you're lifting more than this, heavy duty stairlifts like our Brooks Heavy Duty Stairlift that can carry up to 25 stone, are likely to be your best option.
Your home
The next thing to consider is the layout of your home. If your stairs…
If you're unsure where to begin with knowing which stairlift will suit your home, you could use our stairlift measuring guide or find out more about 'how much space does a stairlift take?'. Alternatively, you can contact us to arrange a free home assessment with one of our surveyors. They can measure up for you, chat through your options, and give you a quote. After the home visit, you'll be left to make up your own mind with no obligation to buy, thanks to our no pressure promise.
Your budget
The best stairlift to buy may also be guided by how much you have to spend. Reconditioned stairlifts, like the reconditioned Stannah Stairlifts Sofia, tend to be cheaper than new stairlifts. But with interest-free finance options, you might want to opt for a brand new stairlift from our collection.
OUR TOP 5 STAIRLIFTS
Here we take a look at our top five best selling stairlifts:
This slimline straight stairlift is a customer favourite. Fitted to the stairs and not the wall, the foldaway design means this popular stairlift can be stored neatly away when not in use. It also features a luxury padded seat, for extra comfort.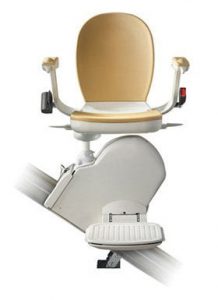 Reconditioned Brooks Slimline 130 Stairlift
This compact model is a real smoothie. Starting gently and slowing to a stop, it offers an effortless journey along the stairs. Installed quickly and easy to operate, it's slimline features make it the perfect addition to narrow stairways.
New Brooks Slimline 130 T700 Stairlift
The latest version of the 130 model, this reliable stairlift proves its quality time and time again. Perfect for stairs that are short on space the T700 is equipped with an upgraded seat for a safe and comfortable ride.
Packed with safety features and a variety of options, the Signature curved stairlift is a fantastic stairlift for curved stairs. Plus, you can choose from a great range of upholstery colours to match your home decor.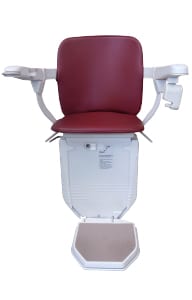 Brand New Platinum Curve Heavy Duty
Ideal for users who are a little heavier, the Platinum Curve heavy duty stairlift can carry up to 25 stone in weight. With wider dimensions, and a smooth start and stop, this stairlift is designed with comfort in mind.
HOW DO I CHOOSE A STAIRLIFT?
Quality
Once you've narrowed down your search to stairlifts that meet your needs and the layout of your home, you might also want to think about the quality of the stairlift. Halton Stairlifts supply chairlifts from UK stairlift manufacturers, built to meet high UK quality standards. We're also accountable to the British Healthcare Trade Association code of practice, so you can sure you'll be treated fairly.
Buying the best stairlift is also more than just choosing a model. You should consider the knowledge and experience of the suppliers and fitters too, to ensure your stairlift is installed safely and correctly. At Halton Stairlifts, every installation, and all our repairs and servicing, are carried out by fully qualified and experienced engineers. Go on, meet the team, and see for yourself.
Appearance
You may have some concerns about your stairlift sticking out like a sore thumb. Contemporary stairlifts come in a range of neutral tones and modern colourways, to blend in with most home interiors.
Customer Feedback
Something else that may influence your decision making is the experience of other customers. Thanks to independent review sites like Checkatrade and Feefo you can see honest feedback from Halton Stairlifts customers to help you decide on the best stairlift company for you.
Get a 60-second quick quote or speak to our team on 0800 644 7766 to arrange your home assessment today.  And you could have your ideal stairlift up and running by the end of tomorrow.