Not all stairlifts are made equal, and stairlift seats come in different shapes and sizes. Depending on your circumstances, there will be seat options available to suit your own medical or physical conditions as a stairlift user. When shopping around for your stairlift, you might be wondering 'are all stairlift seats the same?' and 'do stairlift seats move?' Read on to find out more about stairlift seat options.
Standard stairlift features
Depending on the layout of your staircase, you might choose a slimline or dual-rail stairlift to fit your home. No matter which lift you choose, all Halton stairlifts come with standard swivel seats, unless otherwise stated. All stairlifts have a seat height which will need to fit you perfectly so that you can get on and off the lift safely and easily. Whether you need a curved or straight stairlift, when buying your stairlift from Halton Stairlifts you can rest assured that your lift will be completely made to measure, and our expert team will help you find a stairlift model that fits your needs.
Specialised seat features
If you have health conditions that limit your movement such as chronic pain or arthritis, then seats with more movement are an important and useful feature to look out for. Many of Halton's models such as the Halton Slimline 130 T700 Stairlift, have a lockable swivel seat for easy use and comfort. Swivel seats are operated by easy-to-use levers on either side of the chair. This gives easier access so you can use it without worrying about causing any pain to sensitive areas like joints or hips. You can then lock the seat in place when the stairlift is in motion to ensure a safe and comfortable ride.
Powered swivel seat options are also available. Stairlifts with a two-way power swivel option mean your lift can swivel fully from side to side. Not only is this ideal for narrow hallways but it's well-suited to users who have limited movement in their upper body, too. Once turned to face a certain way, a swivel seat acts as a stable base and a safety barrier at the top of your stairs.
Know your options
If you're unsure of which stairlift features you may need, don't rush into a decision. Halton offers a free, no-obligation visit to your home where you can answer any questions you may have. In the meantime, you can read about other stairlift features you might need, here.
Ultimately, seat options are dependent on which stairlift model you choose.  The team at Halton will always take into consideration your needs and range of movement to determine which model is right for you. Remember, when choosing your stairlift, that yours can be personalised to suit your needs, comfort, and your décor. You can choose from our complete range of stairlift options to find your perfect seat style and colour.
Did you know that the team at Halton Stairlifts are still carrying out stairlift installations during the pandemic? All staff are checked daily for symptoms, and every single model is fully disinfected after completion. We know that making your home accessible and comfortable is a top priority, so we're here if you need us. If you're looking to start your stairlift journey right away, then try our quick quote or call us on 0800 644 7766 to arrange a virtual survey or demonstration.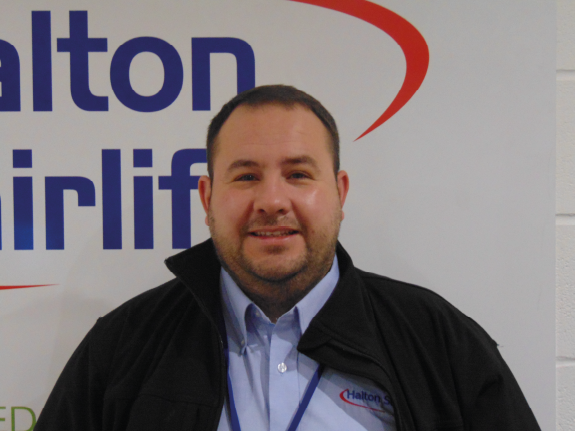 Neil is the founder of Halton Stairlifts. He has years of experience installing stairlifts across the UK. With an eagerness to help those with mobility issues get up the stairs, Neil understands how important it is for a seamless and straightforward approach to installing stairlifts to help those in need quickly.