Through social media and online bidding sites, it's fairly easy to find someone selling a used stairlift. If you're in a need of stairlift, you may be tempted to find ways to save a little money on your purchase. To keep costs down, some people buy a second-hand stairlift and try to fit it themselves. But can you install a stairlift yourself? 
This is one of those occasions where you could technically install a stair lift, but it doesn't mean you should. By their very nature, stairlifts are designed to make the stairs safer for more vulnerable individuals. By fitting one yourself, you could be increasing the risk of injury or falling on the stairs. No matter how well-intentioned, you could end up making things worse for a relative or loved one.
Do-it-yourself stairlift installation may look pretty straight forward to the untrained eye, but there are many safety aspects you need to consider. With years of fitting experience under our belts, we've seen more than our fair share of self-installation stairlifts that have gone wrong.
CAN YOU INSTALL A STAIRLIFT YOURSELF?
The British Health Care Association (BHTA) strongly recommend that you don't attempt to install a stairlift yourself. We would always advise that you buy a new or reconditioned stairlift from a reputable supplier. Established stairlift suppliers will ensure your stairlift is installed correctly and meets the highest health and safety standards.
The Fit
If you're thinking of buying a stair lift second hand, it is extremely difficult to find one with a stairlift rail that will fit your staircase perfectly. Because every home is different, there are likely to be several factors that will affect the length of rail you need. From the height of the stairs to the placement of doors, a second hand rail can fall short or over shoot the mark. 
During a recent stairlift removal, we discovered this example of a poorly fitted and dangerous second-hand stairlift installation.
The Problem – The Fit:  As you can see the stairlift rail is far too long and juts out over the landing. A user who is unstable on their feet, could have ended up with an injury if they had brushed against it or fallen.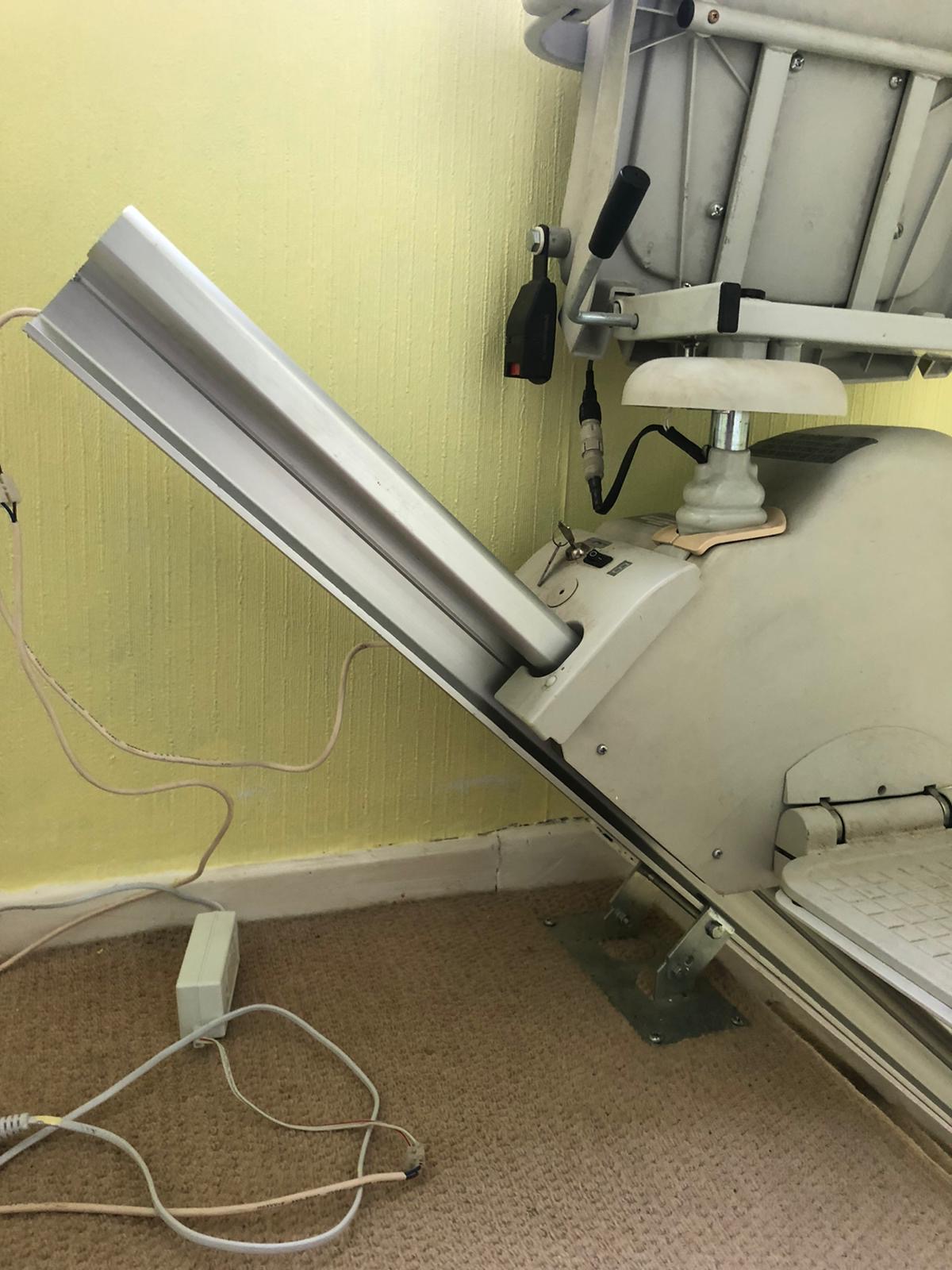 Missing Parts
If you buy a used stairlift, you may run the risk of missing parts. This self-installed stairlift was missing multiple bolts, leaving the track insecure and unstable.
The Problem – Missing Parts: The loose rail could be moved away easily from its attachment point, which might have resulted in an accident or injury. If you don't realise that parts are missing, you're placing the stairlift user at even greater risk.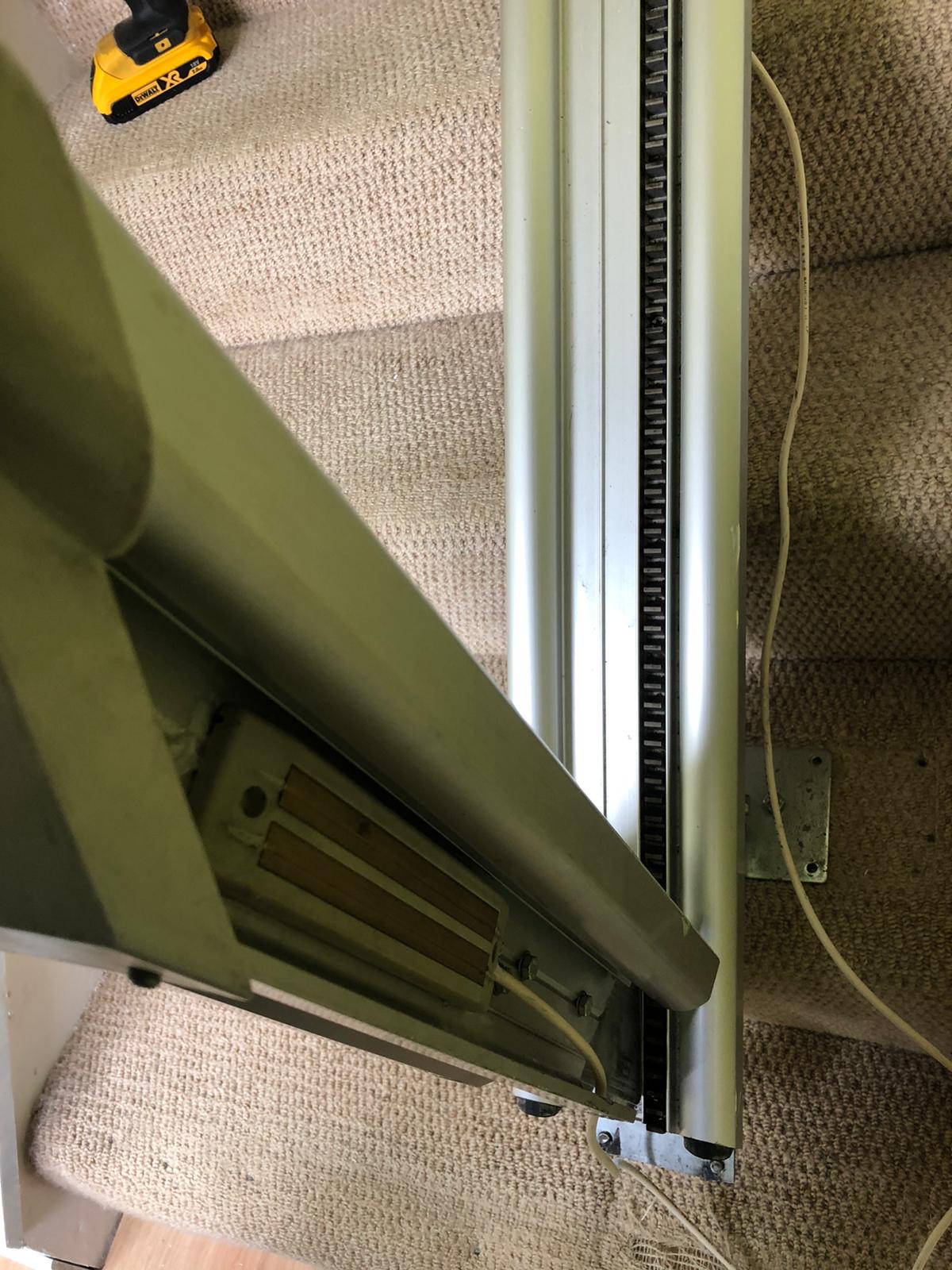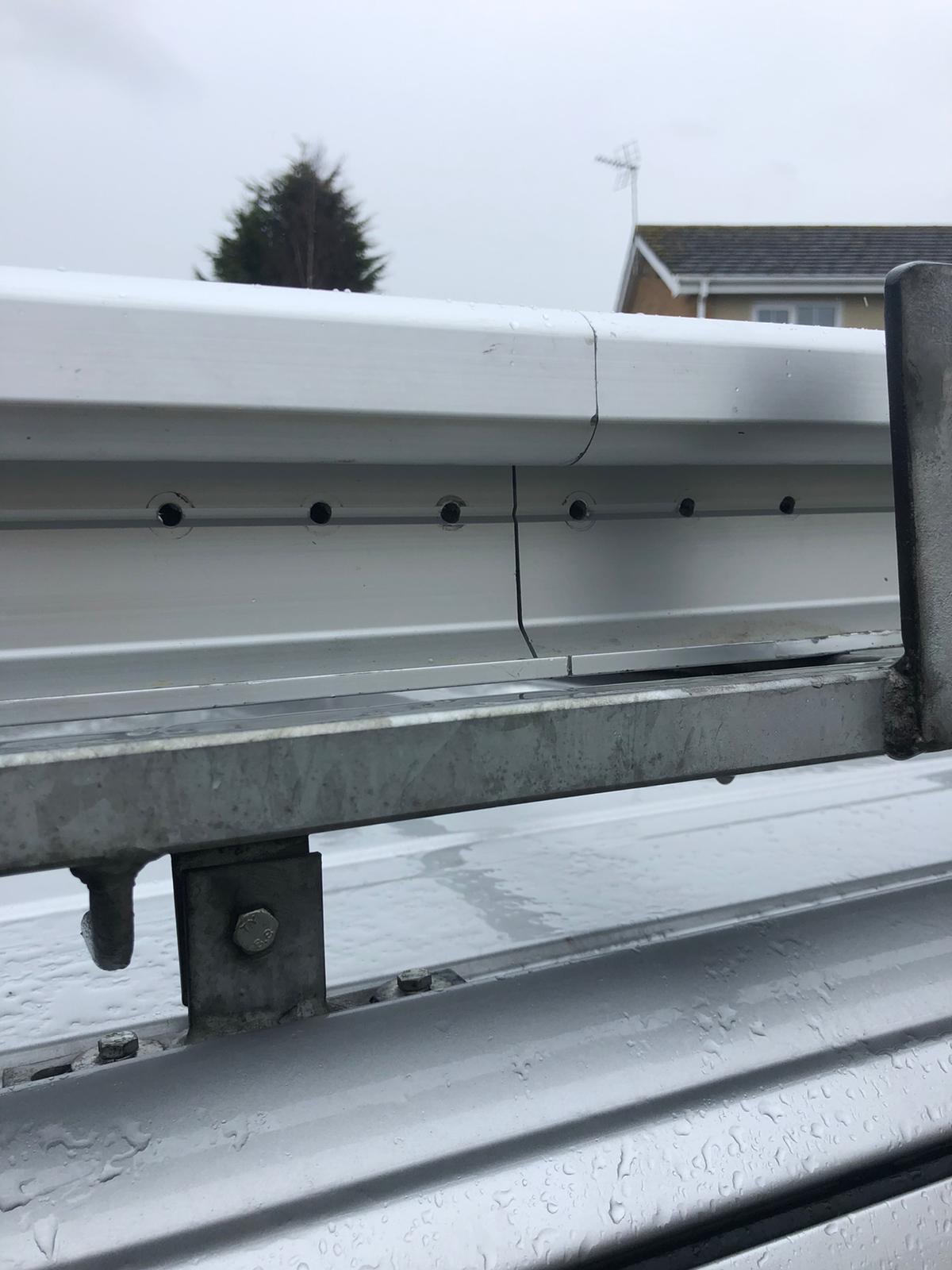 Stairlift Safety
A stairlift engineer will do all they can to ensure the user's safety when using the stairlift. A well-meaning but inexperienced friend or relative is not likely to spot the same safety issues, leaving the user at greater risk.
The problem – stairlift safety: In this example, we can point out a few safety concerns. The first, is that the stairlift comes to a standstill at the top of the stairs with the seat and footrest overhanging the drop below. The stairlift should come to a stop on the landing.  This way the user can safely turn their swivel seat or leave the chair lift with their feet firmly on the floor, reducing the risk of losing their balance and falling down the stairs signifcantly.
Secondly, there are also trailing cables at the top of and along the stairs. This could present as a tripping hazard. A stairlift engineer would ensure cables are neatly tided away, and if necessary arrange for electrical points to be moved.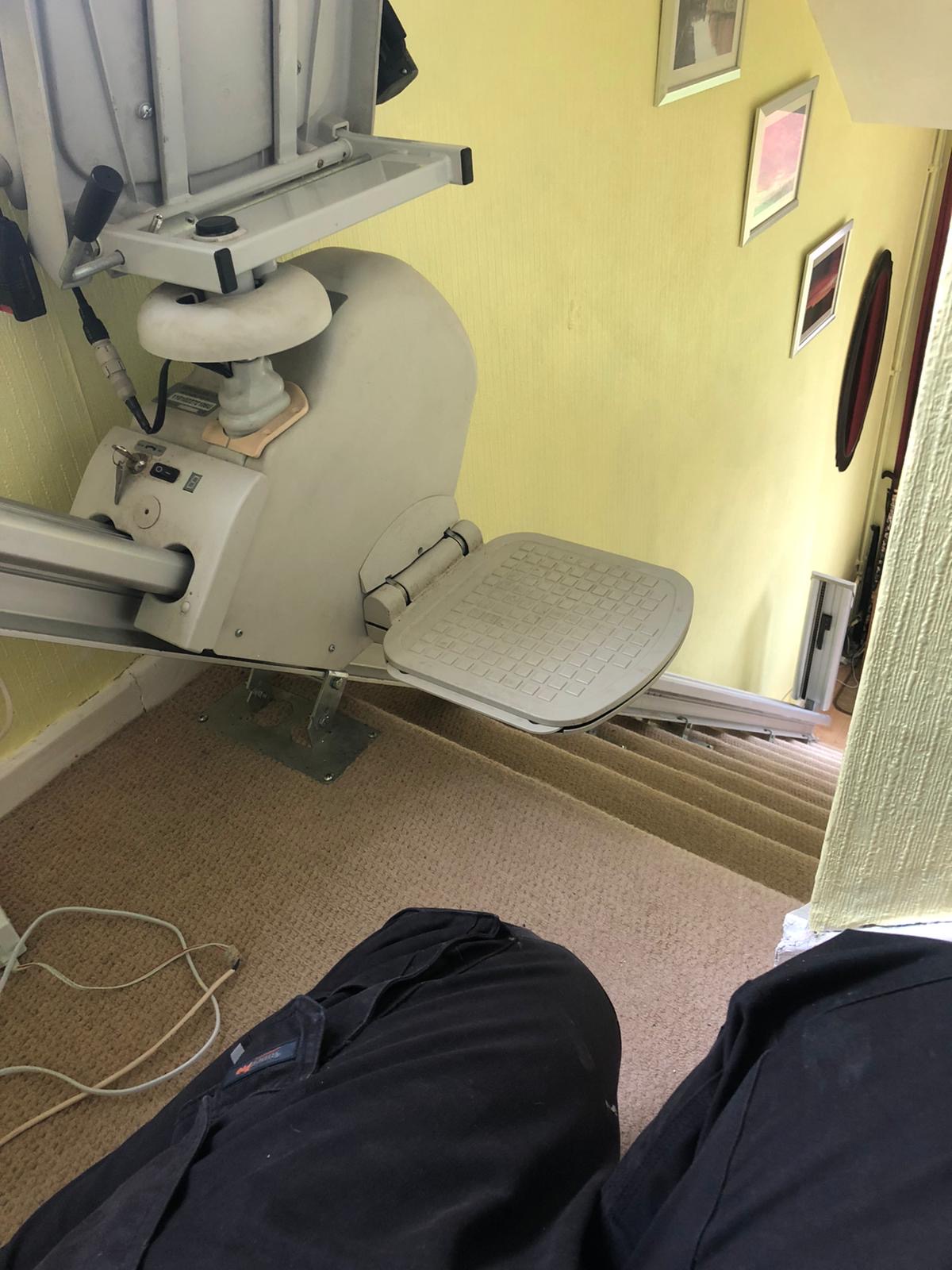 Stairlift Warranty
When you buy a new or reconditioned stairlift from a reputable stairlift company, you'll also receive a 12 month manufacturer or supplier warranty.  Whilst you wouldn't expect a new or reconditioned stairlift to breakdown in the first year, a second hand stairlift could encounter problems, leaving you to foot the bill. Because you won't be under warranty cover, you'll have to pay extra for any repairs and servicing, including replacement parts.
Why You Need to Choose a Professional to Install Your Stairlift?
At Halton Stairlifts, we'll always recommend using a fully qualified stairlift engineer to install your stairlift. We outlined just some of the reasons why, below:
Reconditioned Stairlifts
When you opt for a stairlift company to supply your stairlift, you don't always have to choose a brand new model. Halton Stairlifts have a team of engineers who carefully repair and restore unwanted stairlifts for resale. Returned to full working order, reconditoned stairlifts look and feel as good as new. And they come with a lower price tag plus free professional installation and a 12 months warranty. So, if you decided to install your second hand stairlift yourself to save money, it's worth getting a few quotes on reconditioned stairlift models first. This way you can save money and eliminate the hassle and risks associated with a DIY stairlift installation at the same time.
It's Safer
You only have to look at the images above, to give you some idea of the potential dangers of an incorrectly fitted stairlift. Choosing a professional to install your stairlift means they'll identify any risks or hazards and stick to approved installation methods to eliminate them.
And once it's fitted, they'll also take the time to show you how to use the stairlift. When you feel confident using it, you'll also feel safer. Our stairlift 'training' means you'll also be aware of all your stairlifts features. You'll learn how to attach your seatbelt or reverse if you need to, as well as understanding how to sit down and stand up safely from your swivel seat.
It's Quicker
Stairlift engineers fit a few stairlifts a day, multiple times a week. So it's no surprise that they've become pretty darn efficient at installing them.  In fact, our engineers can fit a straight stairlift within a average time of two hours. With a self installation, it's likely that two hours in you'll still be trying to figure out which bit goes where.  With a professional stairlift engineer they can be done and dusted in next to no time, so you're free to carry on with your day without worrying about the right phalange (clue: there isn't one!).
Stairlift installation is best left the professionals. Take a look at the range of straight and curved stairlifts on offer with Halton Stairlfts. Give us a call on 0800 644 7766 to get your FREE quote on a new stairlift with FREE installation.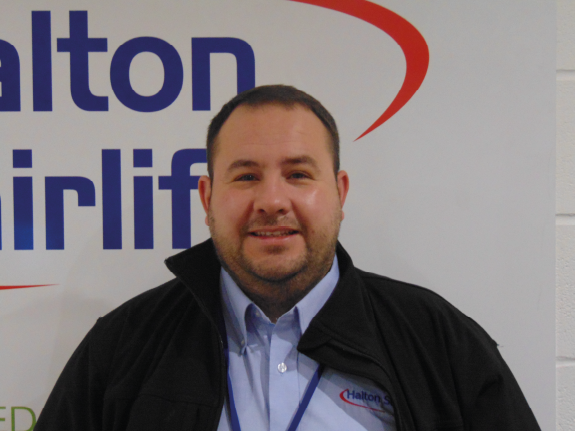 Neil is the founder of Halton Stairlifts. He has years of experience installing stairlifts across the UK. With an eagerness to help those with mobility issues get up the stairs, Neil understands how important it is for a seamless and straightforward approach to installing stairlifts to help those in need quickly.