Choosing to invest in a stairlift is an empowering decision. But if you're unfamiliar with the process then it's only natural that you may have some queries. Over the years you may have heard some common misconceptions about stairlifts, making you question whether you should buy one or not. 
At Halton Stairlifts, we're with you every step of the way.  We understand the importance of remaining mobile, independent, and safe in your home, and a stairlift can help you achieve your mobility goals. Here we bust some common stairlift myths. We separate fact from fiction to help you make the right choice about buying a stairlift.

"Are stairlifts too expensive to buy?"
If you've never needed a stairlift in your home before, the perception can be that they are an expensive luxury only a few can afford. However, this simply isn't true! These days, modern stairlifts are readily made and available for all sorts of needs and budgets. To give you a rough idea of what you can expect to pay, find out just how much does a stairlift cost.
On completion of your free home survey, you're free to browse from a huge range of stairlifts on offer. All of our stairlifts are made here in the UK. At Halton Stairlifts we provide a completely unbiased recommendation to suit your home and your specific budget. And as an independent supplier, this includes not only brand-new but also reconditioned stairlifts.
"Are stairlifts expensive to operate?"
When it comes to stairlift usage, a common stairlift myth is that they're expensive to run.
In reality, stairlifts are battery-operated, meaning they're highly powered and efficient. Each new stairlift model comes complete with the latest technology and safety features, not to mention a full warranty as standard. Compared to other household appliances, stairlifts are actually thought to be among some of the cheapest to operate!
"Surely a stairlift won't fit in my home!"
Ever dismissed the idea of a stairlift because you thought it wouldn't fit the layout of your home?
Contrary to popular belief, stairlifts can actually be fitted fairly easily into the existing layout of your staircase.  This often means they don't take up any more room than the staircase itself. Not only that, but with such a wide range available, Halton Stairlifts is committed to helping you choose not just any stairlift, but a model you love that's stylish, comfortable, and fits perfectly in your home.
"Are stairlifts unreliable during power cuts?"
Not at all! When your stair lift is installed, it is connected (and stays plugged into) a standard wall outlet so that the batteries can recharge as needed. As long as the batteries have sufficient time to charge, they will easily power your stairlift, independently from the main power supply.
As part of every purchase, Halton Stairlifts also provide a 24-hour emergency call-out service. We also offer repairs and servicing for most makes and models of stairlifts. So, in the highly unlikely event that you ever have an issue with your stairlift, you'll always be protected.
"Will installing a stairlift damage my home?"
This can be quite a common concern if you're new to stairlifts, but thankfully, the simple answer is no!
Modern stairlift tracks are attached directly to your stairs, and not the wall itself. This means that minimal labour and fitting are needed. Fixing the track to the stairs offers a very secure and neat platform and doesn't cause damage to your home or to your walls, regardless of whether you need a curved or straight stairlift.
We want to address any common misconceptions about stairlifts you may have. Get in touch to ask your stairlift questions, and we'll do our best to help you make up your mind. Want to learn more about our full range of stairlifts? Call our friendly team on 0808 503 6532 to request a brochure or to arrange a no-obligation quote.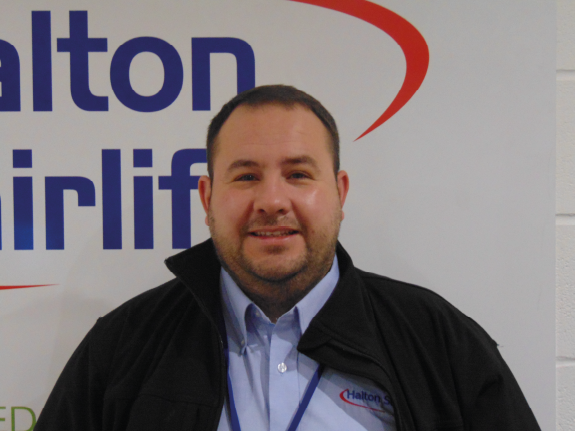 Neil is the founder of Halton Stairlifts. He has years of experience installing stairlifts across the UK. With an eagerness to help those with mobility issues get up the stairs, Neil understands how important it is for a seamless and straightforward approach to installing stairlifts to help those in need quickly.