If you're concerned about a stairlift taking up too much room once it's installed, you might ask 'do stairlifts fold up?'.
Every new and reconditioned stairlift from Halton Stairlifts will fold away neatly when it's not in use. But there are other space-saving options available to you.
Do Stairlifts Fold Up?
If the only thing holding you back from getting a quote on a stairlift is worrying about how much space it will take up, then read on. Here we look at different types of stairlifts and stairlift features so that they take up as little space as possible once fitted in your home.
Slimline Stairlifts
If you're tight on space and have a small staircase, our compact stairlifts for narrow stairs ensure they won't get in the way when you're not using your stairlift.
Slimline stairlifts are just like standard stairlifts, only they come in a smaller package. They come with a full range of features and still offer a smooth comfortable journey just like larger versions.
Compact stairlifts leave you with enough legroom as you travel up and down the stairs, and can be stored snugly against a wall or bannister when it's 'parked up'.
Stairlift Safety
Another concern that many people have about stairlifts, is that it will be a safety hazard once it's installed. For individuals and couples with reduced mobility, a stairlift could present as an obstacle in hallways or landings.
All Halton Stairlifts come with a manual or automated fold-up seat, footrest, and arms to reduce the risk of tripping as you move around the house.  Modern stairlifts are designed to be as lightweight as possible, but if you have difficulty with bending, powered footrests and seats can be the preferred option. There's no need to lift for yourself, and the stairlift does all the hard work for you.
A folded stairlift will also leave more space at the top and bottom of the stairs, so families and visitors can walk past safely.
Hinged Stairlift Rails
And it's not just the stairlift seats that fold up. If you have a door at the top or bottom of your stairs, or your stairs lead out into a hallway or opening, an extended fixed stairlift would be a huge safety risk. Installing a hinged stairlift rail means you can lift the rail and fold it away when you're not using it. And like the footrest, it's available in manual and automated options to suit your needs.
Speak to the team at Halton Stairlifts to find out more about our slimline stairlifts and our stairlifts that fold up. We'll talk you through the full range of stairlift features and can advise you on which features are likely to suit your home and your needs best. And don't forget to ask about hinged stairlift rails if you think you may need one. Our stairlift experts are always happy to help and can give you a FREE no no-obligation quote over the phone too. Call us today on 0800 644 7766 or get a stairlift quick quote online.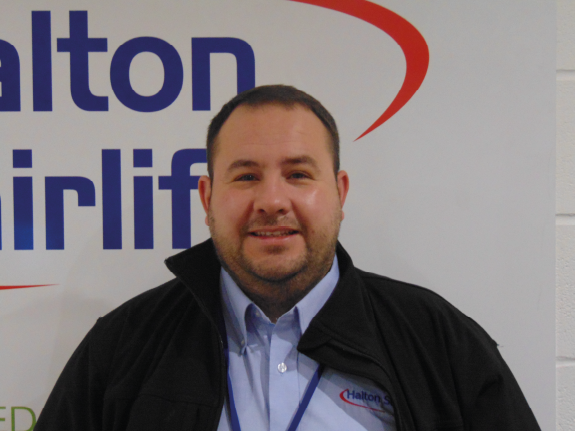 Neil is the founder of Halton Stairlifts. He has years of experience installing stairlifts across the UK. With an eagerness to help those with mobility issues get up the stairs, Neil understands how important it is for a seamless and straightforward approach to installing stairlifts to help those in need quickly.