If you suffer from mobility or joint problems, or maybe you have a stairlift while getting over an operation, it is important to regularly service your stairlift. This is to ensure that your lift lasts a long time and remains in good condition
Owning a stairlift comes with a few responsibilities and can be a valuable investment, which is why it is important to look after yours. If you currently own a stairlift, you may be wondering, 'Does my stairlift need a service?'.
The simple answer is yes. Just like any other appliance, your stairlift needs servicing to ensure the quality remains the same and prevent any long-term problems.
We have gathered our most frequently asked questions related to stairlift servicing so you have a thorough understanding of the importance of stairlift servicing and more. Read on for more information about how you can make your stairlift last a lifetime!
How Often Should I Service My Stairlift?
Once your stairlift has been installed, you are likely to use it regularly. This is why servicing your stairlift is essential to ensure everything is running smoothly and that no problems arise in the future.
Although modern stairlifts are designed to last, to ensure your stairlift is still in good condition and in top working order, routine service is recommended for all types of modern stairlifts, such as curved or straight lifts.
This is recommended to be completed once every 12 months. This also applies to New and Reconditioned Stairlifts.
Whether you look after your lift with regular light cleaning or hire someone to do this for you, doing this will increase the longevity of your stairlift. Here at Halton Stairlifts, we offer stairlift servicing and repairs for all our stairlift models.
So, if you struggle with your mobility and are unable to check your stairlift yourself, we are here to help! All of our engineers are DBS checked and will always look for the most cost-effective way to repair/service your stairlift.
How do I Know if my Stairlift Needs a Service?
Many people experience little to no problems with their stairlifts, so it can be difficult to recognise when your lift is due for service. If you just wait until something goes wrong with your stairlift, this could cost you more to repair and may also have a negative impact on the lifespan of the lift.
Stairlift servicing ensures that everything is working and lubricated correctly. Our stairlift technicians use servicing opportunities to replace any worn or damaged parts to prolong your stairlift's lifespan.
If you are unsure as to whether you're due a stairlift, don't hesitate to contact us. It is important that you remember to not service the stairlift yourself if you suspect that something may need repairing.
So, if you want to ensure that your stairlift lasts and remains in excellent condition, make sure that you service it every 12 months.
However, if you suspect that your lift isn't working correctly or that something may be wrong, contact us at 0800 644 7766. We are more than happy to help!
The Importance of Stairlift Servicing
Stairlifts are an essential part of many people's lives. They provide an effective way to travel up and down stairs and help people regain their freedom. However, it is important that once you have purchased your lift, you don't neglect it.
To ensure the reliability and safety of your stairlift, it is important that you have it serviced regularly. Throughout this guide, we will be discussing why stairlift servicing is essential. A lift service is important for all stairlifts, as most lifts are used every day and therefore can undergo a lot of wear and tear.
One of the main components of a stairlift is the track. This is what holds the seat in position, allowing it to move up and down the stairs. The longer you have had your stairlift, the more likely it is that dirt and debris can build up on the track.
This can affect the operation of the lift, which is why regular servicing is important to help prevent this.
Halton Stairlift Call-out Services
Here at Halton Stairlifts, our technicians are on hand and happy to get you moving again should you need a callout. All of our technicians are highly skilled and will ensure that your stairlift is serviced/repaired to the highest standard.
Safety and comfort are our top priorities here at Halton Stairlifts, so you can rest assured that you are in safe hands. Depending on what the issue is, our team is often able to repair your stairlift in the comfort of your own home.
This means that there is no need for your stairlift to be taken away and re-installed; however, there may be some occasions where this is required.
We understand how much stairlifts play a part in many people's lives, allowing them to regain their independence and freedom to travel around their homes. This is why we are always a phone call away if you require an emergency repair or would like some advice.
Halton Stairlifts
Here at Halton Stairlifts, we provide all our customers with high-quality stairlifts suited to their homes. From Staircases with turns or bends to stairlifts for straight stairs to pre-loved stairlifts, we have everything you need in one place.
But what happens on the rare occasion that your stairlift breaks or needs repairing? Well, there is no need to worry. We understand that if your stairlift breaks down, it can cause a lot of problems, which is why we are here to help.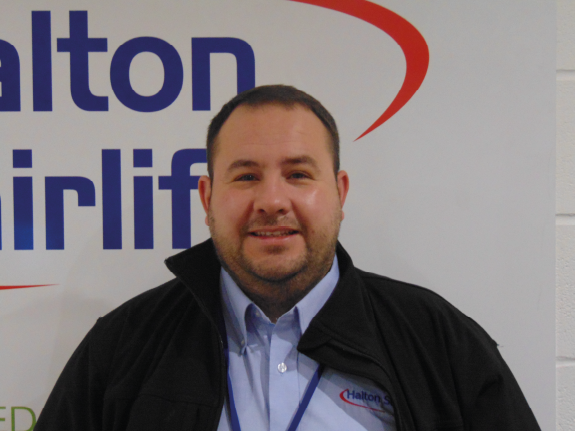 Neil is the founder of Halton Stairlifts. He has years of experience installing stairlifts across the UK. With an eagerness to help those with mobility issues get up the stairs, Neil understands how important it is for a seamless and straightforward approach to installing stairlifts to help those in need quickly.