Halton Stairlifts are very proud to announce that we are Feefo Platinum award winners for 2020. The Feefo Trusted Service Awards recognise businesses who provide exceptional service based on positive reviews from their customers. And, we couldn't be more pleased. 
Our winner status is all thanks to a consistently high standard of customer reviews over the years. The award means a great deal to us because it's based on the experiences of our customers.
We are delighted to receive our Feefo Platinum Trusted Service Award. And it's even more special, knowing we have so many satisfied customers. We're so proud of our hardworking team already, and it's nice knowing our customers feel the same way too.  We wouldn't get the feedback we do if it wasn't for the expertise and commitment of our workforce.
What it means to be Feefo Platinum Award Winners 2020
Halton Stairlifts have received this award because our services have been highly rated by our customers over three consecutive years.
An independent review platform, Feefo gives customers the chance to share their experiences of buying from or accessing services from companies.  Rating their experience from 1 to 5 stars (1 star is a very negative experience and 5 stars is a very positive experience), the reviews and recommendations left by consumers can be used to inform others.
Being Feefo Platinum Award Winners acts as a symbol of trust. And because we're rated by Feefo, you know you're buying from a reputable company. Take a look at our reviews, and see our proven track record of delivering outstanding customer service for yourself.
Some of the Best Stairlift Company Reviews in the UK
Using Feefo reviews is a great tool for keeping our standards high. Not only do customers benefit from viewing the experiences of others to help them make up their mind, but we can also see any areas we need to make improvements. The customer service we provide is just as important as the quality of stairlifts we supply. Using the reviews as a guide, we address any issues and continue to develop our services, so our customers stay happy throughout the whole experience.  As an independent stairlift supplier, we always aim to get things just right for everyone we deal with. Feefo helps us to do this.
Through Feefo, we can communicate with all of our customers to address any issues they may have openly and transparently. By understanding their needs better, we can work with them towards a timely solution. Customer satisfaction is always our highest priority. Because of this, we hope to stay Feefo Platinum Award Winners for a long time to come.
Take a Look at Our Recent Feefo Results
You can see all Halton Stairlifts reviews on Feefo for yourself, but we've also put together a handy summary of our results so you can take a quick look here:
4.9/5 star rating over the past twelve months

137/150 5 star reviews

148/150 4 stars and higher 

551 reviews in total 
Halton Stairlifts managing director Neil McKenzie said
"We feel very honoured to be award the Platinum Trusted Service Award for 2020. Our team are an absolute credit to us. And it's fantastic to see their commitment and expertise rewarded in this way. We'll always aim to keep our standards of customer care as high a possible. And we hope that our customers, and future customers, can feel confident that they're buying a stairlift from one of the best stairlift companies in the UK."
Because Halton Stairlifts are Feefo Platinum Award Winners, you'll feel reassured that you're choosing the right stairlift company for you. With access to honest feedback from genuine customers, you can feel more informed and confident about the choices you make. If you'd like to know more about the full range of stairlift services we provide, take a look at our website. Or, get a quick quote on straight or curved stairlifts by getting in touch with our team today on 0800 644 7766.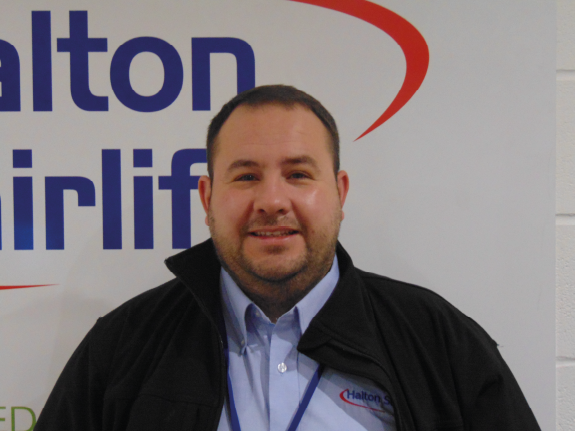 Neil is the founder of Halton Stairlifts. He has years of experience installing stairlifts across the UK. With an eagerness to help those with mobility issues get up the stairs, Neil understands how important it is for a seamless and straightforward approach to installing stairlifts to help those in need quickly.