Budding footballers are being given a helping hand thanks to sponsorship from Halton Stairlifts.
Here at Halton Stairlifts we are rooted in the local community and we are passionate about football. So we're keen to do our bit to encourage youngsters to keep fit while fulfilling their potential.
We already have a track record of supporting local sports teams. And now we are sponsoring all the Vision FC Academy Under 7 and Under 8 football teams for the 2022/2033 season.
What is Vision Academy?
Vision FC Academy is a Children's Football Academy based in South Liverpool. It runs training sessions on Saturday morning and Monday and Wednesday early evening. And its teams play in the Sunday league.
Why are we supporting Vision?
We believe children should be given every chance to excel at sport. That's why we're delighted to support the excellent work that the academy is doing with local youngsters.
We have decided to sponsor the 5 and 7 aside teams Vision HSL, Vision FC, Vision Barca, Vision VSG, Vision Mellior, Vision Brazil, Vision GNC, Vision Real, and Vision Helm.
Who else have we sponsored?
This is not the first time we have given our support to football teams.
Earlier this year young players from Runcorn Linnets Girls Football Under 11s celebrated their most successful season ever after being sponsored by Halton Stairlifts.
The girls played in new kits thanks to funding from us and they went on to win their first tournament and first league title.
The sponsorship came about last year when Halton Stairlifts Sales Manager Chris Bazley, raised the possibility of funding with the company's Managing Director Neil McKenzie. Chris is one of the head coaches for the girls teams.
The youngsters had a spectacular year – coming top in the Wirral League and competing against teams from across the North West to win the Halton Tournament.
In 2018 we also announced a two-year sponsorship of Litherland REMYCA FC Development Team. The Liverpool football club plays at Litherland Sports Park.
Giving back to the community
Neil said supporting the local community and promoting an active lifestyle was important to the team at Halton Stairlifts.
He added: "We have always enjoyed fantastic support from the local community and it's great to have the opportunity to give something back.
"We are great believers in the importance of grassroots football – and it is particularly gratifying to help give youngsters the chance to get involved in sport."
Halton Stairlifts
Halton Stairlifts Ltd is based in Liverpool at Speke Business Park. We supply and install new and used stairlifts throughout the UK. We pride ourselves on our competitive prices and friendly customer service and have a 24 hour customer helpline. We're an independent stairlift company – so we're not restricted to a single brand. This means we will give completely unbiased advice about what is best for you.
Customised stairlifts can make a big difference to the quality of someone's life, bringing added security and independence. If you need an affordable stairlift or if you know someone else who would benefit from one, call Halton Stairlifts on 0800 644 7766 to speak to an experienced member of the team. Our trained professionals offer clear and honest advice about any model from our range. They will help you decide what sort of stairlift is the best option for you and your home.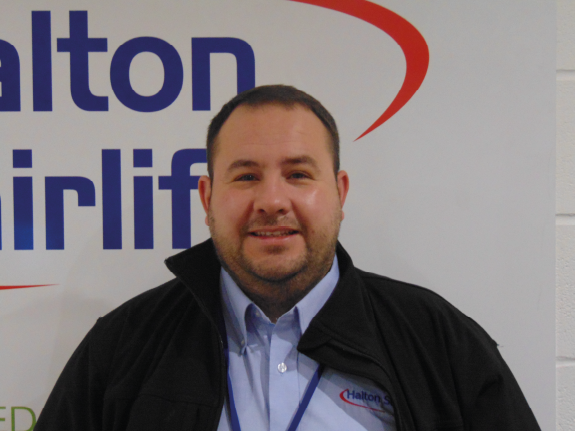 Neil is the founder of Halton Stairlifts. He has years of experience installing stairlifts across the UK. With an eagerness to help those with mobility issues get up the stairs, Neil understands how important it is for a seamless and straightforward approach to installing stairlifts to help those in need quickly.