If you're thinking about having a stairlift fitted you will most likely have a number of questions that you want to know the answers to.
There's no doubt that stairlifts can make a huge difference in the lives of people with mobility issues – making it so much easier for them to get from one floor to another. Stairlifts give people independence and allow them to stay in their own homes.
The benefits of having one installed are overwhelmingly clear. But unless you have had one before you will probably have some queries.
There's no need to worry
One of the things people often want to know is how the stairlift will be secured to their stairs and whether it will damage the decor.
The good news is there is really nothing to worry about when it comes to this issue. All modern stairlifts are fixed to the stairs themselves and not the wall – meaning there's no need to be concerned about any messy aftermath or debris.
There is a common assumption that stairlifts are attached to the wall – but for modern stairlifts this is simply not the case. Instead they are fitted to the stair treads and mounted on a track which runs the length of the staircase.
This means that minimal labour and fitting is needed. Fixing the track to the stairs offers a very secure and neat platform and doesn't cause damage to your home or to your walls, regardless of whether you need a curved or straight stairlift.
Will a stairlift fit my stairs?
Another thing people often worry about is whether a stairlift will even fit their stairs at all. But once again there is really no need to worry. It's possible to fit equipment on all types of stairs – whether they are straight, curved, narrow, stairs with multiple flights or even spiral staircases.
Use a reputable company
If you're thinking of having a stairlift fitted It's important to use a reputable stairlift company, such as Halton Stairlifts, to ensure the very best service and results. Established in 2007, we are a family firm specialising in the supply and installation of new and reconditioned stairlifts in homes throughout the UK.
How long will it take to fit my stairlift?
The time it takes to install a stairlift depends on the size and shape of the stairs it is being fitted to. Our experienced stairlift fitters are all highly trained in installing a range of makes and models – and they will get your stairlift up and running as quickly as possible.
As you might expect, straight stairlifts are the fastest to install – with an impressive average fitting time of around two hours. Curved stairlifts take longer to put in place – averaging around three to five hours. As a general rule, most stairlifts can be installed in less than half a day.
All done
Once your stairlift is installed our fitters will do a final safety check and then show you how to operate the equipment. They will also give you information about warranty coverage and about how to contact us if you have any questions.
Before they leave they will tidy up after themselves and remove any waste – so you can be sure your home will look just as good when they leave as it did when they arrived.
If you struggle to get up and down stairs then a stairlift will be a welcome addition to your home – with no adverse effect on the decor. Speak to the team at Halton Stairlifts on 0800 644 7766  to book your stairlift installation. Or arrange a free home survey to get a no-obligation quote.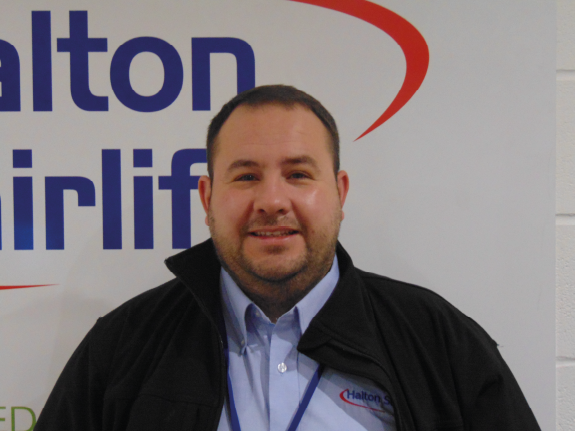 Neil is the founder of Halton Stairlifts. He has years of experience installing stairlifts across the UK. With an eagerness to help those with mobility issues get up the stairs, Neil understands how important it is for a seamless and straightforward approach to installing stairlifts to help those in need quickly.