4,000. That's the average number of steps a person walks per day according to the NHS. Of course, this will vary massively depending on your occupation, lifestyle, and overall level of health.
Walking up and down steps is something most people don't give a second thought to. But if you're dealing with declining health, an illness, or an injury, then the thought of tackling the stairs every day and night can fill you with dread.
At Halton Stairlifts, we want to banish that fear! Read on to find out our top tips for making the stairs feel less scary.
Fear of the stairs
Did you know that some people have a deep fear of stairs called Bathmophobia? While this is a rare condition, people who suffer from it may always try to avoid situations that involve using stairs.
If you or a loved one are dealing with limited mobility due to illness, injury, or getting older, there are lots of reasons you might start to become wary or fearful of the stairs. If you're not as steady on your feet as you once were then climbing steps and stairs can suddenly begin to feel daunting. Whatever your concerns may be, overcoming the fear of the stairs is possible over time.
Try these tips:
Go slow
If you're not feeling confident on the stairs, then it's normal that you'll want to get your trip over with as quickly as possible, but it's very important to take your time. Rushing can increase the chances of dizziness or falling. By starting slow and steadily tackling one step at a time you'll build balance and confidence.
Consider a second handrail
When it comes to mobility, sometimes a lack of balance can affect our confidence. If this is the case for you or someone you live with, consider investing in some affordable home adaptations or stair aids to help make climbing the stairs feel a little easier. Things like a second handrail can help you to keep your balance and take the pressure off any sore limbs or pain points when walking up or down.
Use a stairlift
Using a stairlift is the most reliable and practical way to ride the stairs comfortably and safely. By having your very own stairlift installed in your home, you can eliminate the physical strain of having to climb the stairs when you don't have the strength or balance to do so. All modern stairlifts are easy to use and come with a range of automated options. You can even customize your chosen model to suit any specific health needs you may have (for example, wider footrests or heavy-duty stairlifts.)
Want to make the stairs less of a scary experience? If facing the stairs each day and night is starting to feel like a struggle, speak to the friendly team at Halton on 0800 644 7766 to discuss your stairlift installation options. The team will be happy to talk you through our full range of curved or straight stairlift models or arrange your free no-obligation home assessment today.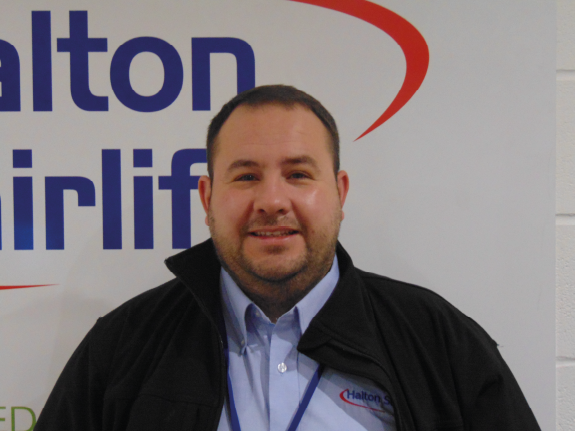 Neil is the founder of Halton Stairlifts. He has years of experience installing stairlifts across the UK. With an eagerness to help those with mobility issues get up the stairs, Neil understands how important it is for a seamless and straightforward approach to installing stairlifts to help those in need quickly.