Many older homes in the UK come with unique features and layouts. This can include having multiple staircases and split-level floors separated by a few steps. If your home has more than one staircase or steps here and there, and you struggle with the stairs, it can present an even bigger challenge. In this instance, you'll need more than one stairlift, and if you're especially houseproud you may want matching stairlifts. 
Matching stairlifts bring a range of benefits, from using the same operational controls to blending in with your home decor. Take a look at our tips for buying and installing multiple stairlifts in your home.

CHOOSING MATCHING STAIRLIFTS
To have a pair of stairlifts installed in your home, you'll need to look at your stairlift options:
The Type of Stairlift
Stairlifts come in straight and curved varieties, depending on the shape and style of your staircase. For straight staircases, you'll need twin straight stairlifts. If they're curved, you'll need matching curved stairlifts. A mixture of staircase layouts will need a mix and match of both straight and curved stairlifts to suit each one.
The Stairlift Model
Once you've decided on how many straight and curved stairlifts you need, you'll need to find models with a straight and curved version. It might be frustrating to find a straight stairlift you like, only to find it doesn't have a curved alternative. Speak to the team at Halton Stairlifts who'll be able to point you in the right direction to narrow down your search.
Stairlift Upholstery
To add a special finishing touch, you can arrange to have each stairlift upholstered in the same colour and fabric so they match perfectly. Most stairlifts come in a range of neutral and popular shades to suit most home interiors. You may also be able to choose from a selection of upholstery fabrics and finishes too.
Take a look at our matching curved and straight stairlifts in operation:
If you have more than one staircase in your home and you'd like your stairlifts to match, give us a call on 0800 644 7766. We can talk you through your options based on the size and type of staircases you have. Get a FREE no-obligation quote, take the time to make your own mind up, and get back to us if you want to make a purchase. It's always good to hear from our customers again.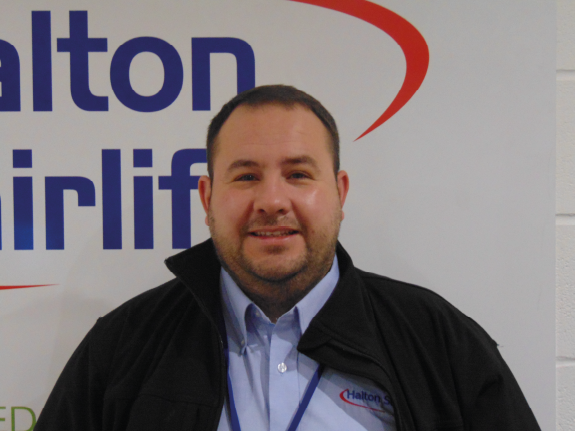 Neil is the founder of Halton Stairlifts. He has years of experience installing stairlifts across the UK. With an eagerness to help those with mobility issues get up the stairs, Neil understands how important it is for a seamless and straightforward approach to installing stairlifts to help those in need quickly.